BP4.R007: Bridge on Wendell Road over Buffalo Creek
NCDOT is proposing to replace the bridge on Wendell Road over Buffalo Creek in Johnston County.
Project Area and Detour Map
This map is for reference only and is a representation of the general project study area and detour route.
Project Highlights
The purpose of this project is to replace the current bridge, constructed in 1941, on Wendell Road over Buffalo Creek. The current bridge, built in 1941 is considered functionally obsolete. This means that it does not meet current design standards. NCDOT proposes to replace the bridge in-place meaning that Wendell Road will be closed for approximately 12 months to allow for removal of the old bridge and construction of the new bridge. The replacement bridge will be a 24-inch cored slab bridge approximately 135 feet long providing a 36-foot clear width. The bridge will include two 11-foot lanes, 2-foot 11 inch shoulders,and a 42-inch tall concrete barrier rail on each side. The roadway grade of the new structure will be approximately the same as the existing structure.
An approximately 2.5 mile off-site detour will be used to maintain traffic during construction. The off-site detour uses Archer Road, Wall Road, and Lake Wendell Road. (see map above)
Proposed Bridge Typical Section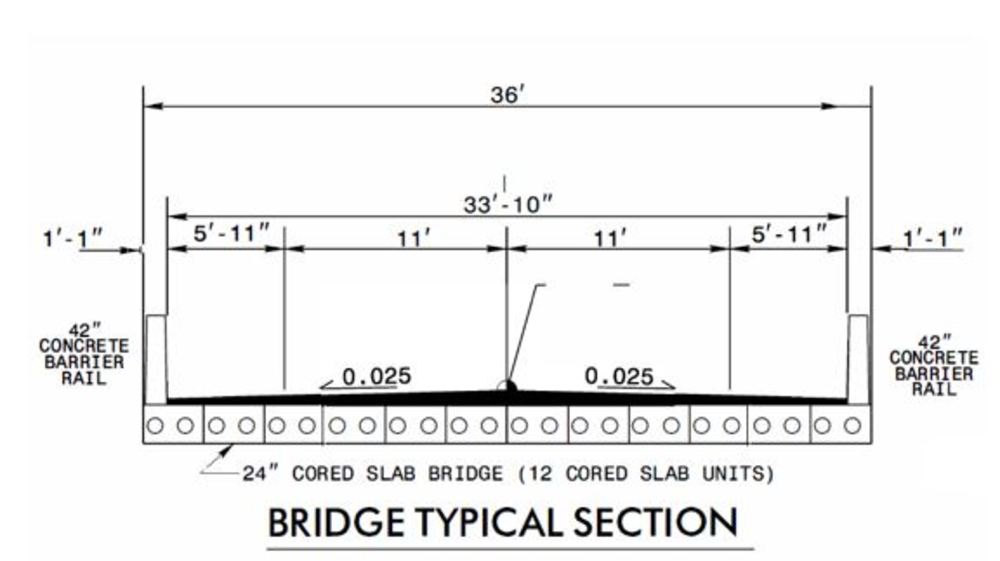 Project Funding
| | |
| --- | --- |
| | Estimated Amount* |
| Right of Way Acquisition | $ 90,000 |
| Construction Costs | $ 2.600.000 |
| Total Cost | $ 2,690,000 |
* Estimated costs are preliminary and subject to change
Project Timeline
Milestone

Date*

Begin Right of Way Acquisition

Spring 2023

Begin Construction

Construction anticipated to last approximately 12 months

Summer 2025
* Future dates are preliminary and subject to change
Project Comments
NCDOT accepts comments throughout all phases of project development.
All comments will be taken into consideration, and carry equal weight, regardless of submittal method.

The public is encouraged to leave comments or questions regarding the project using this webspage, email, or phone number:
Email: WendellRoad-BuffaloCreek@PublicInput.com
Phone Number: 984-205-6615 enter project code 4363 to leave a message.
Project Contact
Rachel Evans, PE
NCDOT Highway Division 4
Project Engineer
P.O. Box 3165
Wilson, NC 27895
Project Contact
Greg Purvis, PE
Wetherill Engineering
Consultant Project Manager
1223 Jones Franklin Road
Raleigh, NC 27606
Title VI Feedback
To ensure we're hearing from a broad set of voices, would you be willing to share (completely anonymously) some information about yourself?
If so, please click here: https://publicinput.com/NCDOT-Title-VI