R-3830: N.C. 42 Sanford to Broadway
The N.C. Department of Transportation is proposing to make improvements to N.C. 42/Broadway Road from U.S. 421/Horner Boulevard in Sanford to East Harrington Avenue in Broadway in Lee County.
Project Area Map:
This map depicts the general location of the project. It does not reflect the footprint of improvements.
The map is for reference purposes only.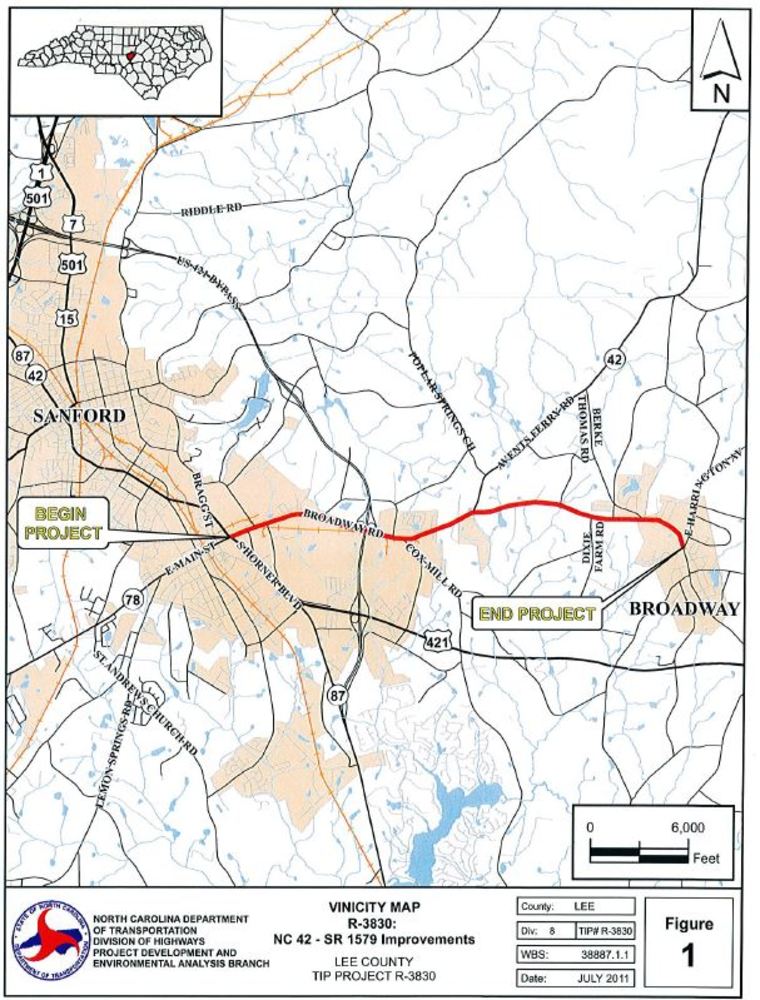 Project Overview
This project proposes to improve NC 42 /Broadway Road (S.R. 1579), from U.S. 421 (Horner Boulevard) in Sanford to East Harrington Avenue (S.R. 1538) in Broadway. The purpose of the project is to improve user safety and traffic operations along N.C. 42, within the project limits. This project will aid in reducing the numerous rear-end and run-off-the-road crashes, currently occurring along N.C. 42 and will include turn lane improvements at various intersections. The project is federally funded and is approximately 5.5 miles in length.
Project History
Improvements to the corridor were originally proposed as part of the approved Lee County Comprehensive Transportation Plan (CTP) in 2011. This is a high priority project for the City of Sanford, Lee County and Town of Broadway due to the number of crashes and the need for improved pedestrian safety. The crash rate along N.C. 42 greatly exceeds the statewide crash-rates for similar roadway classifications throughout the state. Adding additional through-lanes and raised medians along corridor will provide pedestrian refuge and reduce potential motorist conflicts with pedestrians and cyclists.
A public meeting was held on October 11, 2011 and the public was advised of the preferred alternative. The environmental document was completed in April 2015 and on October 22, 2015 a second public meeting was held.
Project Funding:
| | Estimated Cost* |
| --- | --- |
| Right-of-Way Acquisition | $ 12.2 Million |
| Construction Costs | $ 43.0 Million |
| Total Costs | $ 55.2 Million |
Project Timeline:
| Milestone | Date* |
| --- | --- |
| Environmental Document Approved | April 2015 |
| Right-of-Way Acquisition | October 2017 |
| Construction Begins | January 2023 |
| Construction Complete | March 2027 |
Project Comments
The public is encouraged to leave any questions or comments using this website or the project email or phone number.
Project Email: NC42-Sanford-Broadway@PublicInput.com
Project Phone Number: 984-205-6615 Enter project code: 5620
Project Contact
Terry Farr, P.E.
Senior Project Manager
NCDOT Project Management Unit
1000 Birch Ridge Drive
Raleigh, NC 27610
Project Contact
Reuben Blakley, P.E.
Division Construction Engineer
NCDOT HIghway Division 8
121 DOT Drive
Carthage, NC 28327
Title VI Feedback
To ensure we're hearing from a broad set of voices, would you be willing to share (completely anonymously) some information about yourself?
If so, please click here https://publicinput.com/NCDOT-Title-VI