U-3400- Improvements to Archdale Road in Randolph and Guilford Counties
Updated Proposal to widening Archdale Road between South Main Street in the City of High Point, Guilford County and Springwood Lane in the City of Archdale in Robbins Country.
Vicinity Map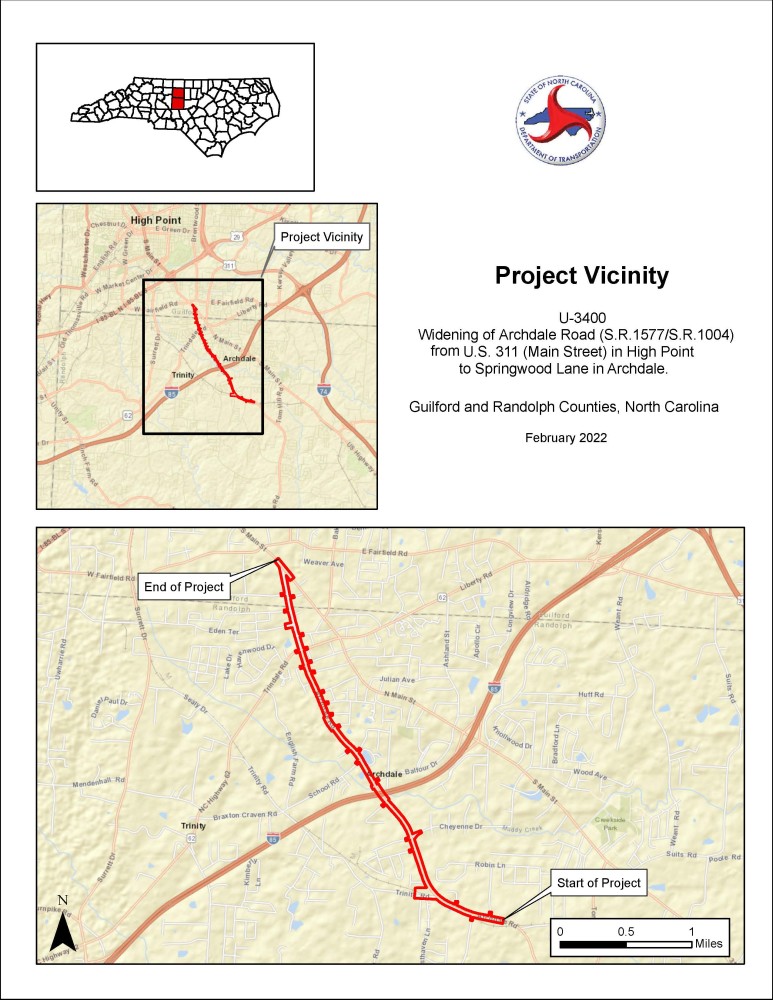 Project Overview
The N.C. Department of Transportation proposes to make improvements to 3.3 miles of Archdale Road (S.R. 1577/1004) between South Main Street (S.R. 1009) in the City of High Point, Guilford County and Springwood Lane in the City of Archdale, Randolph County. Approximately 0.27 miles of the project is in Guilford County while 3.03 miles are within Randolph County.
The project is located in a rural area that is becoming more urban, with homes, schools, and some businesses near undeveloped land or land used for farming and forestry today.
Proposed improvements include:
Widen the existing 3-lane & 2-lane ditch-section roadway to 3-lanes with curb and gutter-section and continuous 12-foot-wide center turn lane.

Widen existing 9-foot and 10-foot-wide travel lanes to 14-feet in width to accommodate bicycles.

Expand total right of way from 60 feet to 70 feet.

Realign Trinity Road to create a 90-degree intersection.

Provide enhanced pedestrian/bicycle signage and crosswalks at appropriate intersections to transition pedestrians/bikes from one side of the road to the other as needed.

Retain current speed limit of 45 miles per hour (mph).
New Updated Project Changes since 2018 Public meeting
Add 5-foot to 6-foot-wide sidewalks on both sides of the corridor

except the south/west side of Archdale Road between Trinity Road and Springwood Lane due to the limited space afforded by the adjacent Norfolk Southern Railroad Right-of-Way.

Include an 8-foot-wide multi-use path in the place of the sidewalk on the north side of the corridor under the I-85 underpass, from Balfour Drive (S.R. 1681) south to Elaine Street.

Add two retaining walls with handrails near the Trindale Road (N.C. 62) intersection.

Realign Cheyenne Drive to align with Roelee Street (and re-align existing signal).

Signalize the Eden Terrace (S.R. 1592)/Archdale Road intersection.

Additional turn lanes on select side streets.
The project will improve vehicular, pedestrian and bicycle safety, and multi-modal access and connectivity through the Archdale Road corridor.
Archdale Road is currently a two-lane roadway for 2.65 miles from S. Main Street to English Court (just west of Trinity Road). Between English Court and Robbins Country Road, ( 0.43 miles), the road widens to three lanes with a continuous left-turn center lane around Wheatmore Middle School before narrowing back to two lanes between Robbins Country Road and Springwood Lane (0.22 miles).
The current roadway has a 60-foot right-of-way with no control of access. There is currently only a small section of sidewalk in front of Randy's Automotive (northeast of the N.C. 62 ( Trindale Road) intersection), and there are no bicycle facilities along the corridor.
The current corridor is actively used by pedestrians and bicyclists and provides access to several schools and many residential subdivisions. Several deficiencies exist such as 2-lanes, undivided, (narrow) travel lanes, no shoulder, and steep ditches at the edge of pavement. The corridor lacks multi-modal facilities such as sidewalks or multi-use paths or bike lanes . All of these deficiencies contribute to the high crash rates for automobiles, bikes and pedestrians.
The Archdale Road corridor is an active pedestrian and bicycle area. Significant truck traffic associated with industrial centers adjacent to Eden Terrace, N.C. 62 (Trindale Road) and Cheyenne Road also exists. The large number of residential properties in this area along with multiple schools (Archdale Elementary, Wheatmore Middle, Trindale Elementary School and a new school to be constructed soon - Trinity Middle School), are known to attract many children and pedestrians; however, the roadway is currently unsafe for pedestrians and bicyclists. There are narrow or missing shoulders, drainage ditches are steep and deep, and there are no sidewalks, pedestrian facilities or crosswalks anywhere along the corridor. Residents who desire to walk the corridor must often do so within the travel lanes.
The project proposes to improve safety and facilitate efficient operations by:
installing a center turn lane that will reduce the potential for rear end crashes by removing turning traffic from through lanes.

Creating wider (14- to 15-foot) travel lanes with curb/gutter that not only accommodate bicycle uses but will expand the recovery area for truck and passenger vehicles, increasing safety for all users of the facility.

Adding 5 to 6-foot-wide sidewalks or an 8-foot multi-use path (proposed in place of the northern sidewalk under the I-85 overpass) along both sides of the corridor, set back from the curb/gutter by a 2 to 6-foot buffer, to increase pedestrian safety.
Project History
2015-2018
The project began in 2015 with field work, technical studies and preliminary designs.
A public meeting was held on February 27, 2018. A total of 90 people, attended the meeting and 17 comment forms were submitted. Most comments were in favor of project design as presented, but 6 either did not like the design or thought it needed work. that the main comment being that the project should be extended to Springwood Lane (or other locations) rather than ending at Robbins Country Road. Several comments expressed concern about potential property impacts. And a few voiced concerns about existing stormwater issues.
In response to public comments received, NCDOT has modified the project:
Extended the project to Springwood Lane.

Re-aligned Roelee St with Cheyenne Dr.

Added a new traffic signal at Archdale Rd and Eden Terrace.

Added new shared straight/right/left turn lanes on Playground Road and Springwood Lane approaches, each intersection to remain unsignalized (given signals were not warranted).
2019 – 2022
The project was put on hold between 2019 and 2021 due to a state-wide NCDOT project suspension. During this time a
new NCDOT Complete Streets Policy was adopted, which requires installation of bicycle and pedestrian facilities if there is a demonstrated need or a local adopted plan shows them.
2023
Environmental review in the form of a Minimum Criteria Determination Checklist (MCDC) was approved in June 2023 in compliance with the North Carolina State Environmental Policy Act (SEPA). At this time, Right-of-Way) plans are being finalized for the project.
A Right-of-Way Agent from the firm TELICS (acting on behalf of NCDOT) will be contacting all affected property owners beginning in November 2023 to begin the process of acquiring temporary or permanent right of way or easements for the project.
Current Phase
The project development phase has ended. This information is being provided as an update about current designs based on public feedback received and further environmental analysis. Unless there is an outstanding issue, the designs will move forward as presented.
Project Impacts
Relocations –

Two single family homes 102 and 103 Winchester Ct.,

A third single family home (11370 Archdale Road) may be a possible relocation due to the right turn lane and steep driveway grade to the home

one commercial site that previously contained two businesses (which have since burned and been demolished, 302 Trindale Road.

A parking lot containing seven spaces for the Archdale Wesleyan Church located at 3810 Archdale Road will also be acquired for project drainage improvements.

Frontage Impacts - Most properties along the Archdale Road project corridor (and improved cross-streets) will need permanent or temporary Right-of-way or Easement impacts along their frontages from the widening project, including removal of some existing vegetation and relocation of utilities. Access to homes, businesses and schools as well as active utility services (power, cable, water, sewer, etc.) will be maintained at all times during construction. Replanting of vegetation by NCDOT will be addressed with property owners during the right-of-way acquisition appraisal process.
Detours - Culvert and major pipe replacement will require 6 temporary closures of portions of the roadway and the routing of traffic to temporary off-site detours that will require 1 to 2.4 additional travel miles (3 to 6 additional minutes).

Restrictions have been placed on the project that will allow only one road closure at a time and only one of these detours will be utilized at a time (and only during culvert/major pipe work), and

No detours will be allowed during morning or afternoon school travel hours or on holidays and during special events. These restrictions will minimize delay of all traffic including school buses and emergency vehicles.

Construction in non-culvert areas will use lane shifts to keep traffic moving.
D. Historic Property Impacts - The only Potentially Eligible Historic property affected by the project is the Bouldin House, which is currently occupied by Healing Ministries, located at 4332 Archdale Road. A Environmental Commitment was added to the project that requires NCDOT Roadway Environmental Group to work with the property owner to develop a re-landscaping plan (to be approved by HPO and the property owner) and that there be three years of warranty for plant establishment.
E. Natural Resources - The project is anticipated to impact 2,263 feet of jurisdictional streams and 0.58 acres of wetlands, thus a US Army Corps of Engineers (USACE) Permit under Section 404 of the Clean Water Act and the corresponding Section 401 Water Quality Certification from the N.C. Division of Water Resources will be required.
Project Maps
Click on the links or the thumbnails below to view or download the maps.
To view Project Map 1 (S. Main Street to Plummer Drive), click here or on the map image below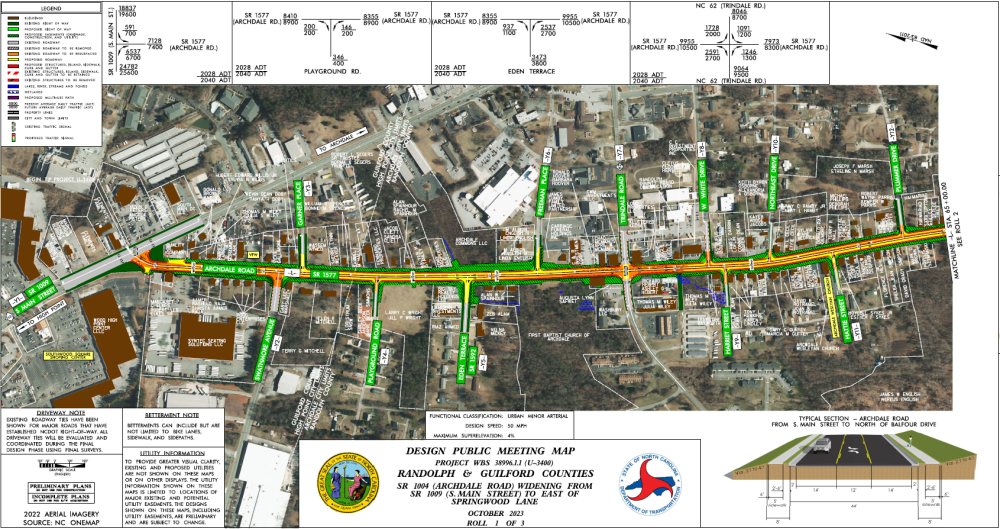 To view Project Map 2 (Plummer Drive to Rolee Street/Cheyenne Drive), click here or on the map image below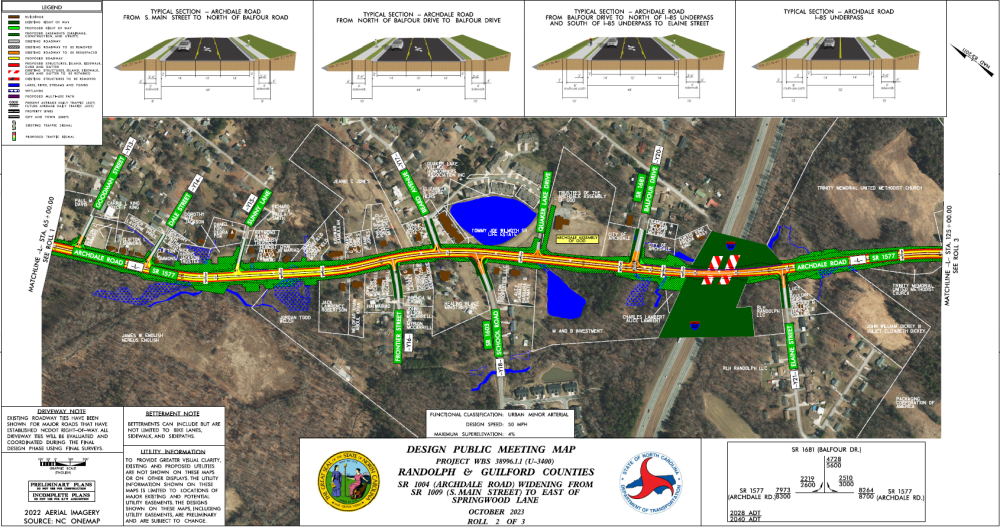 To view Project Map 3 (Rolee Street/Cheyenne Drive to Springwood Lane), click here or on the map image below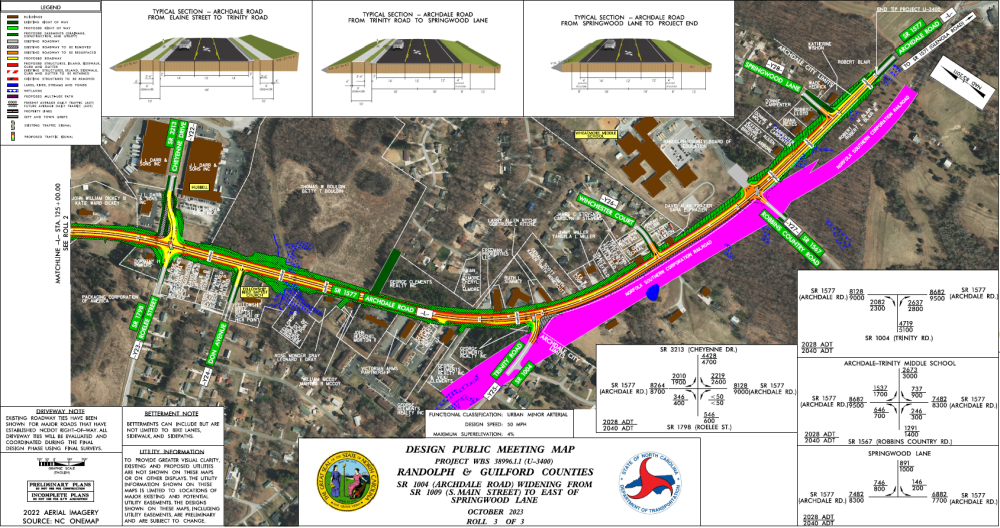 Archdale Typical Sections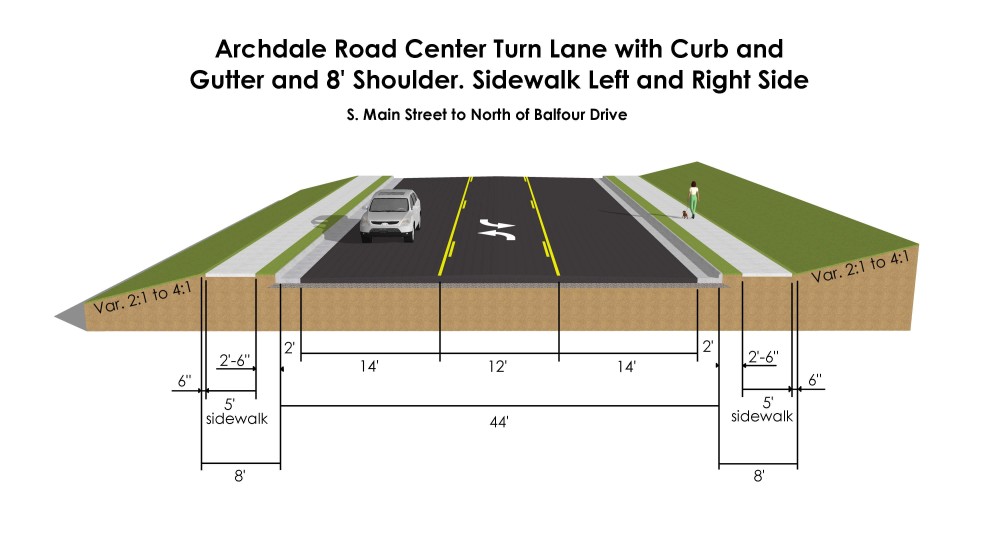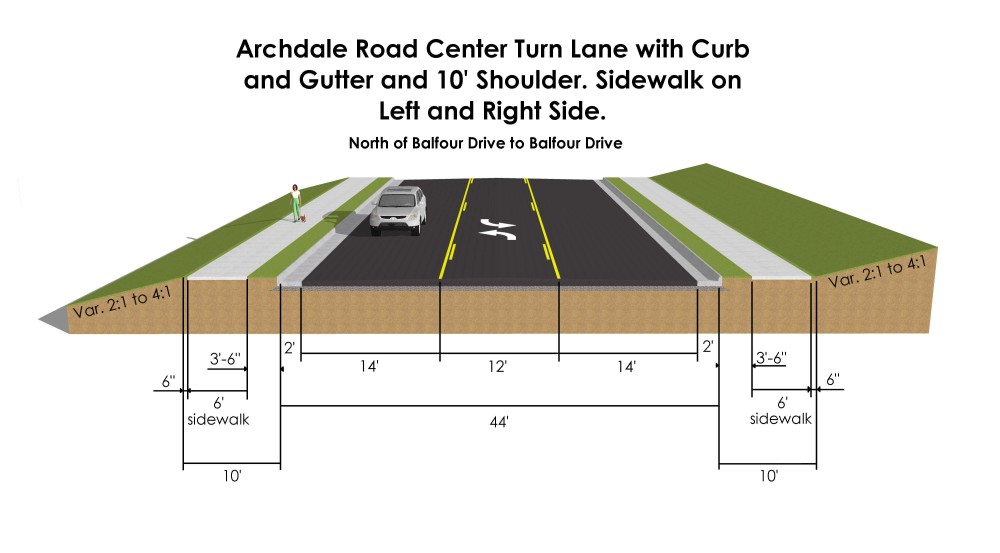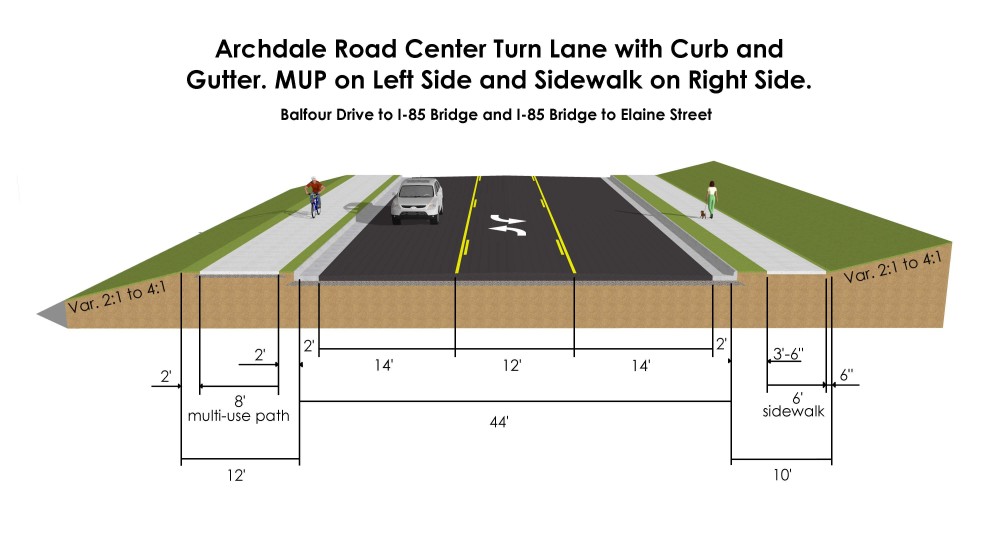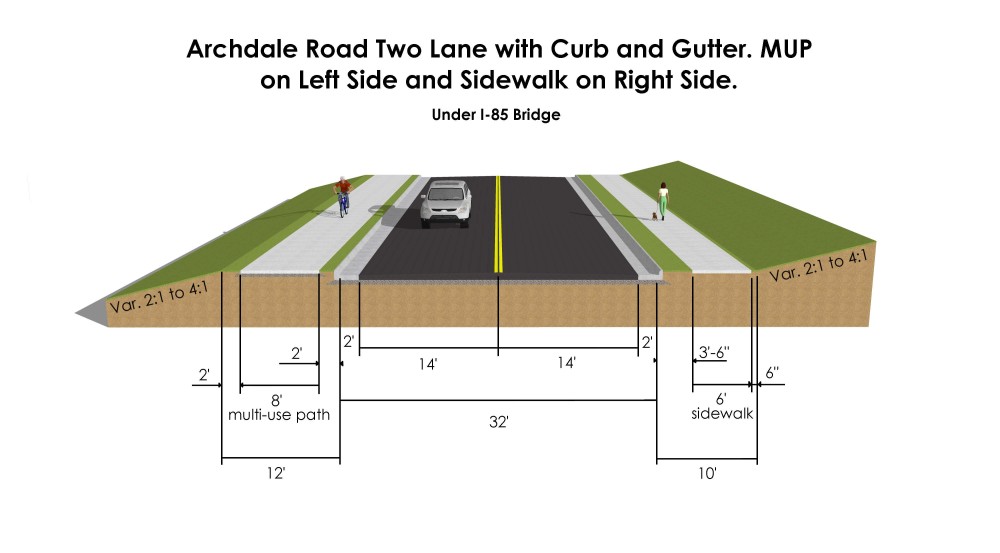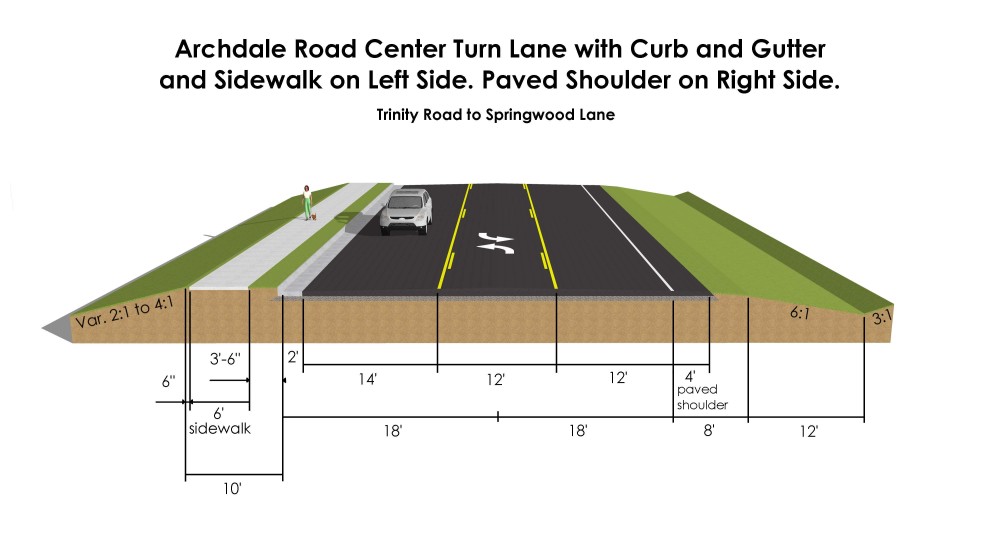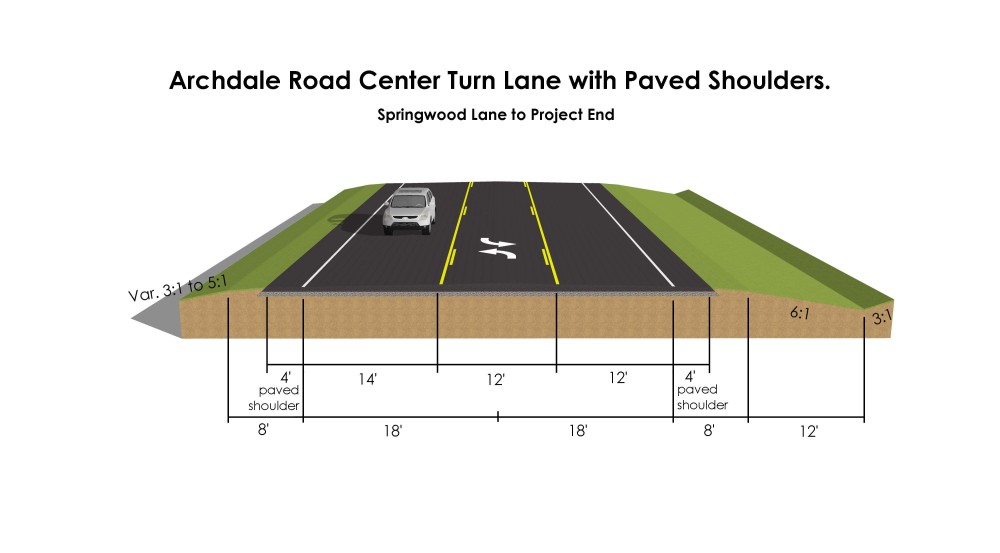 Project Funding:
| | |
| --- | --- |
| Activity | Funded Costs* |
| Right of Way and Utility | $ 20.03 Million |
| Construction Costs | $ 30.8 Million |
| Total Cost | $ 50.83 Million |
*Funded costs are subject to change.
Project Timeline:
| | |
| --- | --- |
| Milestone | Date* |
| Public Meeting | January 18, 2018 |
| Right-of-Way Acquisition Begins | Fall 2023 |
| Construction Begins | Fall 2028 |
* Future dates subject to change.
Comments:
NCDOT accepts comments throughout all planning, design, and construction phases of project development.
All comments will be taken into consideration, and carry equal weight, regardless of submittal method.
To submit comments for consideration during the current phase of project development,
please submit before November 20, 2023.
You may leave comments or questions below
Or
Email the comment or question to archdale-rd-improvements@publicinput.com
Or
Phone Number: (512) 580-8850 Code: 6211
PROJECT CONTACT INFORMATION
Jeffrey Stroder, PE
Division Project Engineer
NCDOT Highway Division 8
121 DOT Drive
Carthage, NC 28327
PROJECT CONTACT INFORMATION
Michelle Suverkrubbe
Consultant Project Manager
TranSystems
1 Glenwood Avenue, Suite 600
Raleigh, NC 27603
RIGHT-OF-WAY CONTACT INFORMATION
Tyler Cote, R/W-RAC
Right-of-Way Consultant
TELICS
P.O. Box 2398
Greenville, NC 27836
RESOURCES FOR PROPERTY OWNERS

Although the N.C. Department of Transportation works to minimize the number of homes and businesses displaced by a road project, it is inevitable, in many cases, that a certain amount of private property is needed. The following information explains right of way acquisition and answers questions about the process.
Note that TELICS, the Right-of-Way acquisition firm contracted by NCDOT to assist with this project, will be contacting all property owners whose land may be affected by the project.

Right-of-Way Brochure Single Page Layout Folleto del Proceso de Adquisición de Bienes Raíces
Right-of-Way Frequently Asked Questions
Right of way Acquisition Process Videos
Title VI Feedback
To ensure we're hearing from a broad set of voices, would you be willing to share (completely anonymously) some information about yourself?
If so, please click here https://publicinput.com/NCDOT-Title-VI