R-4463A: N.C. 43 Connector from U.S. 17 Business (Dr. Martin Luther King Jr. Boulevard) to South of U.S. 70/U.S. 17
PROJECT DESCRIPTION
NCDOT is proposing to construct the final phase of STIP Project No. R-4463. This phase includes construction of N.C. 43 between U.S. 17 Business (Doctor M.L.K. Jr. Boulevard) and existing N.C. 43 south of U.S. 70/U.S. 17 in Craven County. N.C. 43 will be constructed as a four-lane divided highway with a grass median.
Interactive Vicinity Map:
* This map for general information only.
The study area is a geographical area in which information on Human and Natural Environmental features are gathered during the preliminary planning process.
PURPOSE
This project has multiple goals including:
Alleviate existing and future congestion

Improve regional mobility

Improve reliability of the roadway network within the study area

Upgrade the corridor consistent with local government visions

Provide connectivity between local community and local destinations

Reduce congestion-related crashes
As the project progresses and the environmental document is prepared, a more refined project purpose and need statement will be developed.
PLANNING PROCESS
NCDOT's project development/planning process includes evaluation of:
Traffic

Cultural resources

Congestion

Natural resources

Human environment

Community resources

Roadway options

Other issues in the project study area
NCDOT is studying potential impacts to people in the communities, the natural environment, and other factors as part of the alternative development process, with the intent to minimize impacts whenever possible.
COST AND TIMELINE
| | |
| --- | --- |
| Milestone | Estimated Amount* |
| Project Development and Design | $ 1 Million |
| Property Acquisition | $ 1.275 Million |
| Utility Relocation | $ 1.152 Million |
| Construction Costs | $ 24.5 Million |
| Total Cost | $ 27.927 Million |
| | |
| --- | --- |
| Milestone | Date* |
| Open House Public Meeting | May 2018 |
| Right of Way Acquisition | October 2019 |
| Begin Construction | Spring 2025 |
* Future dates and costs are subject to change
Access Point Final Design Selected
Following the public meeting, the Department and design team evaluated all comments received from residents, developers and the City of New Bern.
After considering all public comments, a Final Access Alternative was selected. The selected alternative will provide a signalized full movement access to NC 43 at existing Savoy Drive. This alternative is based on the desire of the majority of local residents, the City of New Bern, and vision for future development.
In addition, the center median width was reduced from 46 feet to 30-feet in order to minimize impact to the existing subdivisions.
Map of Final Access Alternative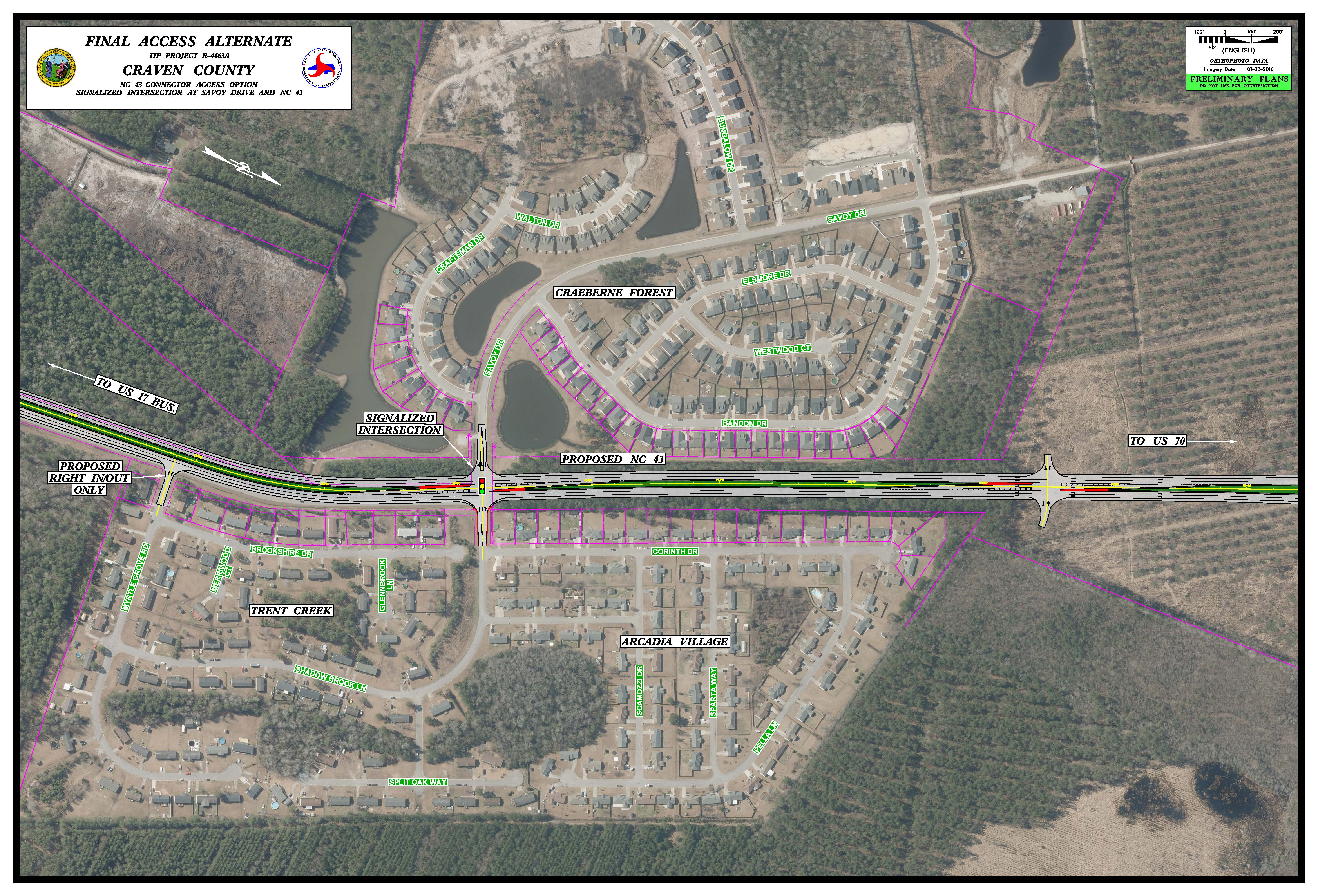 COMMENTS/QUESTIONS
Comments may be submitted via phone, email or U.S. Mail to either of the individuals listed below or at any meeting.
PROJECT CONTACT INFORMATION
Cathy Hossack Meyer, PE
Project Engineer
NCDOT Highway Division 2
P.O. Box 1587
Greenville, NC 27835
cahossackmeyer@ncdot.gov
(252) 439-2806