HL-0008G: - Lake Wheeler-Hilltop Needmore
The N.C. Department of Transportation is proposing to make improvements at the intersection of Lake Wheeler Road and Hilltop Needmore Road.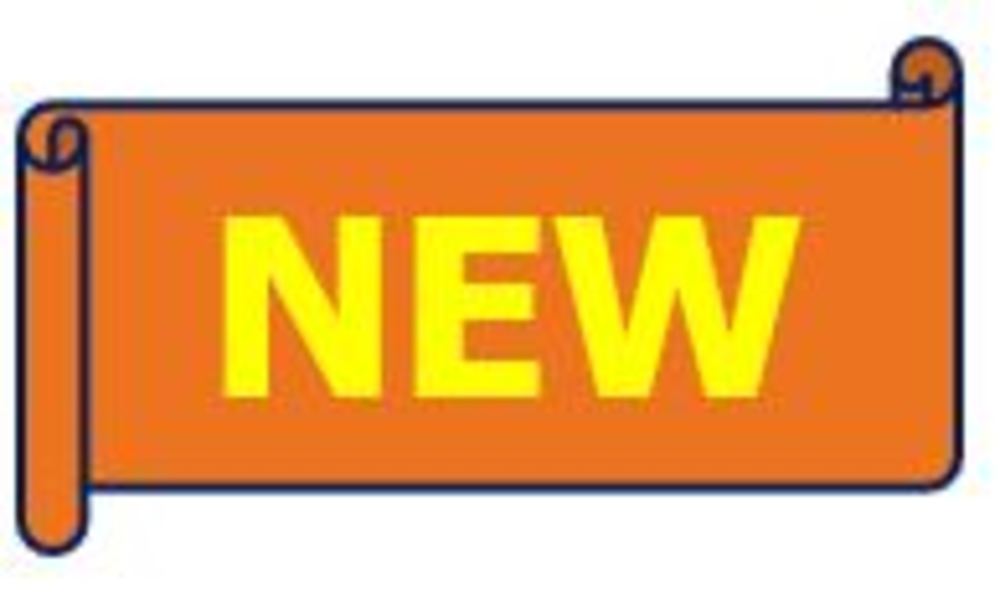 Responses to comments received during the public comment period
Interactive Project Area Map:
This map depicts the study area used to determine and evaluate potential environmental effects of the project
and survey information used for design. It does not reflect the footprint of improvements.
The map is for reference purposes only.
Project Overview
STIP Project HL-0008G involves adding left turn lanes on all four legs of the Lake Wheeler Road/Hilltop Needmore Road intersection.
A right turn lane at the intersection will be evaluated for westbound Hilltop Needmore Road.
The corner radius for each leg of the intersection will also be improved to better accommodate truck turns.
In 2019, NCDOT recorded an average annual daily traffic volume of 5,800 vehicles per day (vpd) on Lake Wheeler Road and 9,600 vpd on Hilltop Needmore Road. No left turn lanes currently exist at this intersection and left turning traffic blocks through traffic, resulting in queues and delays for traffic along both roads. The proposed improvements will improve traffic flow and operation at the intersection of Lake Wheeler Road and Hilltop Needmore Road.
History
The Strategic Transportation Investments (STI) law includes a provision for a funding allocation to local governments based on funding contributed by the local government to transportation projects or revenue from tolling. This bonus allocation can be used to fund the construction of other eligible highway projects.
Early in 2020, the Capital Area Metropolitan Planning Organization (CAMPO) received notice from NCDOT that there would be a bonus allocation to CAMPO from the N.C. 540 project. This intersection project was one of several selected by CAMPO for the bonus allocation funding. NCDOT began project development work for the project in early 2021.
Project Map
Click on link or thumbnail to View map in new window or Download PDF of Map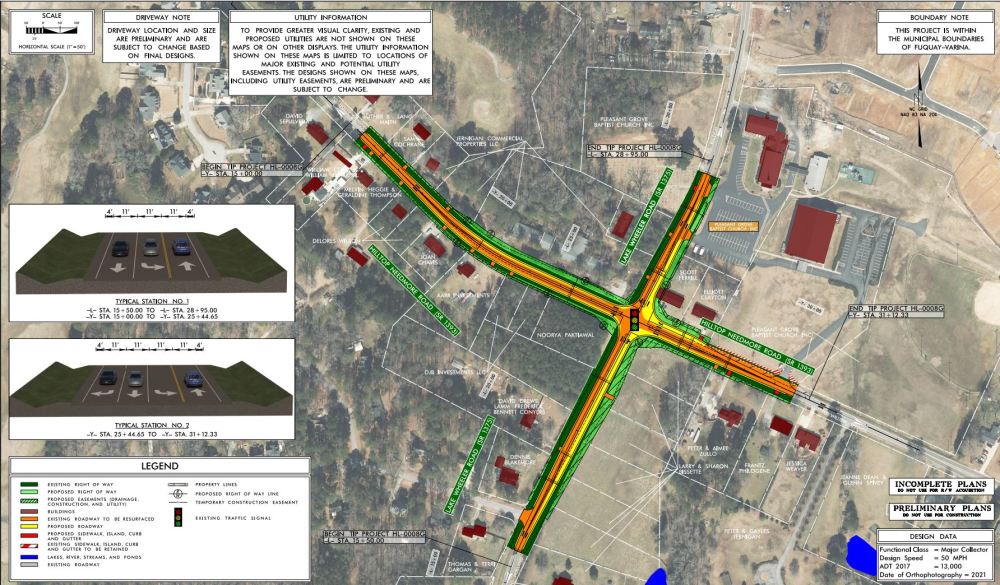 For additional information on how to read a public meeting map, click here.
Typical Sections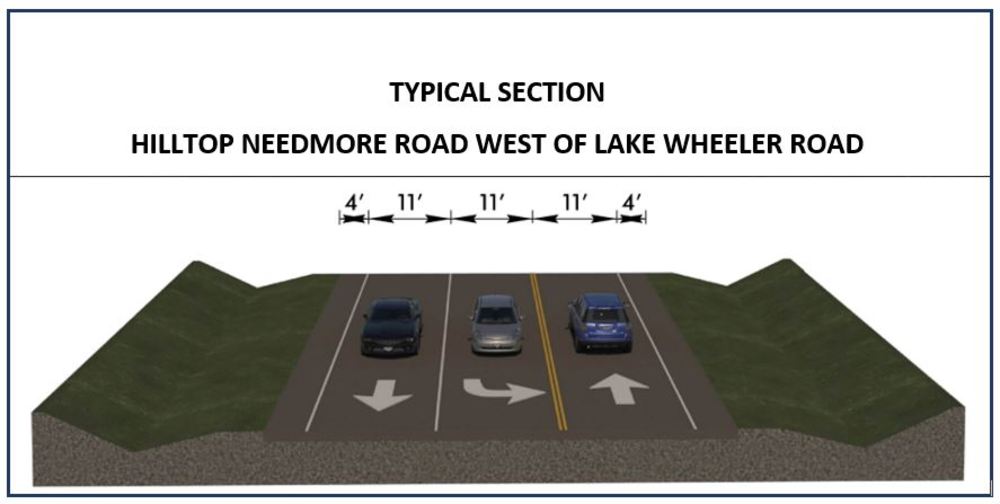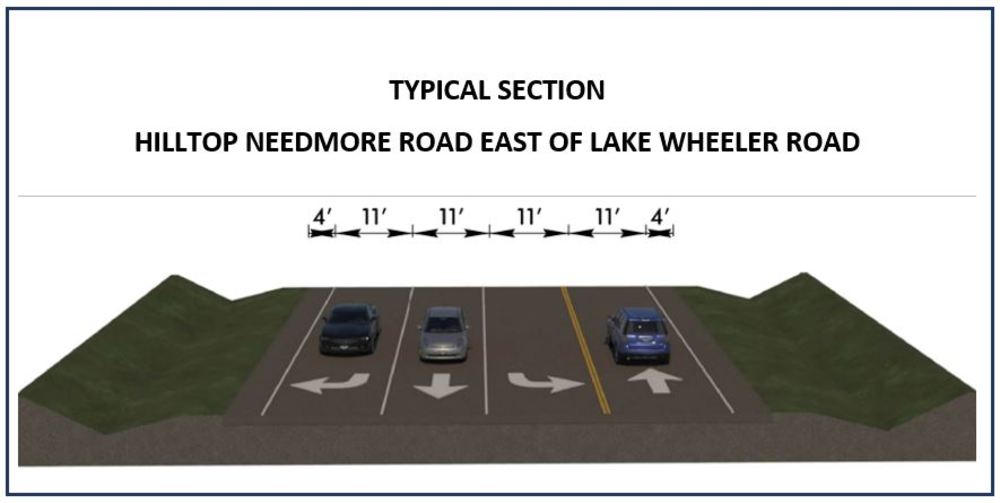 Project Funding:
| | Estimated Amount* |
| --- | --- |
| Right-of-Way | $ 820,000 |
| Construction | $ 2,300,000 |
| Total Costs | $ 3,120,000 |
* Estimated costs are subject to change.
Project Timeline:
| Milestone | Date* |
| --- | --- |
| Approved Designs | Spring 2023 |
| Right of Way Acquisition | Spring 2023 |
| Begin Construction | Summer 2024 |
| Construction Complete | Summer 2025 |
* Future dates are preliminary and subject to change
Project Comments
Due to Covid-19, NCDOT has suspended in-person meetings until further notice.
The public is encouraged to leave any questions or comments using this website or the project email or phone number.
Project Email: LakeWheeler-HilltopNeedmore@publicinput.com
Project Phone Number: 984-205-6615 enter project code 4426
Project Contact:
Zahid Baloch, P.E.
NCDOT Division 5
Senior Project Engineer
1573 Mail Service Center
Raleigh, NC 27699-1573
Project Contact:
Jay McInnis, PE
Director of Project Development
Ramey Kemp Associates
5808 Farringdon Place
Raleigh, NC 27609
Title VI Feedback
To ensure we're hearing from a broad set of voices, would you be willing to share (completely anonymously) some information about yourself?
If so, please click here: https://publicinput.com/NCDOT-Title-VI