B-5614- Blounts Creek Bridge
REPLACEMENT OF BRIDGE ON MOUTH OF CREEK ROAD (S.R. 1112) OVER BLOUNTS CREEK IN BEAUFORT COUNTY
Vicinity Map: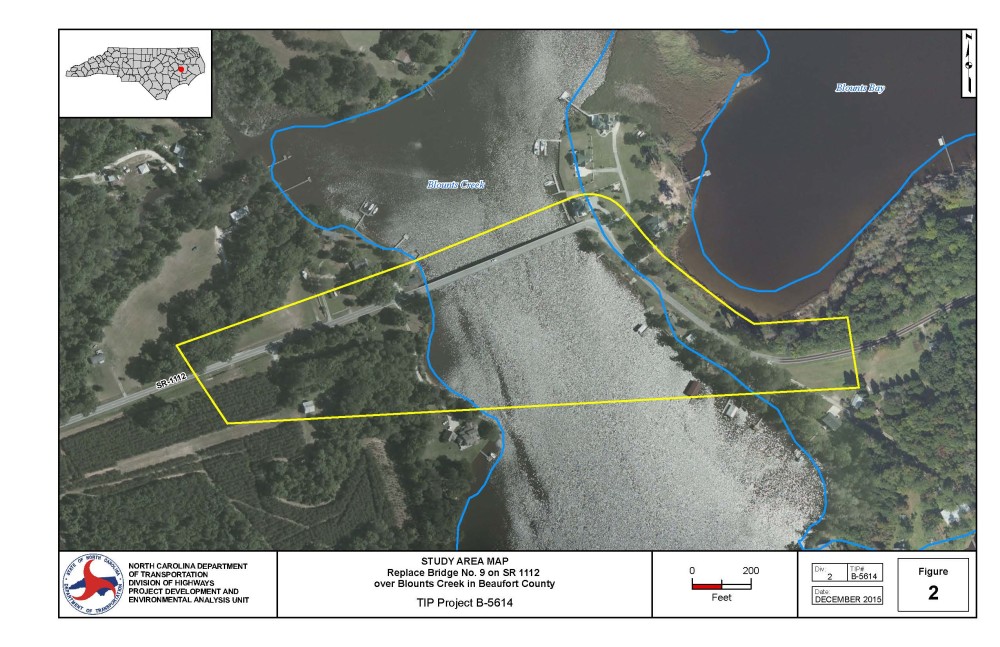 Interactive Study Area Map:
Map is for informational purposes only and reflects the approximate boundaries of the study area for the project
Project Overview:
The N.C. Department of Transportation proposes the replacement of Bridge No. 9 on Mouth of the Creek Road (S.R. 1112) over Blounts Creek in Beaufort County.
This is a two-lane bridge that provides access to neighborhoods east and west of Blounts Creek. The neighborhoods east of Blounts Creek and the towns of Chocowinity and Washington's access to N.C. 33 relies on access via this bridge.
Bridge No. 9 was determined structurally deficient in the NCDOT inspection report and needs to be replaced; normal bridge maintenance is not enough to maintain safety standards.
Structually deficient bridges are safe, however, they have components in poor condition due to deterioration. They require significant maintance to remain in service and might require limits on vehicle weights.
Project Highlights:
Bridge No. 9 will be replaced on new alignment, south of the existing bridge.

The new bridge will span approximately 950 ft. and the eastern side will connect to Mouth of the Creek Road just west of Red Bug Lane, which will remove the unsafe "elbow turn" at the east end of the bridge, adjacent to the intersection with Blounts Creek Lane.

Traffic will be maintained on the existing bridge during construction. Boater access under the bridge will be maintained during construction.
Public Input:
Due to Covid 19, NCDOT has suspended in-person meetings. Information will be provided to the public in a virtual format on this website beginning January 12, 2021. The public is encouraged to provide comments or share their thoughts regarding the proposed alternatives concepts below.
Comments were submitted by

January 26, 2021
Project Funding:
This project is listed in the N.C. Department of Transportation's Bridge Program as Project No. B-5614 and is funded for $8.8 million.
| | |
| --- | --- |
| Activity | Estimated Amount* |
| Construction Costs | $8,800,000 |
| Total Cost | $8,800,000 |
* Estimated costs are subject to change. This cost does not inlcude ROW or Utility costs.
Project Timeline:
| | |
| --- | --- |
| Milestone | Date* |
| Environmental Document | Spring 2021 |
| Begin Right-of-Way Acquisition | November 16, 2021 |
| Let Date | June 21, 2022 |
| Anticipated Construction Completion | Spring 2024 |
* The TIP dates are subject to change.
Comments:
All comments will be taken into consideration, and carry equal weight, regardless of submittal method.
Comments were submitted by January 26, 2021.
Project Contact Information:
David Stutts, PE
NCDOT Structures Management Unit Project Engineer
1581 Mail Service Center
Raleigh, NC 27699-1581
Project Email Address: BlountsCreekBridge@PublicInput.com