U-5536 Great Wagon Road
Preliminary Engineering Activities for this project
have been suspended.
The N.C. Department of Transportation is preparing environmental documents and engineering designs for the proposed extension of Great Wagon Road from Shallowford Road (S.R. 1001) and Lewisville-Vienna Road (S.R. 1308). The new Great Wagon Road will serve as a parallel facility to Shallowford Road and three new side street connections will be added between Shallowford Road and Great Wagon Road.
The purpose of the project is to provide:
additional traveling capacity to accommodate future traffic volumes

connectivity improvements throughout the downtown area

economic development support

accommodations for pedestrians, bicyclists and motorists

improved safety for all users
Vicinity Map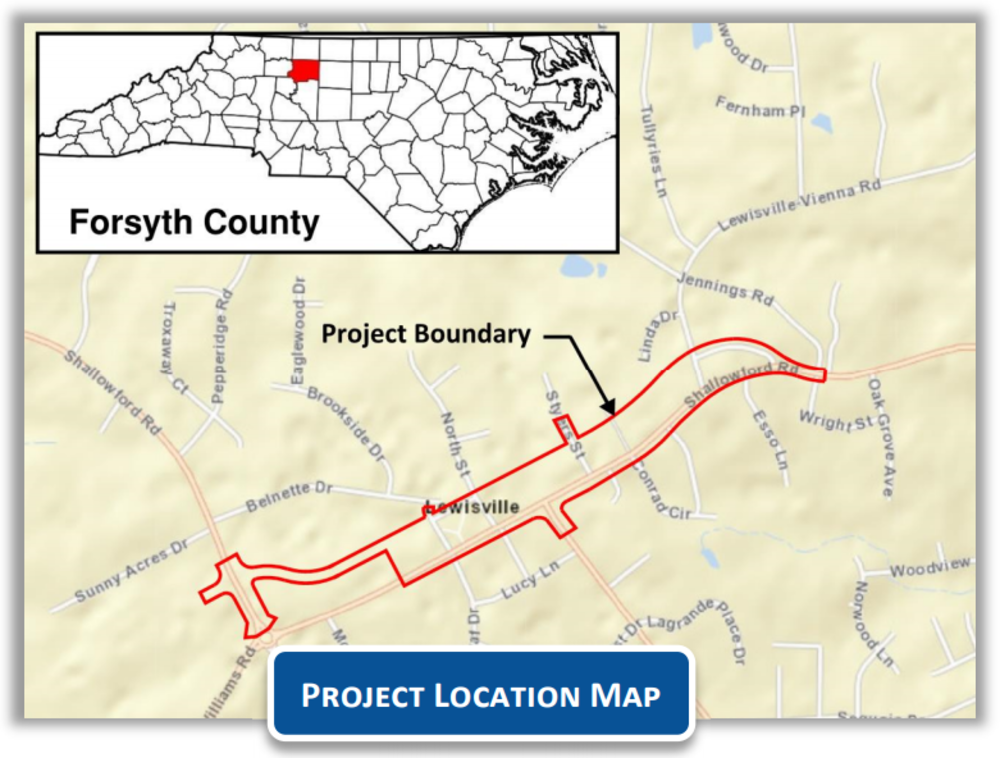 The new Great Wagon Road will have two travel lanes with turn lanes at some intersections, medians, 5-foot wide bicycle lanes in each direction, a 5-foot wide sidewalk on the south side, and a 10-foot wide sidewalk/multi-use path on the north side. On-street parking will be provided along the north side of Great Wagon Road. The project also includes 4 roundabouts: at the western end of the corridor where a new section of Great Wagon Road will intersect Shallowford Road; and at the eastern end of the project where Great Wagon Road intersects Lewisville-Vienna Road. Roundabouts will also be constructed on Lewisville Clemmons Road at the intersection with Great Wagon Road and the intersection with Shallowford Road.
Project Facts
Project Length: 1.1 miles

Posted Speed Limit: 35 miles per hour

Stream Impacts: 125 linear feet

Residential Relocations: 3

Business Relocations: 8
Project Funding
This project is listed as Project U-5536 in the N.C. Department of Transportation's State Transportation Improvement Program.
| | |
| --- | --- |
| | Estimated Amount* |
| Right of Way Acquisition | $14,136,706 |
| Utility Cost | $ 1,482,000 |
| Construction Costs | $12,900,000 |
| Total Cost | $28,518,706 |
* Estimated costs are subject to change
Project Timeline

* Schedule is subject to change based on funding.
The proposed U-5536 project is included in the latest North Carolina State Transportation Improvement Program (STIP). This program, which is incorporated into the state's "From Policy to Projects" initiative, prioritizes projects and presents their timeline and funding schedules.
Comments on the following items were submitted by August 26, 2019:
Comments/Questions
Any additional comments may be submitted via:
All comments received carry equal weight, regardless of submission method.
All comments will be reviewed and suggestions/recommendations incorporated into designs where feasible.
Project Contact Information
Connie K. James, PE
NCDOT Project Contact
375 Silas Creek Parkway
Winston Salem, NC 27127
(336)747-7800
ckjames1@ncdot.gov
David Z. Keiser, PE
CDM Smith, Inc. Project Manager
5400 Glenwood Avenue, Suite 400
Raleigh, NC 27612
(919)325-3531
keiserdz@cdmsmith.com