Complete 540 - Triangle Expressway SE Extension
PROJECT DESCRIPTION
Federal Aid Project Nos. STP-0540(19), STP-0540(20), and STP-0540(21)
TIP Project Nos. R-2721, R-2828, & R-2829
NCDOT and the Federal Highway Administration (FHWA) are proposing to build a new, limited-access highway from the N.C. 55 Bypass in Apex, to the U.S. 64/U.S. 264 (I-495) in Knightdale—a distance of approximately 27 miles. The proposed highway, known as Complete 540–Triangle Expressway Southeast Extension, is being proposed as a toll facility.
This proposed highway has been shown to be the most practical solution for meeting the purposes of the project, which are to improve mobility and reduce traffic congestion south and east of the Raleigh area during peak travel periods. A secondary purpose of the project is to improve system linkage in the regional roadway network by completing the 540 outer loop around the greater Raleigh area, which would benefit commuters living south and east of Raleigh, as well as motorists making longer trips through the Triangle Region.
Vicinity Map
Complete 540 is divided into three projects in the NCDOT State Transportation Improvement Program (STIP). The three projects were combined in the environmental study.
Project R-2721 (from N.C. 55 Bypass to U.S. 401)

Project R-2828 (from U.S. 401 to I-40)

Project R-2829 (from I-40 to U.S. 64/U.S 264 (I-495)
Construction will likely be completed in phases that correspond to these three individual projects. Depending on available funding, each project will likely have different construction timelines.
PROJECT HISTORY
The Triangle Expressway is the largest highway project in North Carolina history and the first modern toll road in North Carolina. The first two segments opened in southern Durham and western Wake counties in 2011 and 2012.
The first segment of the roadway in Research Triangle Park opened in December 2011.

The next segments, representing the continuation of the 540 Outer Loop, opened in August and December 2012.
The next extension of the turnpike (called the Triangle Expressway Southeast Extension) will extend the expressway from the N.C. 55 Bypass at Apex to the south and east to I-40 at the existing U.S. 70 Clayton Bypass.
The final segment of the Triangle Expressway Southeast Extension will extend 540 from I-40 at U.S. 70 Clayton Bypass north and east to U.S. 64/264 freeway at I-540.
TYPICAL SECTION
Complete 540 is proposed to be a 6-lane median-divided freeway. Each direction would consist of three 12-foot lanes with an inner/outer 12-foot foot paved shoulder. The two directions of traffic would be separated by a 70-foot median.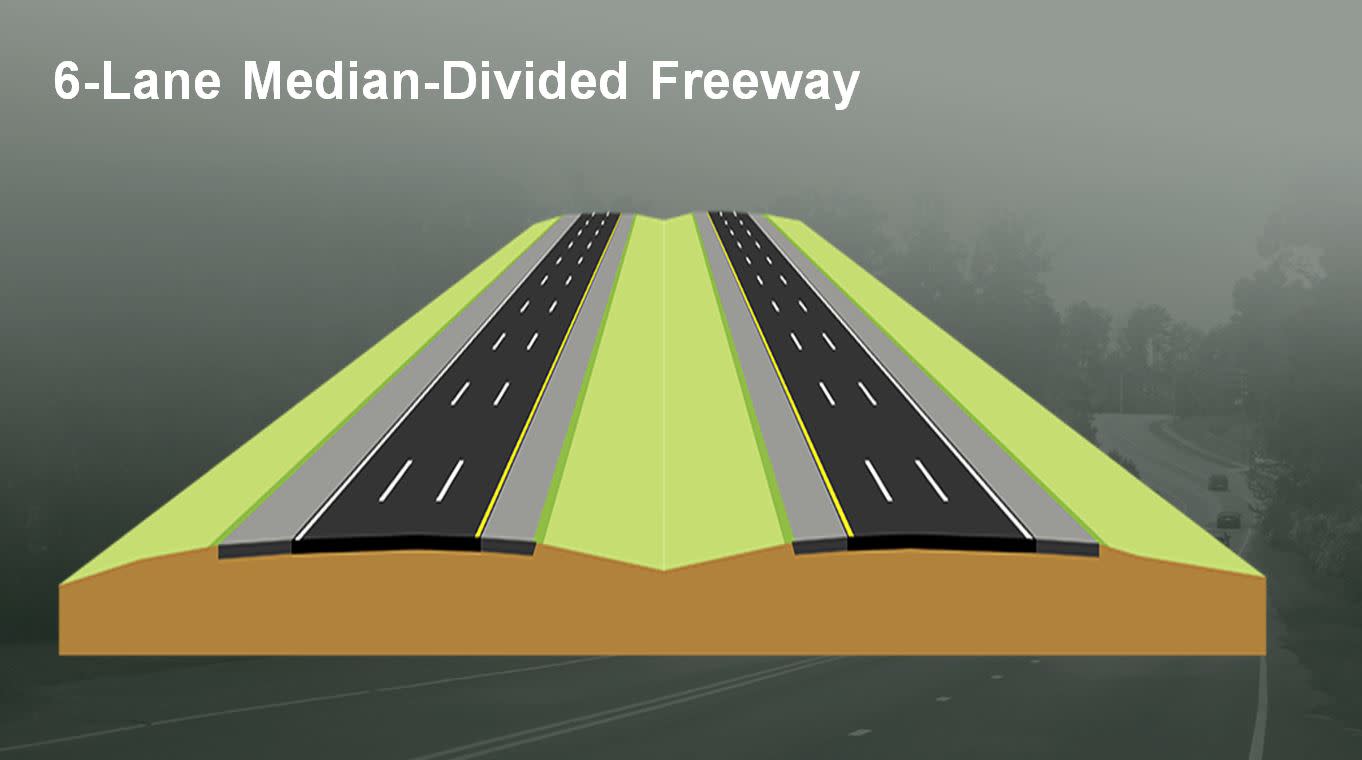 DESIGN BUILD
Complete 540 will be constructed as a design build project. This is a different process than most typical roadway projects. The design-build process allows NCDOT to hire a team of designers and contractors that is responsible for the design, right of way acquisition, and construction of a project. The team may begin construction of one portion of the project while they finish the design and right of way acquisition for others, usually resulting in faster completion.
Other potential benefits to a design-build project may be innovative solutions and quicker resolution to problems that arise during design and construction.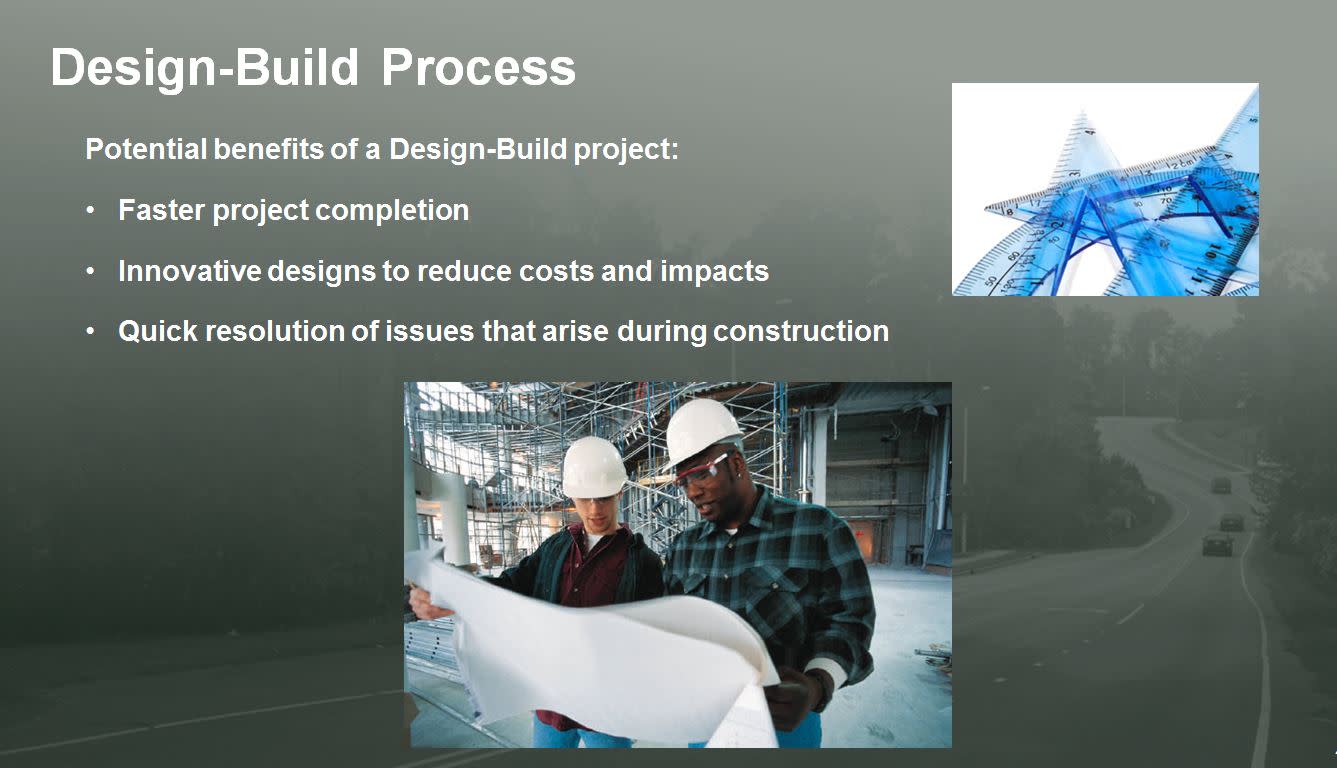 PUBLIC INVOLVEMENT
NCDOT conducted three public meetings and one formal public hearing in February 2018. The meeting dates, times, and locations are shown below.
February 20, 2018
Public Meeting #1
Holly Springs High School
5329 Cass Holt Road, Holly Springs
Open House Public Meeting: 6:00 P.M. - 8:00 P.M.
No Formal Presentation was made.

February 21, 2018
Public Meeting #2
Barwell Road Community Center
5857 Barwell Park Drive, Raleigh
Open House Public Meeting: 6:00 P.M. - 8:00 P.M.
No Formal Presentation was made.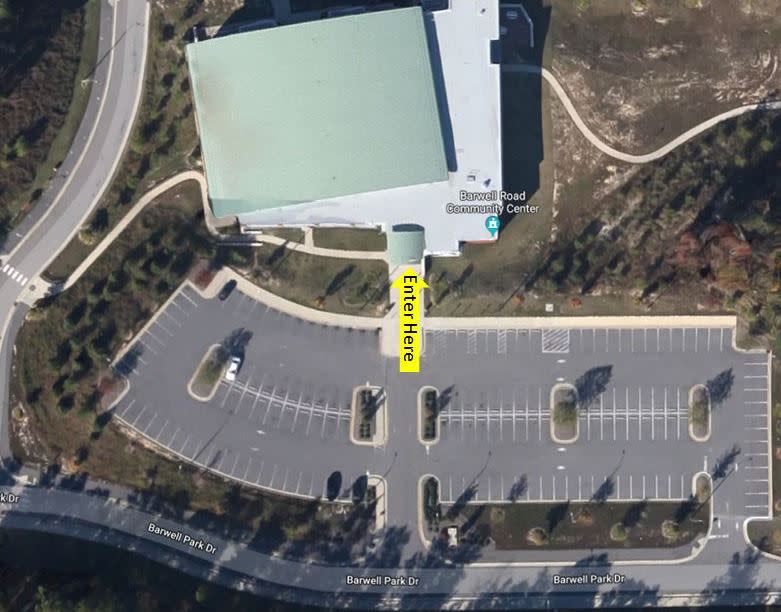 February 22, 2018
Public Meeting #3 and Public Hearing
Wake Technical Community College
9101 Fayetteville Road, Raleigh
Open House Public Meeting: 4:00 P.M. - 6:30 P.M.
Formal Presentation (Public Hearing) 7:00 P.M.