FS-1501A: U.S. 17/Future I-87 - Feasibility Study
PROJECT DESCRIPTION
Feasibility Study of upgrading U.S. 17 beteen Williamston and the Virginia State Line to interstate standards.
A feasibility study is a preliminary analysis document. It is the initial step in the planning process for a Transportation Improvement Program (TIP) project.
It does not do exhaustive human and natural environmental analysis, nor does it provide detailed designs and there is also no extensive public or stakeholder involvement.
What is a Feasibility Study?
A study undertaken to:
identify the needs for the project

describe the proposed project

develop initial alternatives that could address the needs for the project

identify preliminary costs

identify potential impacts

identfy and potential problems that may require consideration in teh planning and design phases
A feasibility does not determine the alternative to be constructed.
Vicinity Map
Interactive Map : https://goo.gl/nKf87j
PROJECT HIGHLIGHTS
U.S.17 is the only north-south corridor east of I-95. It stretches 284 miles from South Carolina to Virginia and serves 13 North Carolina counties. 55 miles of the roadway are categorized as freeway, 155 miles are expressway/multilane and 75 miles are two-lane highways. Speed limits range from 45 mph to 70 mph. Approximately 79.5 miles lie within this feasibility study's area between Martin County and the Virginia State Line. It passes through 6 North Carolina counties: Martin, Bertie, Chowan, Perquimans, Pasquotank, and Camden. One segment being explored would extend into Currituck County. The purpose of the project is to upgrade U.S. 13/17 from U.S. 64 in Williamston to Virginia to interstate standards to improve mobility, connectivity, and safety.
PROJECT HISTORY
In 2015 both houses of Congress passed federal transportation legislation authorizing a future Interstate designation for the full corridor between Raleigh and southeastern Virginia via northeastern North Carolina. The corridor received the I-87 designation in May 2016.
Interesting Historical Facts about the I-87 Designation
The number 87 is an appropriate tribute to the rich histories of the North Carolina and Virginia.
1587, the Roanoke Colony founded by Sir Walter Raleigh was established in what is now Dare County, North Carolina.

Also in 1587, Virginia Dare was born in the colony, becoming the first child of English parents born in America.

In 1787, James Madison's Virginia Plan for the nation's new government was presented at the Constitutional Convention by Virginia delegate Edmund Randolph. This document proposed the bicameral Congress that exists today.

In 1887, North Carolina State University, now the largest in the Carolinas, was founded in Raleigh, the location of the southern terminus of I-87.
On December 4, 2015, President Obama signed into law the Fixing America's Surface Transportation Act (FAST Act) . This law provides long-term funding certainty for surface transportation. This means that state and local goverments can move forward with critical transportation projects such as new highways and transit lines with the confidence that they will have a Federal partner over the long term. The FAST Act designates three high-priority corridors in eastern North Carolina: U.S. 17, U.S. 70 and U.S. 117/I-795.
TYPICAL SECTION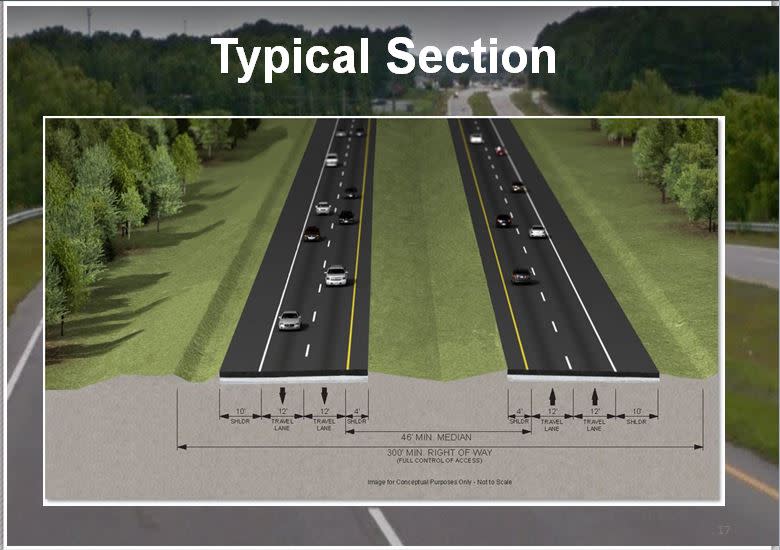 Typical right of way width would be 300 feet, with two 12-foot lanes in each dirction, a 10-foot outside shoulder, 4-foot inside shoulder and a 46-foot minimum grass median (70-foot desired) between directions. The posted speed would be 70 mph and there would be full control of access. This means that no driveways would be allowed along the corridor.
MAPS
The following maps are conceptual designs only. There are 10 main sections for the project corridor. Most sections have multiple pages (one click and leaf through pdf pages) and some have multiple options (shown as "A" or "B"). The map below shows where these overall sections are located for ease of viewing.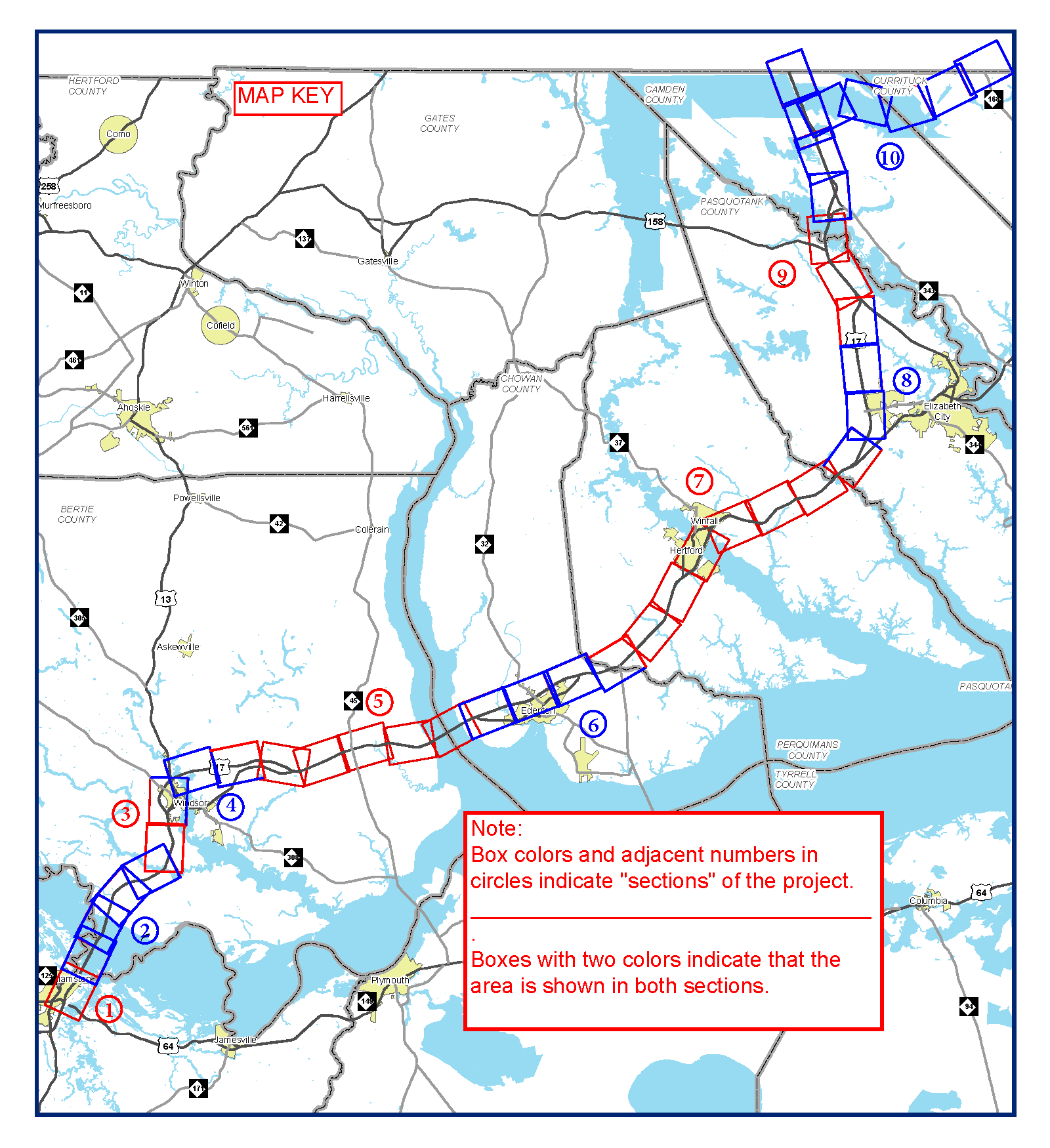 Click on a Section below to view - be patient - many are multiple pages.
NEXT STEPS
The Feasibility Study Report will be circulated for review and comment.

The project sections will be submittted for the Prioritization Process.

Obtain ranking in the State Transportation Improvement Program.
PROJECT CONTACT INFORMATION
Shane York, PE
Christy Shumate, AICP

Project Engineer

NCDOT Consultant

NCDOT Feasibility Studies Unit

AECOM

1534 Mail Service Center

701 Corporate Center Dr

Raleigh, NC 27699-1534

Raleigh, NC 27607

[email protected]

christy.shumate

@aecom.com
Comments
Comments may be submitted by mail or email to either of the project contacts shown or they may be submitted by completing the comment block at the bottom of this page.
Other Studies and Strategies Associated with U.S. 17 and Important to this Study
N.C. Maritime Strategy
In 2012, initiated by the Governor's Logistics Task Force (GLTF), the North Carolina Maritime Strategy took a look at North Carolina's maritime assets and the needs for improvement to ensure that our State remains competitive in the future. That Task Force found that highway improvements would lead to potential travel time savings and lower delivery costs for North Carolina shippers. According to the N.C. Multimodal Freight Plan, Maritime Profile, $1.05 million of waterborne agriculture exports from N.C. depart from Virginia, $173 million pass through South Carolina, and $101 million through Georgia. N.C. is a top destination for imports handled by the Port of Norfolk.
The Port of Virginia submitted an application as a result of this Task Force's findings to expand their Foreign Trade Zone to include Currituck, Camden, Chowan, Pasquotank, and Perquimans counties. This designation provides industries in the area with benefits that encourage them to establish and maintain operations.
2013 Ecomonic Impact Study
In 2013 an Economic Impact Study found a number of benefits for the project including:
Clear value that continued public investment in making US 17 a safer, less congested, higher-speed facility

In keeping with the region's economic development and economic opportunity goals

Would increase economic opportunities for agribusiness and tourism, and enhance safety and logistics

Jobs would be created in each of those sectors, as well as in the construction industry
Would continue to:
provide opportunities to divert traffic off of Interstate 95

enhance industrial development activity

increase retail activity,

reduce travel time,

improve traveler safety,
Governor's 25 Year Vision for N.C.
In 2014, Governor Pat McCrory unveiled his vision plan which involved developing infrastructure solutions for N.C. The eastern focus included improving the highway to Hampton Roads, strengthening military connections, and enhancing freight movement as well as connections to I-95.
Strategic Transportation Corridor Policy
The stated purpose of Strategic Transportation Corridors is to identify from existing facilities a network of multimodal high priority strategic transportation corridors which will form the state's core network of highly performing facilities for movement of high volumes of people and freight. The facilities and services in those corridors are considered to be of great importance on a statewide basis for long-distance movement of people and freight. The policy establishes that preservation of those facilities at a consistently high level of functionality, in terms of classification, condition, and service, will guide long-term planning at statewide, regional, and corridor levels and should be considered the state's highest priority when such corridors are being analyzed within the framework of regional or local transportation and land use plans.
The goal of the Strategic Transportation Corridor policy is to have an identified network or high-priority, multimodal transportation corridors that connect statewide and regional transportation-dependent activity centers to enhance economic development, reliable and efficient mobility and accessibility, and good decision-making.