U-5750: N.C. 54 Widening Shiloh Glenn to Perimeter Park
Proposed widening of N.C. 54 from Shiloh Glenn Drive to Perimeter Park Drive in Morrisville, Wake County
PROJECT OVERVIEW & PURPOSE

The North Carolina Department of Transportation is proposing to improve N.C. 54 as a 4-lane, median-divided principal arterial with no control of access in Wake County, North Carolina. The project extends from Shiloh Glenn Drive, northwest of N.C. 540, to Perimeter Park Drive (approximately 1.2 miles) in the Town of Morrisville. The proposed action is listed in the Draft NCDOT 2018-2027 State Transportation Improvement Program (STIP) as Project Number U-5750.
The purpose of the project is to improve traffic flow and operational efficiency to enhance mobility along N.C. 54 from Shiloh Glenn Drive to Perimeter Park Drive in the Town of Morrisville, by reducing anticipated delays as compared to those anticipated in the future no-build condition.
VICINITY MAP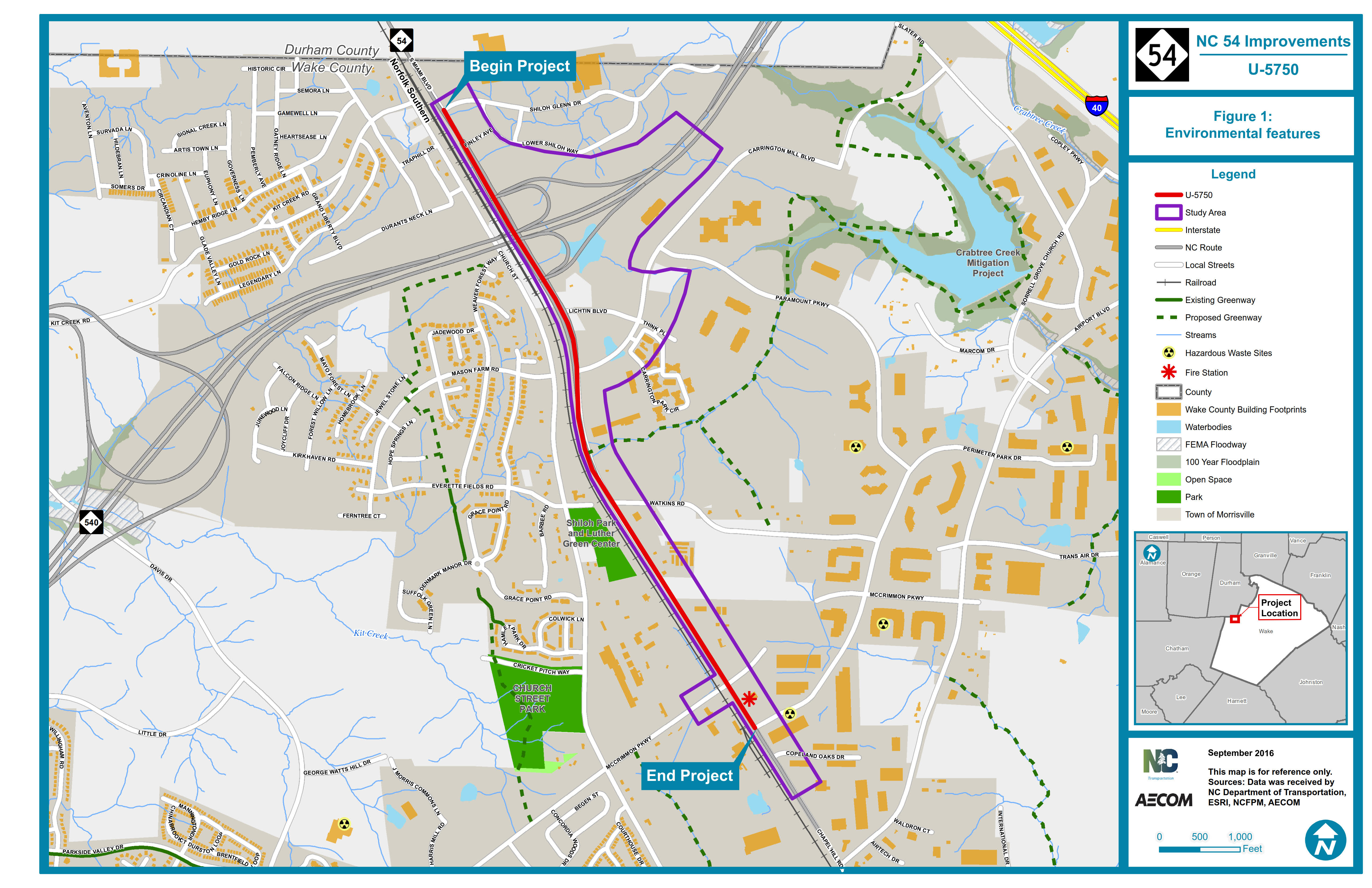 PROJECT HISTORY

The project is included in the Capital Area Metropolitan Transportation Organization (CAMPO) 2040 Metropolitan Transportation Plan (MTP) as project A222c. The project also aligns with the Morrisville Transportation Plan: 2009-2035, which states that N.C. 54 should be widened to four lanes in the project study area.
PROJECT FUNDING

This project is listed as Project U-5750 in the N.C. Department of Transportation's State Transportation Improvement Program (STIP) and is funded for $23,127,000.
Estimated Amount*
Property Acquisition $ 6,967,000
Utilities $ 660,000
Construction Costs $ 15,500,000
Total Cost $ 23,127,000
* Estimated costs are subject to change.
PROJECT TIMELINE

Milestone Date*
Public Meeting June 2018
Completel Environmental Document December 2018
Begin Right-of-Way January 2020
Begin Construction Spring 2023
* Future dates are preliminary and subject to change.
PUBLIC INVOLVEMENT

PUBLIC MEETING
There were two open house public meetings on Monday, June 25 at the Hyatt House located at 10962 Chapel Hill Road in Morrisville. The first meeting was from 11 a.m. to 1 p.m. and the second meeting was from 5 p.m. to 7 p.m.
When: Monday, June 25, 2018
Times: 11 a.m. - 1 p.m.
5 p.m. -7 p.m.
Location: Hyatt House
10962 Chapel Hill Road
Morrisville, NC 27560
Materials:
Public Meeting Map from Shiloh Glenn Drive to west of Watkins Road
Public Meeting Map from west of Watkins Road to east of Perimeter Park Drive

PUBLIC COMMENT
The public comment period closed on July 9, 2018. All comments and questions submitted via this website, mail, email, or phone were reviewed and considered by the project team.