W-5808B (W-5517) U.S. 421 and N.C. 902 - Bear Creek
Preliminary Engineering Activities for this project
have been suspended.
The NC Department of Transportation is proposing to upgrade the intersection of U.S. 421 and N.C. 902 to a reduced conflict intersection in Chatham County.
What is a Reduced Conflict Intersection?
A reduced-conflict intersection is a general term used to describe several types of designs that can be used to improve safety and traffic flow on a highway.
With the most common type of reduced-conflict intersection design,​ drivers on the main ​road follow their usual paths, but raised medians redirect drivers from the side road into turning right. When there is a safe opening in traffic, drivers turn right to easily enter the flow of traffic on the main route.
To go the other direction, or cross the highway, they pull into a dedicated lane, typically less than 1,000 feet away, to make a U-turn. There might be a traffic signal at this location.
Although there are variations to the designs, they all function the same by cutting more than half the potential locations, o​​r conflict points, where drivers and pedestrians can collide – hence the term "reduced-conflict intersection."
Vicinity Map: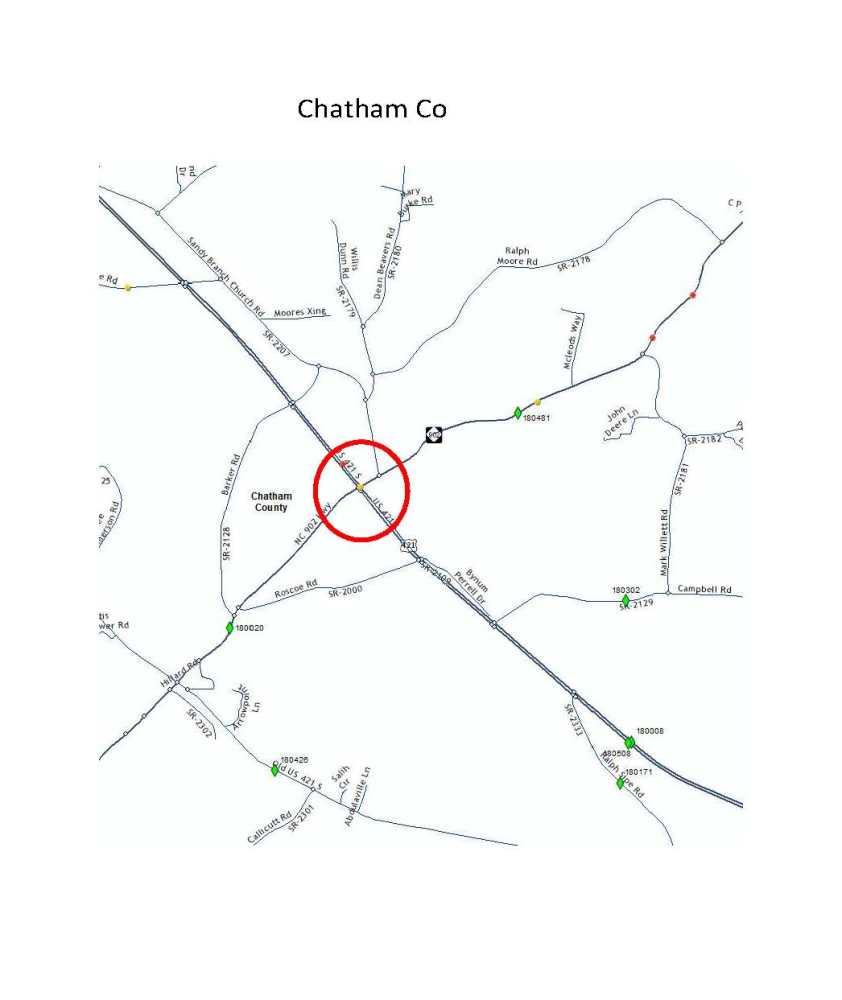 Purpose and Need:
Project W-5517 has been renumbered, the new number is W-5808B, and is located at the intersection of U.S. 421 and N.C. 902 in Chatham County, NC. The primary purpose of this project is to improve traffic flow and safety at the intersection.
Public Involvement
Public Meetings
A public meeting was held on August 20, 2019 in Bear Creek to obtain stakeholder and public input regarding the project's design.
Date:

August 20, 2019

Location:

Sandy Branch Baptist Church

715 Sandy Branch Church Rd

Bear Creek

Time:

5-7 p.m.
Public Meeting Map
Project Funding
Project W-5808B was selected for funding in August 2019 and is listed in the N.C. Department of Transportation's State Transportation Improvement Program. The project is not currently funded.
| | |
| --- | --- |
| | Estimated Amount* |
| Right of Way / Utilities | $ 100,000 |
| Construction | $ 736,500 |
| Total Cost | $ 836,500 |
* Estimated costs are subject to change.
Project Timeline
| | |
| --- | --- |
| Milestone | Date* |
| Public Meeting | August 20, 2019 |
| Construction | February 2022 |
* Future dates are preliminary and subject to change
PROJECT CONTACT INFORMATION
John Grant
Region Traffic Engineer
NCDOT Capital Region
1561 Mail Service Center
Raleigh, NC 27699-1561
919-814-4952