U-6105: Bailey Road Extension - Cornelius
The N.C. Department of Transportation, in partnership with the Town of Cornelius, proposes to extend and realign Bailey Road on new location approximately 1,600 feet south from its current location. The project begins at Poole Place Drive and ends at U.S. 21/Statesville Road, about 0.5 miles long. Current access to U.S. 21 will not change, but drivers will be able to more safely access U.S. 21 via Bailey Road instead.
The purpose of the proposed project is to improve safety and increase mobility options for drivers, bicyclists, and pedestrians.
Interactive Study Area Map
Project Map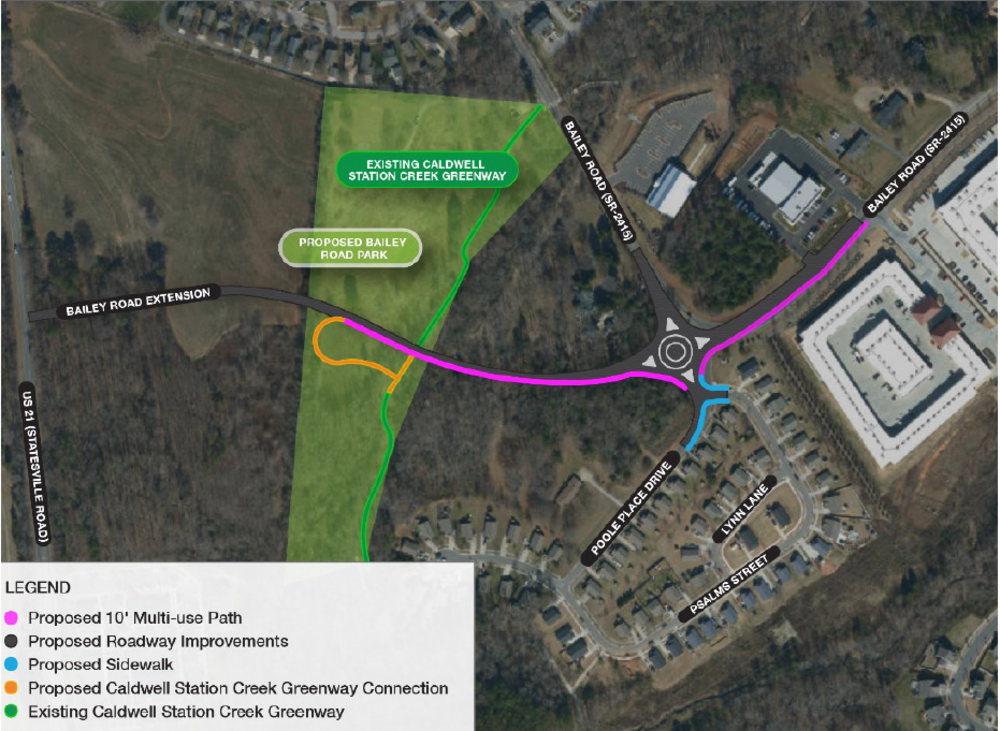 For additional information on how to read a public meeting map, click here.
Project Design
The proposed project design will include:
A roundabout connecting Bailey Rd., Bailey Rd. Extension and Poole Place Dr.

Removal of the sharp curve in the existing Bailey Rd. alignment

A 10' multi-use path to connect the roundabout to the Caldwell Station Creek Greenway

Bailey Road will be grade separated from the existing Caldwell Station Creek Greenway
*Based on the proposed project impacts to the Caldwell Station Creek Greenway and proposed Bailey Road Park, both of which are Section 4(f) resources, NCDOT and the Federal Highway Administration propose to make a Section 4(f) de minimis determination pursuant to 23 CFR 774.3. The project design is consistent with the Town of Cornelius Comprehensive Parks and Greenways Master Plan 2015-2025.
Roundabouts
The N.C. Department of Transportation builds roundabouts to improve safety for drivers, pedestrians and bicyclists. They also help reduce the congestion and backups more typical of traditional intersections with stop signs and traffic signals.
A driver generally enters the roundabout more quickly than if waiting at a traffic signal. In addition, the modern roundabout is much smaller than older traffic circles and requires vehicles to travel at lower speeds (15-20 mph), making them safer than traffic circles. Additionally, the slower speeds make it easier for a driver to find a gap in traffic inside the roundabout before safely entering it.​
For more information on roundabouts, please watch the following video:
Project Funding
| | Estimated Amount* |
| --- | --- |
| Development and Design | $490,000 |
| Right-of-Way | $2,064,000 |
| Construction | $4,632,000 |
| Total Costs | $7,186,000 |
* Estimated costs are subject to change. Based on currently adopted NCDOT State Transportation Improvement Program (STIP).
Project Timeline
| Milestone | Date* |
| --- | --- |
| Project Newsletter | October 2021 |
| Environmental Document | Winter 2021 |
| Begin Right-of-Way | Fall 2022 |
| Begin Construction | Spring 2023 |
* Future dates are preliminary and subject to change
Project Comments
Due to Covid-19, NCDOT has suspended in-person meetings until further notice.
NCDOT accepts comments throughout all phases of project development.
The public is encouraged to leave any questions using this website below, project email or phone number.
Project Email: baileyrd-us21@publicinput.com
Project Phone Number: 984-205-6615 enter project code 4806
Project Contact
Donald Griffith
NCDOT Division 10
716 West Main Street
Albemarle, NC 28001
baileyrd-us21@publicinput.com
984-205-6615 code 4806