I-5986A: I-95 Widening North of Fayetteville
NCDOT plans to widen I-95 from four lanes to eight lanes and make other upgrades stretching from I-95 Business/U.S. 301 (Exit 56) to I-40 (Exit 81), a length of 26 miles within Cumberland, Harnett and Johnston counties. The project is known in the State Transportation Improvement Program (STIP) as Project Number I-5986. This project is divided into two sections: A, which originally covered mile markers 56 to 71; and B, which covers mile markers 71 to 81.
Project Update: I-5986A was awarded by the NCDOT in 2019 as a design-build contract, which is an alternative way to streamline delivery of a project enhance the design, and potentially reduce the costs. The contractor is finalizing the design before construction can fully begin.
Since that awarding, there have been revisions to the design at the Wade-Stedman Road (Exit 61) and the Godwin-Falcon Road/N.C. 82 (Exit 65) interchanges. Updated traffic forecasts have been completed, indicating the need for additional improvements. These interchange reconfigurations are being proposed to improve traffic flow through the interchanges and along these roadways. These design revisions will require additional right of way and are being finalized before construction can begin later this year.
The design has also been revised to extend further south to include Exit 55 and to replace a culvert under Murphy Road with a bridge near that exit. The project was extended to address flooding issues identified in the department's I-95/I-40 Flood Resilience Feasibility Study (2019) and based on additional analysis. During extreme flooding, the existing culvert is inadequate, and it contributes to flooding problems to nearby I-95 over the same creek.
The northern project terminus, south of Long Branch Road (Exit 71), remains unchanged.
For additional information please visit the NCDOT I-95 Project Webpage: https://www.ncdot.gov/projects/i-95-widening
Vicinity Map: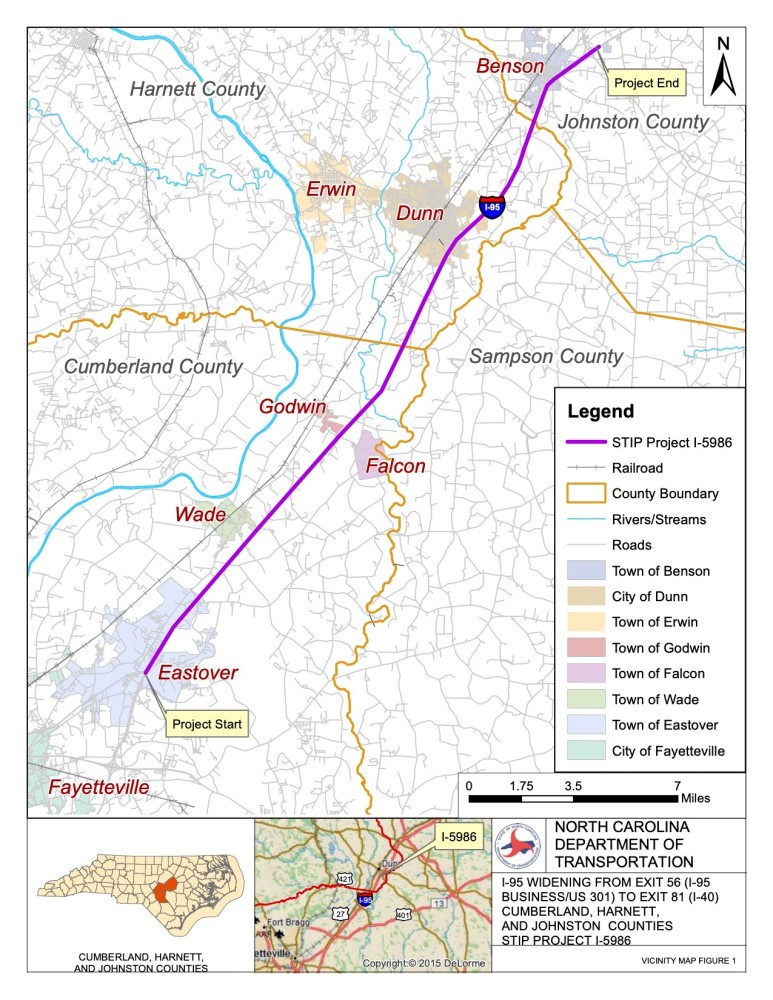 Project Comments:
All comments are welcome thoughout the project development and construction phases.
Please leave comments on this page or
Email comments to: I[email protected]
Project Managers
Scott Pridgen
Division 6 Project Development Engineer
Michael Penny
NCDOT Design Build Engineer