B-5685: Nutbush Road Bridge over Kerr Reservoir
The N.C. Department of Transportation is proposing to replace a bridge (No. 89) on Nutbush Road over John H. Kerr Reservoir in Vance County.
Interactive Project Area Map:
This map depicts the study area used to determine and evaluate potential environmental effects of the project
and survey information used for design. It does not reflect the footprint of improvements.
The map also shows the recommended detour route in yellow.
The map is for reference purposes only.
Project Overview
STIP Project B-5685 involves replacing the bridge (No. 89) on Nutbush Road over the John H. Kerr Reservoir in Vance County. The existing bridge is 196 feet in length, was built in 1952, and is reaching the end of its useful life.
Several potential construction methods were evaluated and it was decided that the new bridge would be built in the same location as the existing bridge. A detour route (shown below) is recommended during construction.
The new bridge will be approximately 211 feet long and will have two 9-foot lanes. No new right of way will be needed to construct the new bridge.
Bridge Typical Section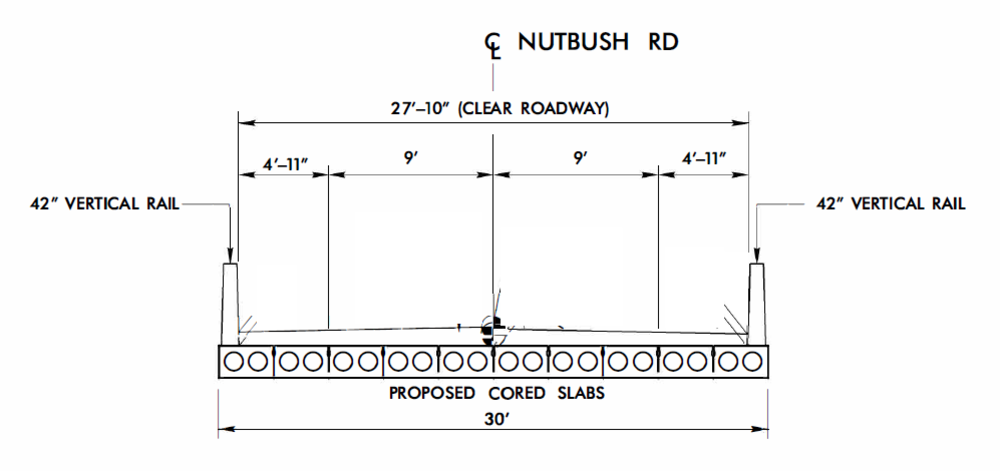 Construction and Detour Route
During construction Nutbush Road will be closed on either side of the worksite. The roadway will be available on either side of the construction site. The recommended detour route includes the use of N.C. 39, Spring Valley Road, U.S. 158 and Satterwhite Point Road.
This detour is expected to be needed for six to nine months beginning in Early 2025.
Project Funding:
| | Estimated Amount* |
| --- | --- |
| Construction | $ 2,.35 Million |
| Total Costs | $2.35 Million |
* Estimated costs are subject to change. Based on currently adopted N.C. State Transportation Improvement Program (STIP).
Project Timeline:
| Milestone | Date* |
| --- | --- |
| Approved Designs | August 2022 |
| Begin Construction | July 2028 |
* Future dates are preliminary and subject to change
Project Comments
NCDOT accepts comments throughout all phases of project development and construction.
All comments carry equal weight regardless of submission method.
Project Email: Nutbush-Bridge@publicinput.com
Project Phone Number: 984-205-6615 enter project code 4206 to leave a message.
Project Contact
George Boules, P.E.
NCDOT Project Management Unit
Project Manager
1573 Mail Service Center
Raleigh, NC 27699-1573
Project Contact
Rekha Patel, P.E.
Consultant Project Manager
Dewberry
2610 Wycliff Rd., Ste 410
Raleigh, NC 27607