P-5750: Polkton Rail Siding Extension
Project Overview:
The N.C. Department of Transportation Rail Division proposes to extend the existing rail siding in Polkton approx. 14,000 feet to the west, to just east of the bridge at Boston Avenue in Peachland. The project would also include permanently closing the at-grade crossing at Ross Wright Road. Traffic that would normally cross the railroad at Ross Wright Road would alternatively use existing roadways, such as Peachland-Polkton Road, Freedom Road and U.S. 74. The permanent detour length is approximately 2 miles long.
Project Purpose:
The purpose of the project is to improve rail efficiency and increase capacity/reliability along the CSX SF-Line and Queen City Express route (between Wilmington and Charlotte) by reducing rail congestion associated with inadequate storage length in the Polkton area.
Project Need:
Rail siding with inadequate storage length causes rail congestion/delays on the CSX SF-Line (Queen City Express route), impeding intermodal operations and obstructing the rail network from being fully utilized. The existing rail siding through the Town of Polkton is approximately 2 miles long and includes two at-grade crossings, Freedom Road and Williams Street (N.C. 218), which greatly reduce the efficiency of the current siding since CSX cannot use it to store long trains without blocking crossings in downtown Polkton.
Vicinity Map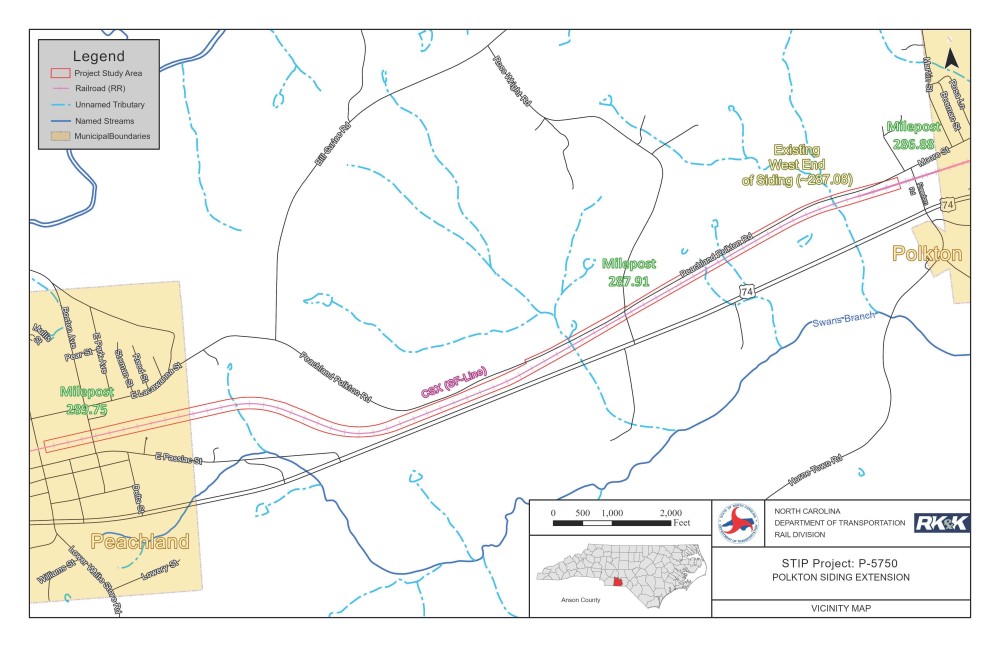 Proposed Project Map

Project Funding:
The Polkton Rail Siding Extension (P-5750) is a distinct project with independent utility within the October 2018 Piedmont-Atlantic Intermodal Rail System (PAIRS) Consolidated Rail Infrastructure and Safety Improvements (CRISI) Program Grant. The Federal Railroad Administration is the lead federal agency and the estimated cost for the project is $16,100,000 in the 2020-2029 STIP..
| | Estimated Amount* |
| --- | --- |
| Right-of-Way | $ 600,000 |
| Construction Costs** | $ 15,500,000 |
| Total Costs | $ 16,100,000 |
* Estimated costs are subject to change. Based on draft NCDOT STIP.
** Project development/design cost is within the construction cost
Project Timeline:
| Milestone | Date* |
| --- | --- |
| Complete Environmental Document | Fall 2020 |
| Right-of-Way / Easements | Summer 2023 |
| Construction | Summer 2024 |
* Future dates are preliminary and subject to change
Project Comments:
All comments will be taken into consideration, regarding of submittal method.
You may leave a comment or question below
or
Email the comment or question to [email protected]
Project History
Piedmont Atlantic Intermodal Rail System (PAIRS)
The North Carolina State Ports Authority (NCSPA) owns and operates an ocean port terminal in Wilmington, North Carolina in New Hanover County. The Port of Wilmington (the Port) is a tremendous catalyst for economic growth and development throughout North Carolina generating billions in economic impacts annually. NCSPA strategic plan forecasts a doubling of container and general terminal volumes at the Port over the next five years. It is critical to invest in strategies and infrastructure investments that provide stronger, more rigorous links between freight transportation solutions and air quality planning as NCSPA addresses these growing volumes.
The PAIRS project will add capacity and increase the fluidity of the CSX freight intermodal network in North Carolina, ensuring connections between the Southeast, Mid-Atlantic, Northeast, Midwest, and international ports on the eastern seaboard are maintained and enhanced. The PAIRS project will yield measurable economic, safety, and environmental benefits. Project benefits, supporting economic vitality of North Carolina and the region are outlined below.
Enhanced flow of goods on the National Gateway corridor, providing improved access to domestic and global markets via international seaports and regional intermodal terminals.

Improved integration of rail network with other modes by supporting increased use of intermodal rail service and reducing rail operating impacts to local communities.

Enhanced safety and reliability of the rail network.

State of good repair by improving condition of the existing rail network.
The purpose of the PAIRS project is to improve the safety and efficiency to the CSX freight intermodal network on the National Gateway, specifically along the corridor between Charlotte and Wilmington, and access beyond to Atlanta, Georgia, and the greater CSX network in the Southeast. There are four distinct project elements within the project scope, the Wilmington Beltline Improvements and extension of three passing sidings at Polkton, Richardson Creek, and Waxhaw. These project elements have independent utility but also provide corridor wide benefits by eliminating points of inefficiency along the route.
The PAIRS project will significantly improve overall operational efficiencies of freight rail operations through the region by increasing freight velocity and fluidity, enhancing rail capacity, and improving access to inland and seaport intermodal terminals. The improvements are anticipated to reduce total transit times between Charlotte and the Port of Wilmington (via SF Line and ACB Line) and between Charlotte and greater CSX network in the Southeast (via the SG Line to Atlanta) by aligning train schedules for time-saving transfer at the Hamlet Yard and by facilitating train moves between the SF and SG Lines in Waxhaw. Combined, these improvements will enhance the economic competitiveness of rail transportation in the region.
Extension of siding at Polkton allows for passing moves to alleviate increasing track congestion along the corridor and will enhance fluidity of the rail system, reduce rail service disruptions and improve rail operating speed and reliability. The project enhances the safe, efficient, and reliable movement of goods along the National Gateway, capitalizing on previous federal, state, and private investments in this important railroad corridor. These improvements will provide operational efficiencies for movement of intermodal goods through North Carolina and accommodate growing rail freight volumes with fewer impacts to local residents and businesses.
The National Gateway corridor segment between Pembroke and the South Carolina border west of Monroe is among the top gross tonnage rail routes in North Carolina. The addition of railroad sidings at Polkton, Richardson Creek, and Waxhaw provide critical capacity and operational enhancements to allow for passing of intermodal trains and movement of car blocks among trains between Wilmington and Charlotte and continuing on to Atlanta. The train volumes within this corridor are expected to realize annual growth of 17.5% through 2025 due the addition of new Queen City Express intermodal service between the Port of Wilmington and Charlotte as well as forecasted through traffic along this critical freight corridor.
Project Contact Information:
Undrea Major
NCDOT Rail Division
1553 Mail Service Center
Raleigh, NC 27699-1553
(919) 707-4726
Kristina Miller
RK&K Senior Manager, Planning
8601 Six Forks Road, Forum 1, Suite 700
Raleigh, NC 27615
(919) 653-7384