U-6006 - U.S. 220 Business - Randleman and Asheboro
Proposed Widening of South U.S. 220 Business from Caudle Road to U.S. 311 Extension & Improvements to Wesleyan Road and U.S. 311 Extenison.
in Randolph County
Vicinity Map: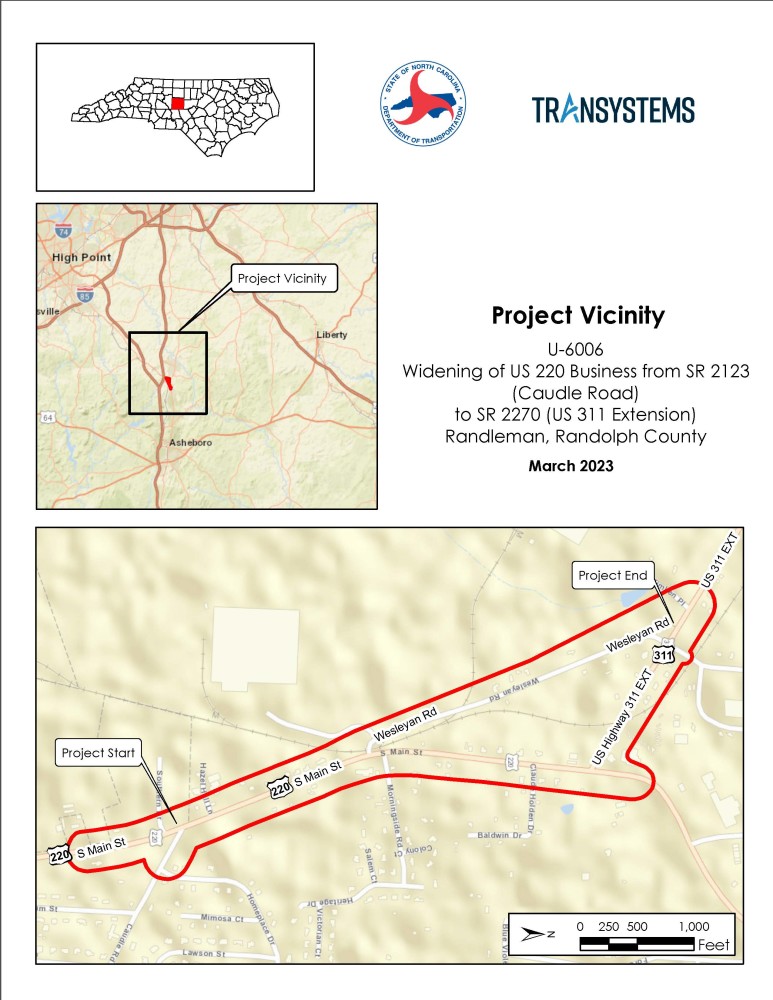 Project Overview:
The N.C. Department of Transportation proposes widening of U.S. 220 Business (South Main Street) from U.S. 311 Extenision to Caulde Road / Southern Drive as well as improvements to Wesleyan Road and eastern portion of U.S. 311 Extension.
The primary benefits of the project will be to increase capacity, reduce congestion and improve mobility (decreasing Delays) as well as reduce crashes and improve vehicular, rail, pedestrian and bicycle safety.
Current safety issues in the project area include:
• Tractor trailers tipping or exiting the roadway while attempting to navigate the tight curves between Wesleyan Road and South Main Street while crossing the Norfolk Southern Railroad (NSRR) tracks.
• Average crash rates for the three project corridors exceed the statewide critical crash rates for similar statewide facilities.
• High number of rear-end collisions on South Main Street, where turning vehicles use the same lanes as through traffic.
• Use of South Main Street by pedestrians without benefit of shared use facilities in the project vicinity, including no sidewalks, crosswalks or pedestrian signals.
Project Highlights:
U.S. 220 Business (South Main Street)
Widen South Main Street (U.S. 220 Business) between just south of the Southern Drive/Caudle Road (S.R. 2123) intersection and U.S. 311 Extension (S.R. 2270) to 3-lanes with curb/gutter.

Widen travel and center turn lanes to 12-ft, add a 12-ft wide multi-use path on the east side to accommodate pedestrians and bicycles, and add a 6-ft sidewalk on west side (except where not allowed by Norfolk Southern Railroad through their right of way - at the Wesleyan Road crossing).
CAUDLE ROAD
Re-align Caudle Road to align with Southern Drive at a 90-degree intersection and convert from stop controlled to full signalized controls with crosswalks.
U.S. 311 EXTENSION
Widen U.S. 311 Extension between Wesleyan Road/Stout Road (S.R. 1955) and South Main Street to 3-lanes (additional eastbound lane) with curb/gutter.

Improve the intersection at U.S. 311 Extension and South Main Street with: removal of remnant islands and restriping; lengthen storage lanes; closure of 3 business driveways located too close to the intersection and relocate one further from intersection (all businesses will retain at least two driveways); add crosswalk at the southern leg of the intersection; and, add sidewalk stub on western side of South Main Street from new intersection crosswalk to the existing gas station driveway.
WESLEYAN & STOUT ROADS
Shift the Wesleyan Road/Stout Road and U.S. 311 Extension intersection 10-feet to the west to better align intersection, signalize intersection with dedicated left turn lanes on all approaches, and lengthen storage lanes. Also, the shifting of both Stout Road (for approximately 225 feet north of U.S. 311) and Wesleyan Road (for approximately 0.24 miles south of U.S. 311 Extension) 10-feet to the west will minimize residential impacts.

Widen travel lanes on Wesleyan Road from 8-ft to 12-ft and widen shoulders by 2-ft, except along the frontage of Whitehall Evangelical Methodist Church and parking lot where curb/gutter will be used to avoid church buildings and cemetery plots.
RAILROAD CROSSINGS
Modify Norfolk Southern Railroad (NSRR) at-grade crossings in three locations to improve safety:

Close current at-grade crossing at South Main Street and Wesleyan Road and end southern Wesleyan Road with new cul-de-sac.

Widen roadway through northern Wesleyan Road Rail crossing.

Widen roadway through U.S. 311 Extension Rail crossing and move Mobile Home Park driveway to east, outside of RR right of way.
Overall, the Project will provide the following benefits:
•Closure of the RR crossing at Wesleyan Road and S. Main Street will remove a safety hazard.
• Wider travel lanes and shoulders on Wesleyan Road will address additional traffic from closing the NSRR crossing (especially from trucks).
• Realignment and new traffic signal and turn lanes at Wesleyan Road/Stout Road/U.S. 311 Extension intersection as well as the Caudle Road/Southern Drive intersection will improve traffic operations and reduce crash rates, improving the safety of the intersections.
• Center turn-lane added to S. Main Street will separate turning vehicles from travel lanes, improving safety and decreasing delays, improving mobility in the corridor.
• Removal of excessive numbers of driveways and rechannelizing lanes at the S. Main Street/U.S. 311 Extension intersection will improve traffic flow.
• The addition of a crosswalk at the S. Main Street/U.S. 311 intersection and a 12-foot multi-use path along the east side of S. Main Street and sidewalk along its western side will improve pedestrian and bicycle accessibility, safety and mobility in the area.
Project History:
The need to widen South Main Street was identified as early as 1993 by the Cities of Randleman and Asheboro as well as NCDOT. Funding for the project was included in the State Transportation Plan in 2015 and the current project began in April 2018. To date, the project has included a public meeting (July 11, 2019) and coordination meetings with the Cities of Randleman and Asheboro (March 2019 and May 2021) as well as Norfolk Southern Railroad and the DOT Rail Division (April 2019 and June 2021). The project was put on hold by DOT from Sept 2019 to March 2021.
Various changes were incorporated into the project as a result of the 2019 public comments, including:
Shift Wesleyan Road, its intersection with U.S. 311 Extension, as well as Stout Road ten feet to the west, tying into the south at the NCRR tracks, to avoid homes on the east side of Wesleyan Road.

Improve all of U.S. 311 Extension between Wesleyan/Stout and South Main Street (U.S. 220 Business), including realigning the Allred Mobile Home Park driveway away from railroad right of-way

Adding a signal at the realigned Caudle Rd and Southern Drive intersection.
Public Input:
Information will be provided to the public in a virtual format on this website. The public is encouraged to provide comments or share their thoughts regarding the project.
Please provide your comments to NCDOT by May 18, 2023.
Revised Project Maps
Click on the link or the thumbnail below to view or download the maps.
Project Funding:
| | |
| --- | --- |
| Activity | Estimated Amount* |
| Right-of-Way & Utilities | $ 3,748,000 |
| Construction Costs | $ 8,500,000 |
| Total Cost | $ 13,192,000 |
* As shown in the currently adopted State Transportation Improvement Program - Subject to change
Project Timeline:
| | |
| --- | --- |
| Milestone | Date* |
| public outreach | July 2019 |
| Newsletter Update | May 2023 |
| Right of Way Begins | Summer 2023 |
| Construction Begins | Fall 2026 |
| Estimated Construction Ends | Fall 2028 |
* ​ As shown in the currently adopted State Transportation Improvement Program - Subject to change
Comments
NCDOT accepts comments throughout all planning, design, and construction phases of project development.
All comments will be taken into consideration, and carry equal weight, regardless of submittal method.
To submit comments for consideration during the current phase pf project development, please submit before Month, day, year.
You may leave a comment or question below
Or
Email the comment or question to US220-Randleman-Asheboro@PublicInput.com
Or
Phone Number: (855) 925-2801 Code: 2855
Project Contact Information:
Greg Davis, PE
NCDOT Highway Division 8
Project Engineer
121 DOT Drive
Carthage, NC 28327
Project Consultant Information:
Michelle Suverkrubbe
TransSystems Corporation (Previously SEPI)
Assioicate / Lead Planner
1 Glenwood Avenue, Suite 600
Raleigh, NC 27603
Title VI Feedback
To ensure we're hearing from a broad set of voices, would you be willing to share (completely anonymously) some information about yourself?
If so, please click here https://publicinput.com/NCDOT-Title-VI