U-5720: U.S. 70 Durham
​Preliminary Engineering Activities for this project
resumed on 3/3/2021.
---
The N.C. Department of Transportation is proposing to convert U.S. 70 to a Controlled Access Roadway from west of Lynn Road to east of Page Road Extension in Durham.
A controlled-access roadway is a type of roadway which has been designed for high-speed vehicular traffic, with all traffic flow ingress- and egress-regulated (no side street or driveway access directly onto the roadway)
Project U-5720 is listed in the State Transportation Improvement Program (STIP) as South Miami Boulevard (S.R. 1959) / Sherron Road (S.R. 1811) to east of Page Road Extension (S.R. 2095). Upgrade to controlled-access facility and convert Sherron Road at-grade intersection to interchange.
Vicinity Map: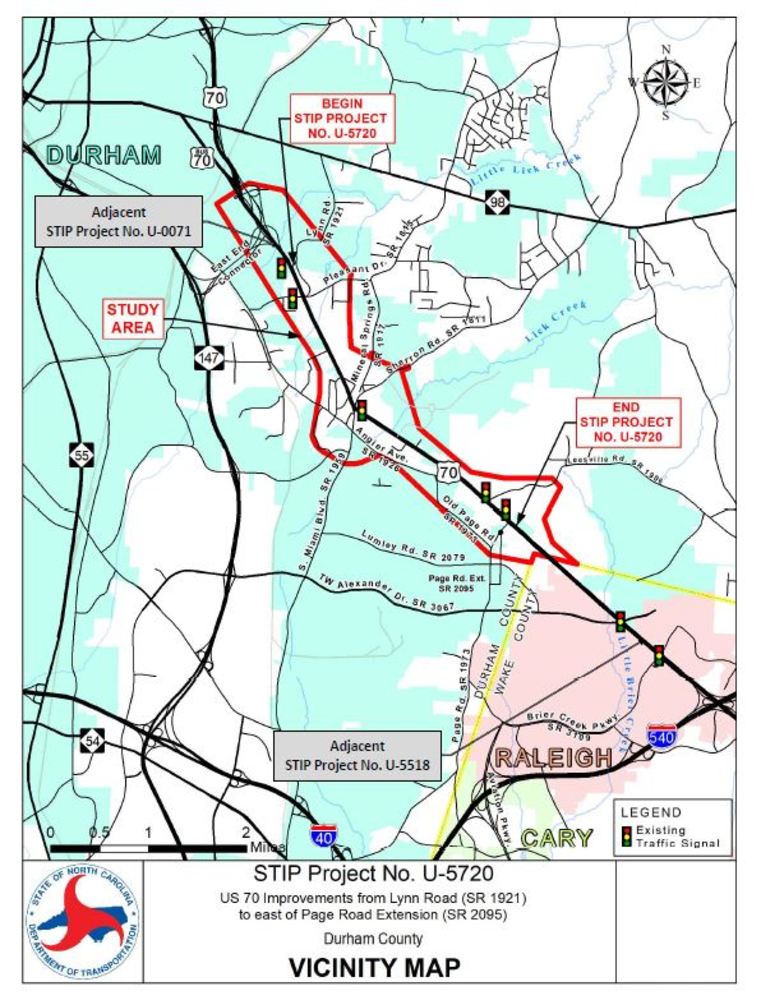 OVERVIEW
U.S. 70 between Lynn Road and Page Road Extension experiences traffic congestion, poor operating conditions, and a higher than average number of vehicle crashes. The purpose of this project is to improve traffic operations and reduce conflicting vehicular movements on U.S. 70 and associated intersections in the project corridor.
Conceptual Corridors
The U.S. 70 project (U-5720) is in the early stages of development. At the public meetings on October 30 and November 1, 2018, concepts for the main roadway (U.S. 70) and options being considered and examined for intersections along the corridor were provided for public review and comment.
The study area shown is a broad survey area and is not intended to reflect any level of potential impacts. Direct impacts from the proposed project will be contained within the study area, but not all properties within the study area will be impacted
Three Widening Concepts (north, south and upgrade existing) were considered for the improvement of U.S. 70. In the northern and southern widening concepts, a portion of the existing U.S. 70 would be retained as a service road providing access to adjacent land uses.
In addition, NCDOT is considering two design options for the proposed Sherron Road/South Miami Boulevard interchange: Option A - a Single Point Urban Interchange (SPUI) or Option B - a Tight Diamond Interchange. Graphic depictions of these and the roadway concepts are shown below.
For Additional information on this project, please visit: https://www.ncdot.gov/projects/us-70-durham
Sherron Road/South Miami Boulevard - Interchange Options
Option A: Single Point Urban Interchange (SPUI)

Option B: Tight Diamond Interchange

Public Involvement
Public Meetings
Two Public Meetings were held on October 30 and November 1, 2018 to gather feedback on conceptual designs.

Public Meeting Maps:
PROJECT CONTACT INFORMATION
Elmo Vance
NCDOT Project Management Unit
1582 Mail Service Center
Raleigh, NC 27699-1582
Robin Pugh, AICP
Consultant Project Manager
8601 Six Forks Road
Forum 1, Suite 700
Raleigh, NC 27615
Project Email: [email protected]
Project Phone: 984-205-6615 Code: 3394