W-5710Z: N.C. 200/Lancaster Highway at N.C. 522/S. Rocky River Rd. and Parkwood Rd.
The N.C. Department of Transportation proposes to upgrade the intersection of N.C. 200/Lancaster Highway at N.C. 522/South Rocky River Road and Parkwood Road in Union County to a roundabout. The purpose of this project is to improve safety and traffic congestion at these intersections
Construction crews will start building the roundabout starting the week of June 6, 2022, weather permitting.

The contract calls for the roadway to be open by August 2022, with vegetation establishment continuing through March 2023. For real-time travel information, visit DriveNC.gov.
Interactive Study Area Map
Detours
Smaller vehicles and motorists will take Plyler Mill Road, Ruben Road, Rocky River Road, and Tom Starnes Road, returning to N.C. 200. Northbound drivers will follow this detour in reverse.

Trucks traveling south on N.C. 200 should follow N.C. 75 to S. Potter Road, which will turn into Old Waxhaw-Monroe Road. Trucks will then turn to Providence Road South, returning to N.C. 200. Northbound truck traffic will follow the detour in reverse.
Project Map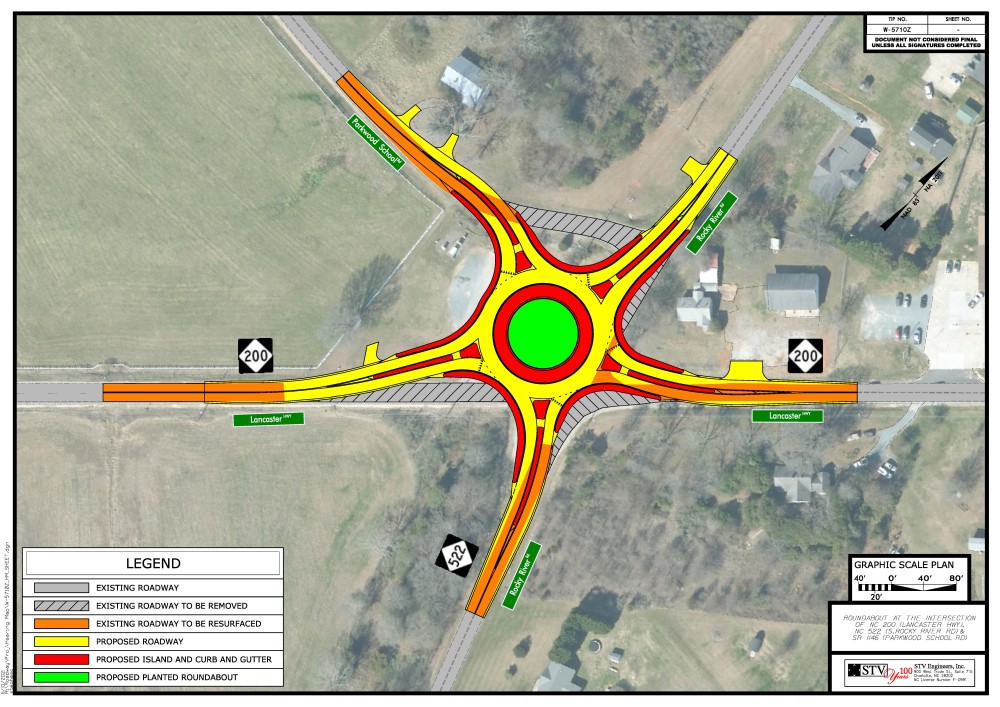 A video explaining how to read a public hearing or meeting map can be viewed below. The video contains information on colors and symbols used.
Roundabouts
The N.C. Department of Transportation builds roundabouts to improve safety for drives, pedestrians and bicyclists. They also help reduce the congestion and backups more typical of traditional intersections with stop signs and traffic signals.
A driver generally enters the roundabout more quickly than if waiting at a traffic signal. In addition, the modern roundabout is much smaller than older traffic circles and requires vehicles to travel at lower speeds (15-20 mph), making them safer than traffic circles. Additionally, the slower speeds make it easier for a driver to find a gap in traffic inside the roundabout before safely entering it.​
For more information on roundabouts, please watch the following video.
Project Funding
| | Estimated Amount* |
| --- | --- |
| Project Development & Design | $300,000 |
| Right-of-Way/Utilities | $241,000 |
| Construction | $1,975,000 |
| Total Costs | $2,516,000 |
* Costs are preliminary subject to change.
Project Schedule
| | Date* |
| --- | --- |
| Construction | June 2022 |
* Future dates are preliminary subject to change.
Public Comment
NCDOT accepts comments throughout all phases of project development.
The public is encouraged to leave comments using the project email or phone number.
Email: NC200-NC522-Roundabout@publicinput.com
Phone number: 984-205-6615 enter code 4859
Project Contact
Randy Bowers
NCDOT Project Manager
716 West Main Street
Albemarle, NC 28001
NC200-NC522-Roundabout@publicinput.com
984-205-6615 code 4859
Title VI Feedback
To ensure we're hearing from a broad set of voices, would you be willing to share (completely anonymously) some information about yourself? If so, please click here (https://publicinput.com/NCDOT-Title-VI)