B-6047: Harris Henrietta Road over Floyds Creek - Rutherford County
The N.C. Department of Transportation proposes to replace the bridge on Harris Henrietta Road over Floyds Creek in Rutherford County. The project includes replacing the existing bridge with a new bridge that includes two 12-foot travel lanes and 3-foot shoulders.
The purpose of this project is to provide a safe crossing on Harris Henrietta Road over Floyds Creek due to the bridge, while being maintained for safety, has become structurally deficient and is approaching the end of its functional life. A bridge is considered "structurally deficient" if it is in relatively poor condition or has insufficient load-carrying capacity. The insufficient load capacity could be due to the original design or to deterioration.
Interactive Study Area Map
Detour Route
​Harris Henrietta Road will be closed during construction, which should start in the spring of 2024 and last about 12 months.
The detour route, illustrated below, will follow Hogan Road, Jack McKinney Road and U.S. 221 for 3 miles.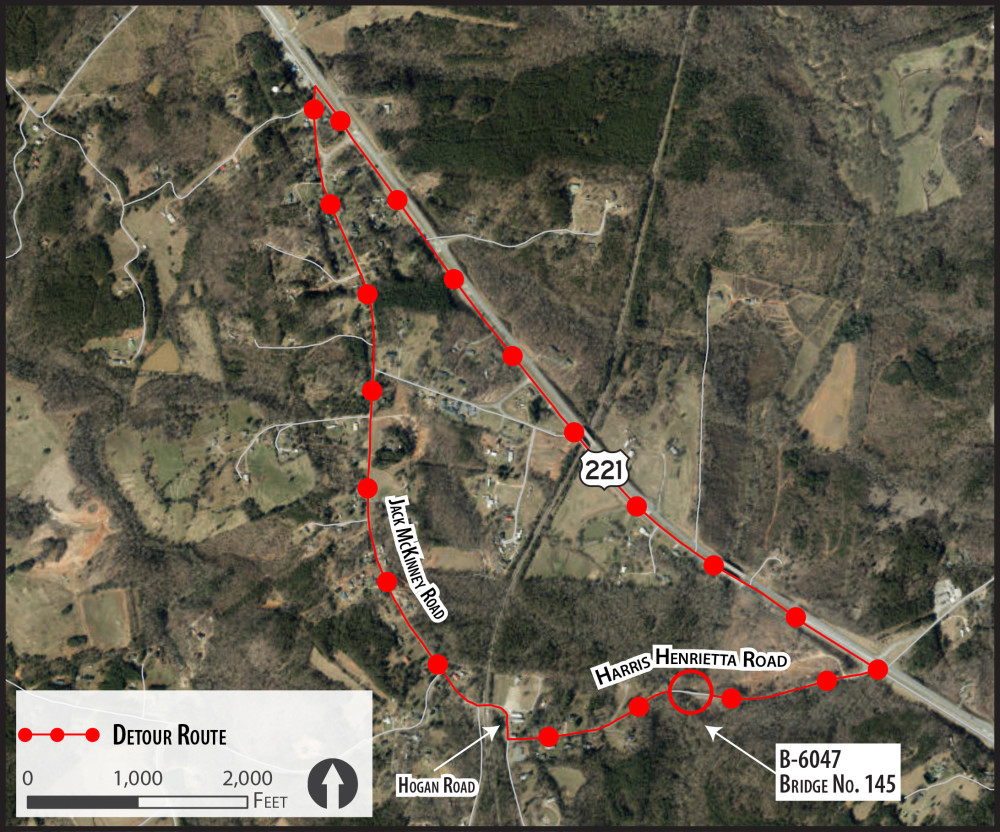 ​
Project Funding
This project is listed as Project No. B-6047 in the N.C. Department of Transportation's State Transportation Improvement Program.
| | Cost* |
| --- | --- |
| Right-of-Way | $210,000 |
| Construction | $2,100,000 |
| Total | $2,310,000 |
* Costs are preliminary and subject to change
Project Comments
Due to Covid-19, NCDOT has suspended in-person meetings until further notice.
NCDOT accepts comments throughout all phases of project development.
The public is encouraged to leave comments using this website, email, or phone number.
Email: harrishenrietta-floydsbridge@publicinput.com
Phone Number: 984-205-6615 enter project code 2137
Project Contact
David Stutts, PE
NCDOT Structures Management Unit
1581 Mail Service Center
Raleigh, NC 27699-1581
harrishenrietta-floydsbridge@publicinput.com
984-205-6615 code 2137