W-5704S: N.C. 42 at N.C. 96 - Johnston Co.
The N.C. Department of Transportation proposes to upgrade the intersection of N.C. 42 at N.C. 96 in Johnston County to a roundabout.
Interactive Study Area Map
Project Overview
The N.C. 42 at N.C. 96 intersection is a major crossroads in rural Johnston County. N.C. 42 serves as the link between the Town of Clayton and City of Wilson, while N.C. 96 serves as the link between the Towns of Selma and Zebulon.
In March 2019, the intersection was converted to an all-way stop as an interim measure to address a safety concern at this location. Today the intersection operates as a four-way stop, controlled intersection, with flashing red lights on all approaches. The eastbound and westbound approaches along N.C. 42 are striped with right-turn slip lanes to help delineate the pavement on those approaches. These lanes, however, still operate under stop control.
The purpose of this federally project is to improve safety and to reduce crashes.
This proposed project does not provide pedestrian crosswalks or adjacent sidewalks.
Project Map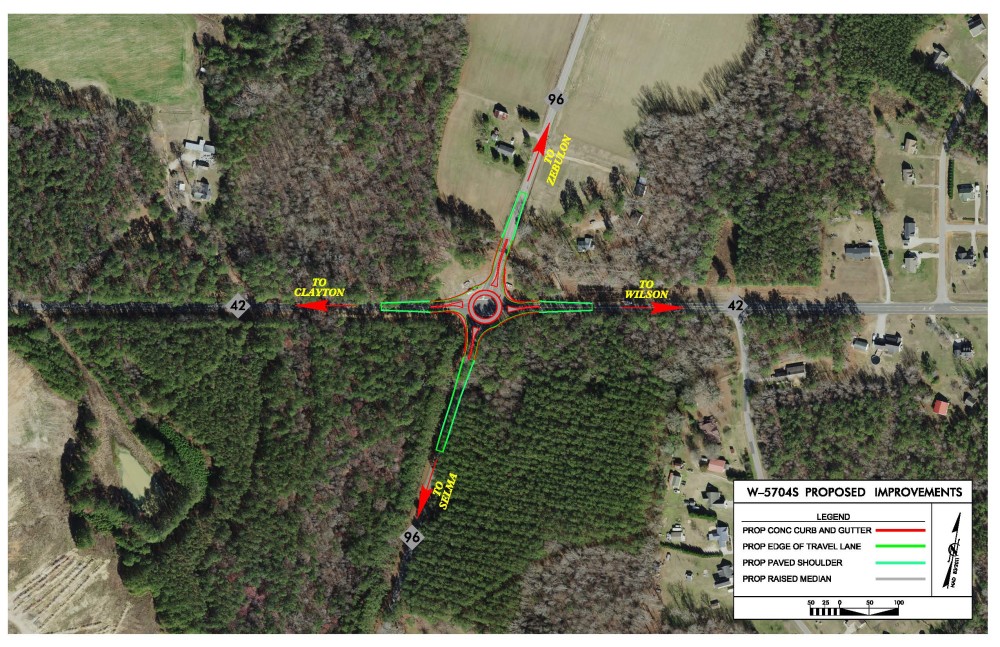 For additional information on how to read a public meeting map, click here.
Roundabouts
The N.C. Department of Transportation builds roundabouts to improve safety for drives, pedestrians and bicyclists. They also help reduce the congestion and backups more typical of traditional intersections with stop signs and traffic signals.
A driver generally enters the roundabout more quickly than if waiting at a traffic signal. In addition, the modern roundabout is much smaller than older traffic circles and requires vehicles to travel at lower speeds (15-20 mph), making them safer than traffic circles. Additionally, the slower speeds make it easier for a driver to find a gap of traffic inside the roundabout before safely entering it.​
Project Funding
| | Estimated Amount* |
| --- | --- |
| Right-of-Way/Utilities | $160,000 |
| Construction | $1,600,000 |
| Total Costs | $1,760,000 |
* Estimated costs are subject to change. Based on currently adopted NCDOT State Transportation Improvement Program (STIP).
Project Timeline
| Milestone | Date* |
| --- | --- |
| Project Postcard | July 2021 |
| Environmental Document | August 2021 |
| Right of Way | September 2021 |
| Construction | August 2022 |
* Future dates are preliminary and subject to change
Project Comments
Due to Covid-19, NCDOT has suspended in-person meetings until further notice.
The public is encouraged to leave any questions or comments using the project email or phone number.
Project Email: nc42-nc96@publicinput.com
Project Phone Number: 984-205-6615 enter project code 2980
Project Contact
Addison Gainey, P.E.
NCDOT Division 4 Project Manager
P.O. Box 3165
Wilson, NC 27895
nc42-nc96@publicinput.com
984-205-6615 code 2980