R-4045 - U.S. 74 improvements - Mooresboro
Proposal to improve U.S. 74 from Mooresboro to the Shelby Bypass in Cleveland County
Vicinity Map: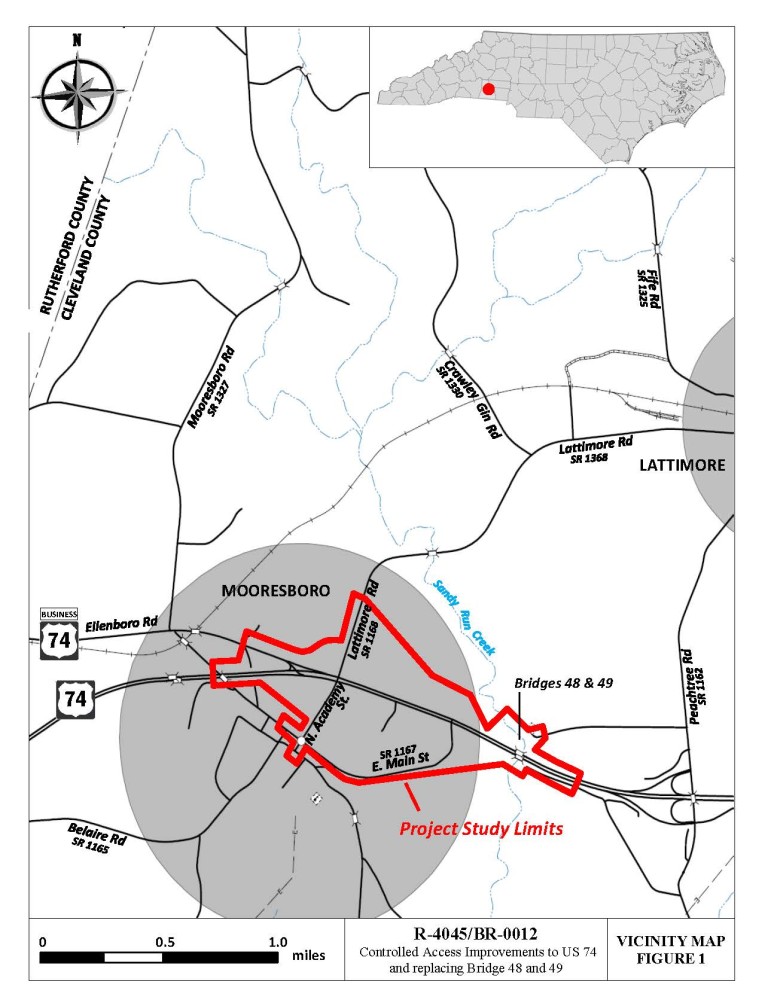 Project Overview
The N.C. Department of Transportation proposes to improve U.S. 74 from Mooresboro to the Shelby Bypass in Cleveland County, a distance of approximately 1.2 miles. The proposed work would include:
Closing driveway access along U.S. 74

Replacing the current intersection of U.S. 74 and Academy Street/Lattimore Road with an interchang.

Replacement of the U.S. 74 Bridges over Sandy Run Creek.
The project is federally funded and included in the State Transportation Improvement Program (STIP) as Project Numbers R-4045 and BR-0012.
Responses to questions received during comment period
Project Highlights
U.S. 74 currently meets freeway standards from Columbus at I-26 to Kings Mountain at I-85 with the exception of the Shelby Bypass, currently under construction and this 1.2-mile segment between the bypass and Mooresbor. This remaining segment does not meet the long-term vision of a freeway and lacks continuity with the freeway and negatively affects driver expectations and safety. The intersection of U.S. 74 with Academy Street and Lattimore Road has a historical pattern of frontal impact crashes. The U.S. 74 Bridges over Sandy Run Creek are rated structurally deficient and need to be replaced.
Structurally Deficient bridges are safe, however, they have components that are deteriorating. They require significant maintenance to remain in service and might require limits on vehicle weights. To fully address the issues on a poor condition bridge, extensive rehabilitation or replacement is usually required.
Project History
The project has been in the State Transportation Improvement Program since 2000. Activity on the project stopped and started several times until funding was secured in 2018. In 2018 coordination began with local government including the Town of Mooresboro and Cleveland County as the project began to develop. Since that time, Environmental Studies and Preliminary Design were developed recently completed. The project is now moving into the public involvement phase.
Service Road Options
Option 1 Option 2 Option 3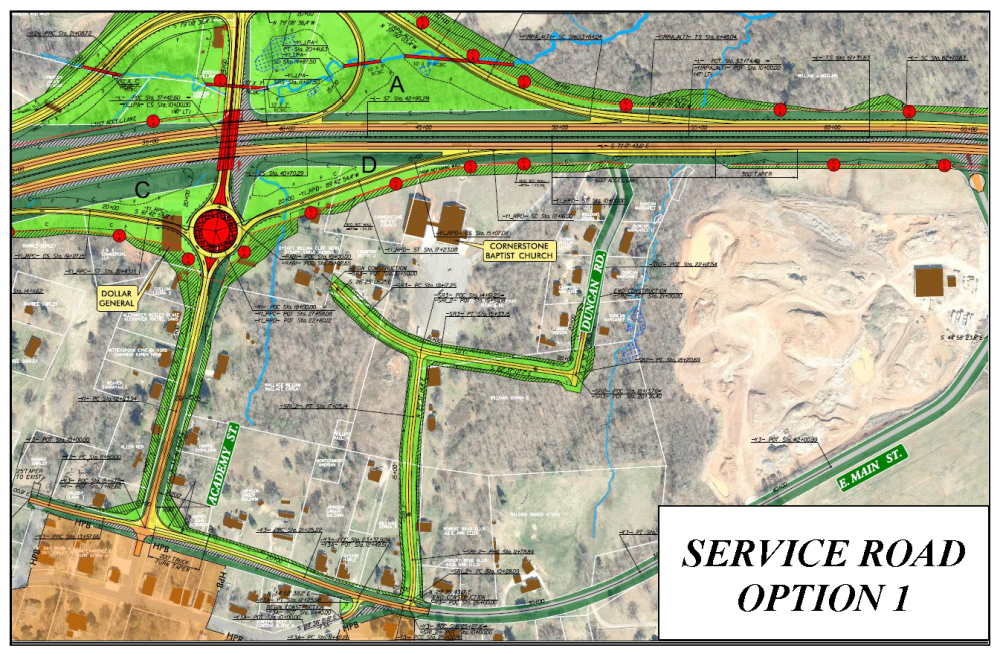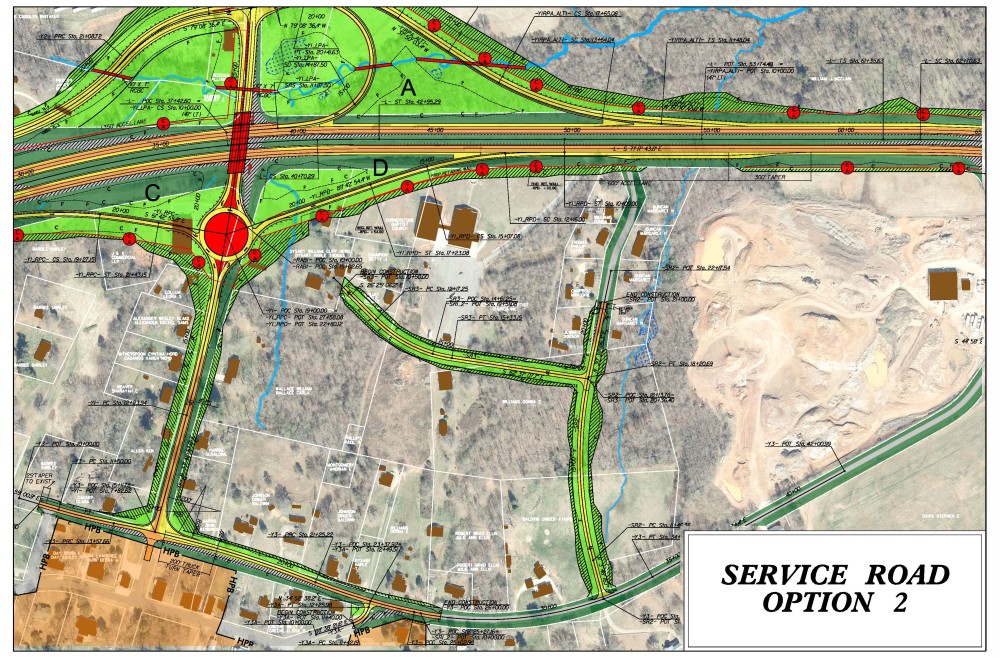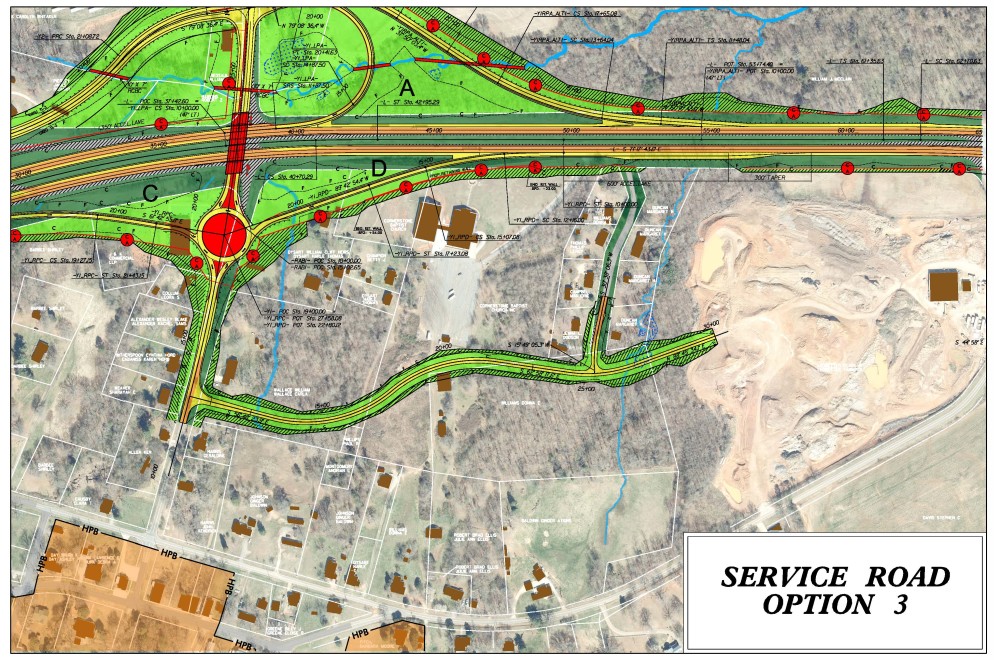 Additional Service Roads Being Studied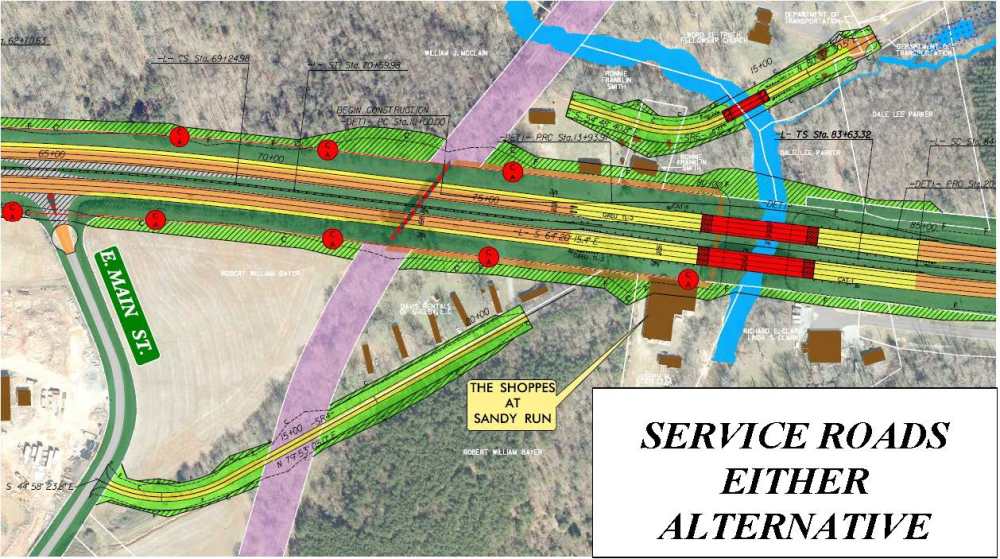 Project Funding:
| | |
| --- | --- |
| Activity | Funded costs Costs* |
| Project Development & Design | $ 600,000 |
| Property Acquisition | $ 16 Million |
| Construction Cost | $ 45.2 Million |
| Total Cost | $ 61.8 Million |
*Funded costs are subject to change.
Project Timeline:
| | |
| --- | --- |
| Milestone | Date* |
| Public Meeting | August 2022 |
| Alternative Selection | Fall 2022 |
| Environmental Document | Winter 2022 |
| Right-of-Way Acquisition Begins | August 2023 |
| Construction Begins | August 2023 |
* Future dates subject to change.
Comments:
NCDOT accepts comments throughout all planning, design, and construction phases of project development.
All comments will be taken into consideration, and carry equal weight, regardless of submittal method.
Comments for consideration during the current phase of project development were submitted by September 8, 2022.
PROJECT CONTACT INFORMATION
Bryan Sowell, PE
Project Engineer
NCDOT Highways Division 12
PO Box 47
Shelby, NC 28151-0047
PROJECT CONTACT INFORMATION
John Williams
Consultant Project Manager
RK&K
8601 Six Forks Road
Raleigh, NC 27609
Title VI Feedback
To ensure we're hearing from a broad set of voices, would you be willing to share (completely anonymously) some information about yourself?
If so, please click here https://publicinput.com/NCDOT-Title-VI