I-6011A- U.S.-74-Grade Separation-Robeson County
The N.C. Department of Transportation proposes to convert the intersection of U.S. 74 and Creek Road near Orrum to a grade-separated intersection, or a bridge.
Project Overview
The N.C. Department of Transportation proposes to upgrade U.S. 74 in Robeson County to interstate standards for regional mobility and safety accross several counties with new interchanges and other improvements. These upgrades include both the constructon of interchanges and elimination of at-grade intersections. The need is to increase capacity and safety on U.S. 74. The purpose is to eliminate where South Creek Road (S.R. 2225) intersects with U.S. 74 and replace it with a grade-separation bridge to eliminate conflicts and increase safety.
Project Map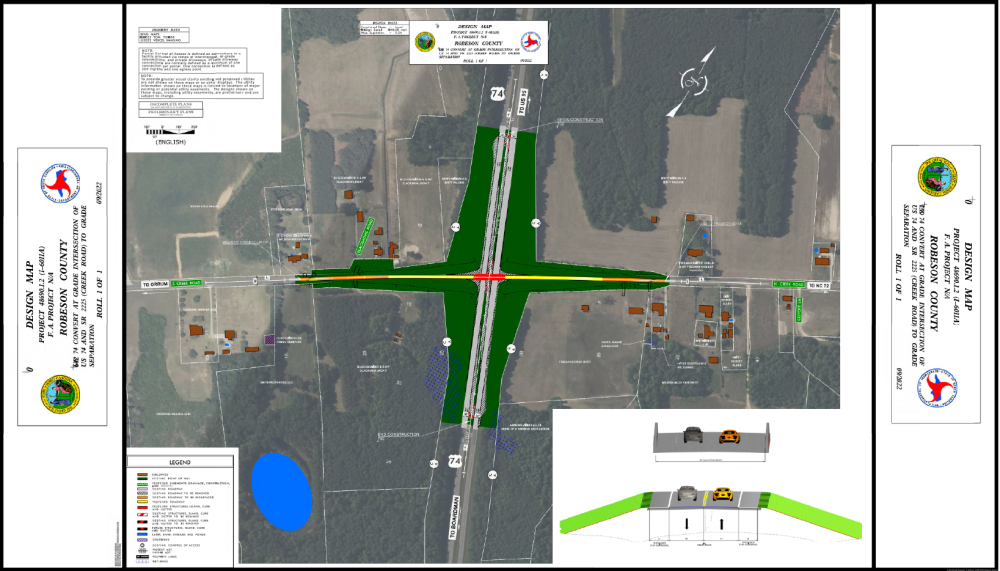 A video explaining how to read a public hearing or meeting map can be by clicking here.
Project Funding:
| | |
| --- | --- |
| Activity | Estimated Costs* |
| Right-of Way & Utilities | $ 407,000 |
| Construction Cost | $ 7,400,000 |
| Total Cost | $ 7,807,000 |
*Estimated costs are subject to change. Based on currently adopted NCDOT State Transportation Improvement Program.
Project Timeline:
| | |
| --- | --- |
| Milestone | Date* |
| Environmental Document | Spring 2023 |
| Right-Of-Way | January 2025 |
| Construction | January 2027 |
* Future dates subject to change.
Comments:
NCDOT accepts comments throughout all planning, design and construction phases of project development.
All comments will be taken into consideration, and carry equal weight, regardless of submittal method.
Comments for consideration during the current phase of project development were submitted by May 14, 2023.
PROJECT CONTACT INFORMATION
Alex Henderson
Engineering Specialist
NCDOT Division 6
P.O. Box 1150
Fayetteville, N.C. 28302
PROJECT CONTACT INFORMATION
Marc Hamel
Senior NEPA Lead
Moffatt & Nichol
4700 Falls of Neuse, Suite 300
Raleigh, N.C. 27609
Title VI Feedback
To ensure we're hearing from a broad set of voices, would you be willing to share (completely anonymously) some information about yourself?
If so, please click here https://publicinput.com/NCDOT-Title-VI