R-2577A-US158-Walkertown-area
The North Carolina Department of Transportation proposes to improve U.S.158 (Reidsville Road) from multi-lanes north of U.S. 421/Salem Parkway to Belews Creek Road (S.R. 1965) in Forsyth County.
The project, R-2577A, is approximately 5.8 miles and will include Reduced Conflict Intersections (RCI's) to improve safety and operations. The RCI's will add U-turn movements and median crossovers at intersections which will eliminate through movements from side streets, minimize the number of vehicular conflict points, and reduce the potential for angle and rear-end crashes.​
Vicinity Map: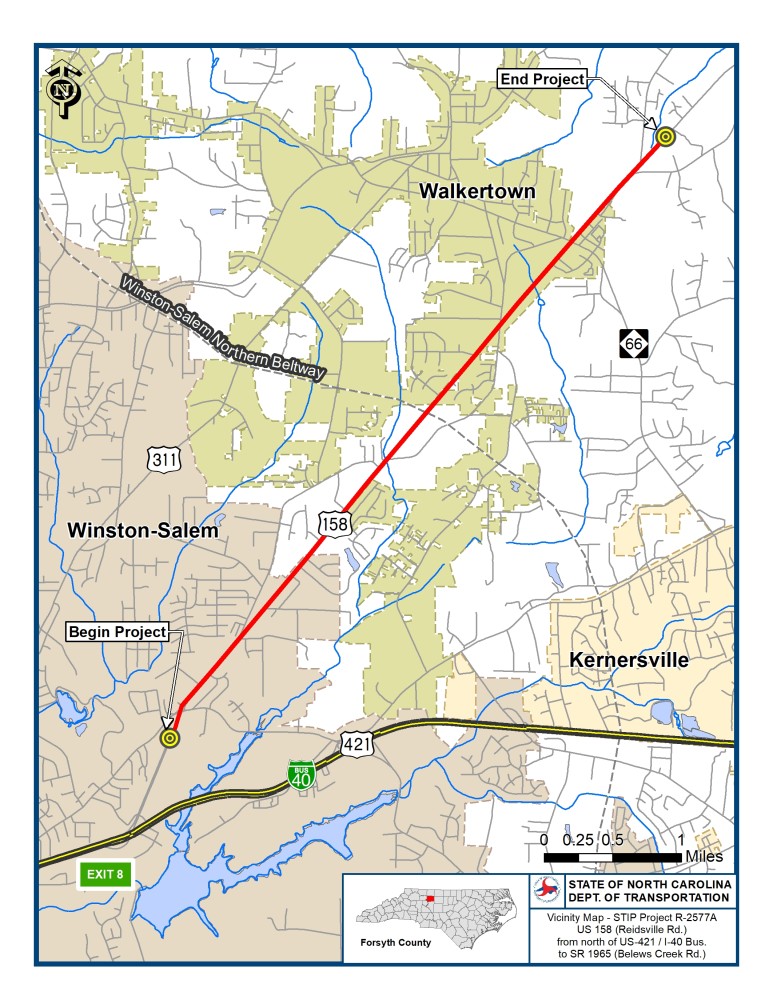 Purpose and Need:
STIP project R-2577A proposes to widen U.S. 158 (Reidsville Road) from north of U.S. 421 / I-40 Business to Belews Creek Road (S.R. 1965) in Forsyth County.
The purpose of the project is to improve the traffic carrying capacity and level of service along U.S. 158 within the project limits. The project is needed to correct existing transportation deficiencies that cause additional travel delays, increase the potential for crashes, and contribute to the inefficient operation of motor vehicles.
What is a Reduced Conflict Intersection (RCI)?
As urban areas grow and traffic congestion increases, the N.C. Department of Transportation continues to look for creative solutions for improving mobility and safety. Corridors with growing traffic volumes and high crash rates are good candidates for a Reduced Conflict Intersection (RCI).
A Reduced Conflict Intersection is a general term used to describe several types of designs that may be used to improve safety and traffic flow on a highway. While there are variations to the designs, they all function the same at reducing conflicts for drivers and pedestrians - hence the term Reduced Conflict Intersection.
With the most common type of RCI design, drivers on the main road follow their usual paths, but raised medians redirect drivers from the side road into turning right. When there is a safe opening in traffic, drivers turn right to easily enter the flow of traffic on the main route. To go the other direction, or cross the highway, they pull into a dedicated lane, typically less than 1,000 feet away, to make a U-turn. There may be a traffic signal at this location.
Reports in 2010 from North Carolina State University​ and in 2017 from the Federal Highway Administration found that:
Project History:
NCDOT completed the Environmental Assessment and Finding of No Significant Impact (EA/FONSI) in December 2018. The EA/FONSI covers all three segments of the U.S.158 (Reidsville Road) corridor, from multi-lanes north of U.S. 421/I-40 Business in Forsyth County to U.S. 220 (I-73) in Stokesdale (Guilford County). NCDOT and the consultant have continued work on Section A of the project. The design for this section has been refined and provides changes that minimize property impacts and improves traffic operation.
Project Funding
This project is listed as Project R-2577A in the N.C. Department of Transportation's State Transportation Improvement Program (STIP) and is funded for $53.7 million.
| | |
| --- | --- |
| | Estimated Amount* |
| Property Acquisition | $ 36,769,000 |
| Construction Costs | $ 49,000,000 |
| Total Cost | $ 85,769,000 |
* Estimated costs are subject to change. Based on NCDOT STIP.
Project Timeline
| | |
| --- | --- |
| Milestone | Date* |
| Public Meeting | October 2019 |
| Right of Way Acquisition | January 2021 |
| Construction Begins | December 2023 |
* Future dates are preliminary and subject to change
PROJECT CONTACT INFORMATION
Connie James, PE
Division Project Engineer
NCDOT Division Highway 9
375 Silas Creek Parkway
Winston-Salem, NC 27127
336-747-7800
PROJECT CONTACT INFORMATION
Scott D. Blevins, PE
Project Consultant
RK&K
900 Ridgefield Drive, Suite 350
Raleigh, NC 27609
919-653-7390