U-5706 Eastern Rockingham Corridor Study
New Location Roadway between U.S. 74 Business and Richmond Road in Eastern Rockingham
Project Study Area Map
This map is for reference only and is a representation of the general project area.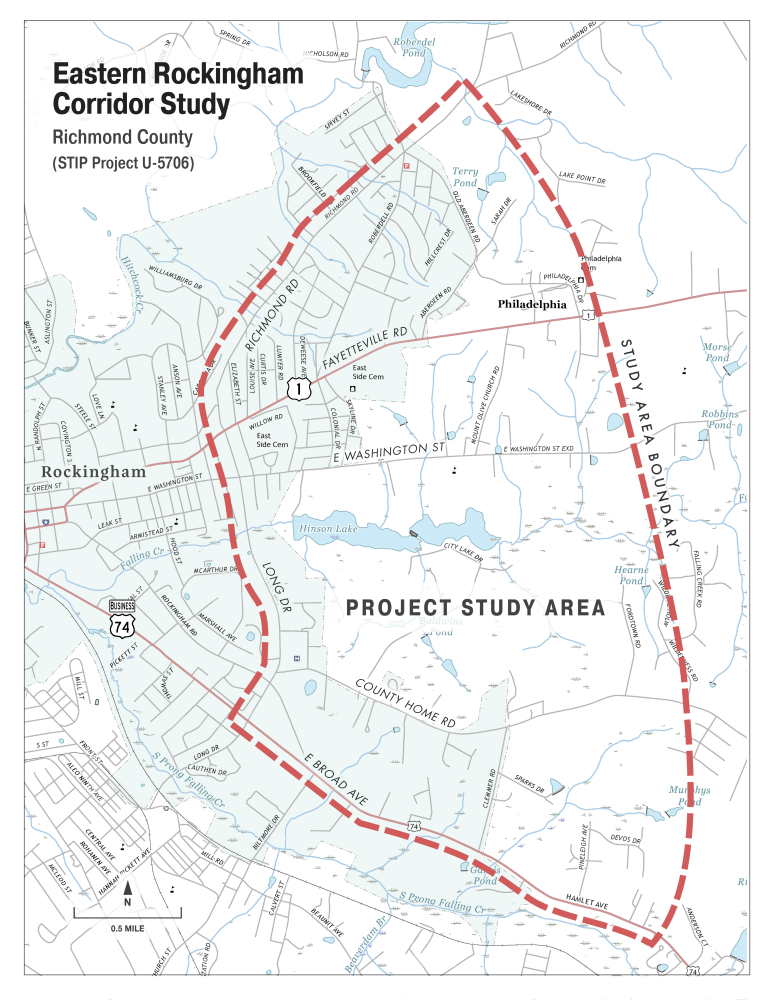 ​
Project Overview
The N.C. Department of Transportation proposes the creation of a new location road from U.S. 74 Business to Richmond Road in eastern Rockingham. The project would begin with improvements to Clemmer Road, and continue northward as a new road, ending near the intersection of Richmond Road and Roberdel Road, a total distance of about four miles. The purpose of the project is to improve area safety and traffic operations.
Currently, large volumes of cars and trucks travel between the businesses along East Broad Avenue (U.S. 74 Business) and the residential areas northeast of downtown Rockingham. Much of this through-traffic uses Long Drive, which, along with Richmond Road, is the only direct route between these two areas. Long Drive and Richmond Road were not designed to accommodate this level of through-traffic. As a result, safety has diminished, and traffic congestion has increased on these streets. With planners predicting even higher volumes in the future, conditions on these streets are expected to worsen. The new road would provide a more direct route between East Broad Avenue and the residential areas to the north, allowing Long Drive to return to its intended function as a local street.
Project Highlights
In total, three roadway alternatives are being considered to meet the need for the project. Two are for a new road east of Long Drive. The third would not be a new roadway but would instead consist of upgrading Long Drive and Richmond Road so that they could accommodate both local and thru-traffic in the future. Each of these three alternatives is shown on the map below. The option of not constructing any of these alternatives—the No Build Alternative—also remains under consideration.
Six alternatives were previously studied and presented to the public prior to the 2020-2021 COVID-19 restrictions. As a result of further studies during that time, those six were narrowed down to the current three. Alternative 1 is the option that would improve existing Long Drive and Richmond Road. Alternatives 4 and 5 are the two options that would combine new road segments with improvements to existing roadways between East Broad Avenue and Richmond Road.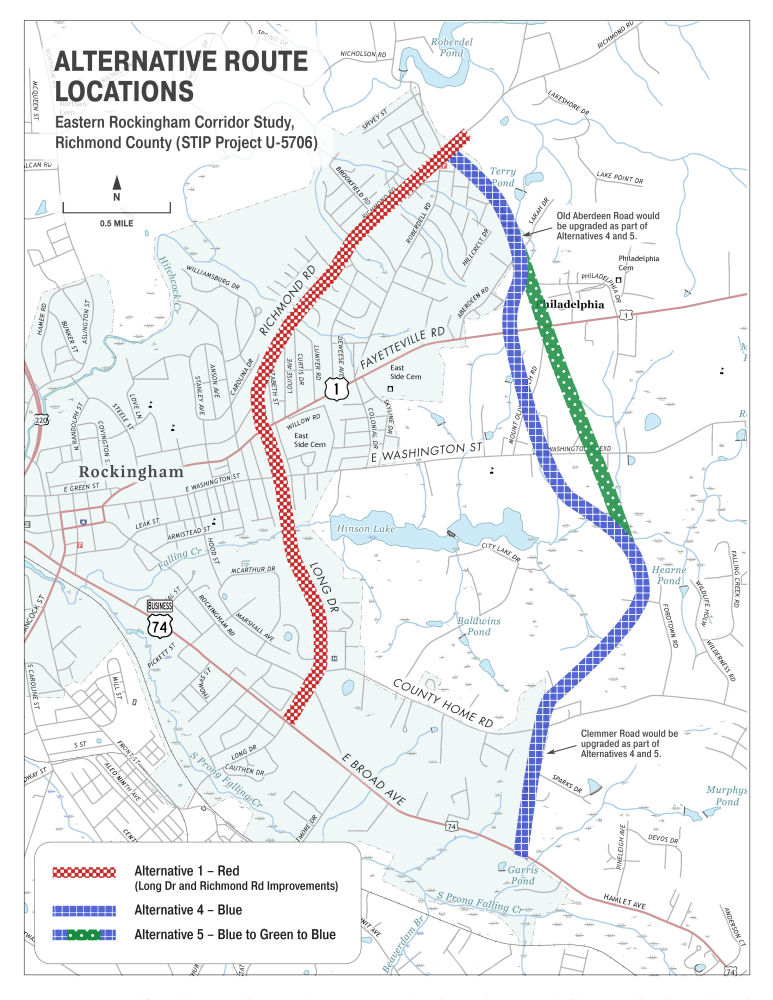 Project History
The study began in 2015. Six alternatives were initially studied. Those alternatives were presented at a public meeting in September 2017. As a result of further analysis after that meeting, the six alternatives were narrowed down to the current three.
A video overview of the proposed improvements can be viewed below.
Download/View All Project Maps
​
Map 1: Alternative 1 - Red

Map 2: Alternative 4 - Blue

Map 3: Alternative 5 - Blue to Green to Blue
A video explaining how to read a public hearing or meeting map can be viewed below. The video contains information on colors and symbols used.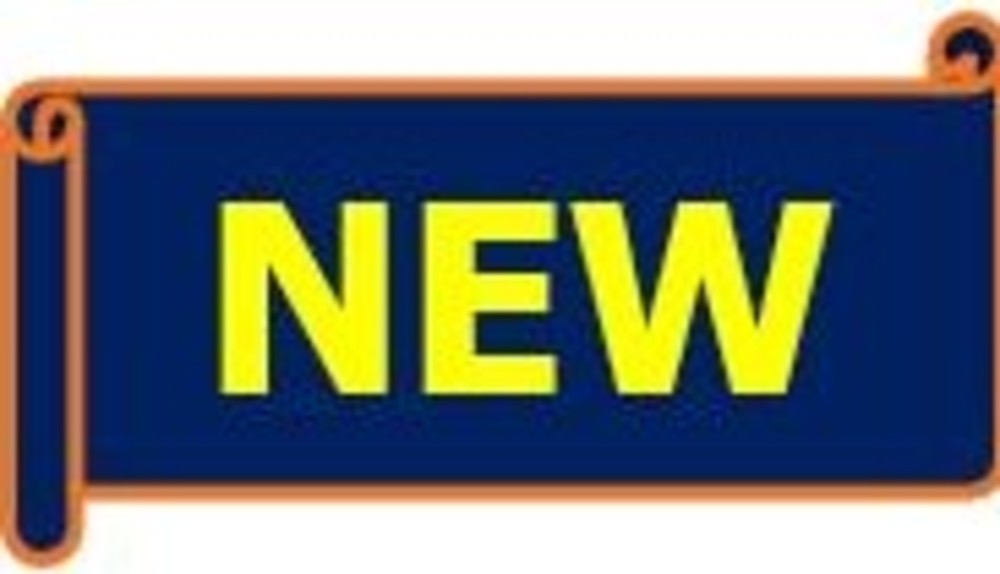 State Environmental Assessment
Due to the size this document is being posted in 3 parts:
Public Meeting
In-Person

Online

Date

Thursday, September 15th

Thursday, September 15th

Time

Public Open House: 4pm - 6:30pm

Formal Public Hearing: 7pm - 8pm

Formal Public Hearing:

7pm - 8pm

Location

Richmond Community College - Cole Auditorium

1042 W. Hamlet Avenue, Hamlet

To join the formal hearing online, register at:
https://attendee.gotowebinar.com/register/2144715502582557963

Prefer to just listen? Call:
(914) 614-3221 code 918-459-955
A summary of the September 15th Corridor Public Meeting and comments received during the comment period can be reviewed using the following link:
U-5706 Post Hearing Meeting Summary
Project Funding
| | Alternative 1 | Alternative 2 | Alternative 3 |
| --- | --- | --- | --- |
| Property Acquisition | $18,144,500 | $9,048,500 | $8,553,500 |
| Utility Relocation | $5,555,500 | $1,351,500 | $2,346,500 |
| Construction | $25,900,000 | $34,500,000 | $32,100,000 |
| Total Cost* | $49,600,000 | $44,900,000 | $43,000,000 |
* Costs are preliminary and subject to change
Project Timeline
| Milestone | Date* |
| --- | --- |
| Public Meeting 1 | September 2017 |
| Public Meeting 2 | September 2022 |
| Alternative Selection | Fall 2022 |
| Complete Environmental Document | Early 2023 |
| Complete Final Designs | Late 2023 |
| Right-of-Way Acquisition | Late 2023 |
| Begin Construction | 2026 |
* Future dates are preliminary and subject to change
Project Comments
NCDOT accepts comments throughout all phases of project development.
The public is encouraged to leave comments using this website, email, or phone number:
Email: U5706@PublicInput.com
Phone Number: 512-580-8850 enter project code 3999
The comment period for this project closes on September 30, 2022.
Title VI Feedback
To ensure we're hearing from a broad set of voices, would you be willing to share (completely anonymously) some information about yourself?
If so, please click here: https://publicinput.com/NCDOT-Title-VI
Project Contact
Greg Davis, PE
NCDOT Highway Division 8
Division Project Engineer
121 DOT Drive
Carthage, NC 28327
U5706@publicinput.com
512-580-8850 code 3999
Project Contact
Kristin Maseman, AICP
H.W. Lochner, Inc.
Consultant Project Manager
2840 Plaza Place
Raleigh, NC 27612
U5706@publicinput.com
512-580-8850 code 3999