HE-0004 - U.S. 421 intersection improvements - Randolph County
Proposal to improve three at-grade intersections and make other transportation improvements on U.S. 421 in Randolph County
Vicinity Map:
Project Overview
The N.C. Department of Transportation proposes to convert three at-grade intersections on U.S. 421 and make other improvements in Randolph County near the Guilford County line.
Improvements include:
Conversion of at-grade intersection to interchange
Colonial Trading Path/Shiloh Road

Julian Airport Road (S.R. 2502)

Shiloh Road/Starmount Road (S.R. 2407)
Closure of at-grade intersection
Browns Meadow Road (S.R. 2408)
Intersection realignment
Shiloh Road/Colonial Trading Path/US 421

Old Red Cross Road (S.R. 2403)/Shiloh Road

Old Red Cross Road/Harold Meadow Road (S.R. 2404).
The purpose of the U.S. 421 interchange project is to improve traffic operations and enhance safety within the study area by providing effective access to U.S. 421 from the local roadways.
Project History
In December 2021, the Greensboro-Randolph Megasite was chosen as the location for Toyota's new $1.29 billion automotive battery manufacturing plant. This plant will be named the Toyota Battery Manufacturing, North Carolina (TBMNC) and is expected to begin operation in 2025. The local road system will not be able to provide the necessary capacity and the desired access to function adequately. U.S. 421 serves as an important north-south facility for residents from several smaller cities and towns as access to Greensboro. The existing roadway network would not be able to accommodate a heavy increase in peak hour traffic. Upgrading the at-grade intersections to grade-separated interchanges will allow for these forthcoming increases in traffic volumes.
Project Maps
Click on the links or the thumbnails below to view or download the maps.
Roadway Typical Section U.S. 421

RoadwayTypical Section
Colonial Trading Path / Shiloh Road - Julian Airport Road - Old Red Cross Road - Harold Meadows Road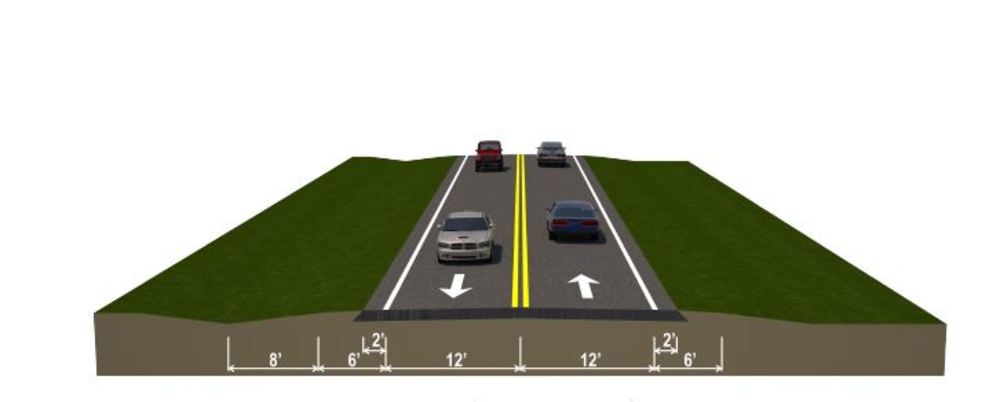 RoadwayTypical Section
Northern Access Road

Bridge Typical Section
Bridges on U.S. 401 over Shiloh Road

Roadway Typical Section
Under Bridges on U.S. 421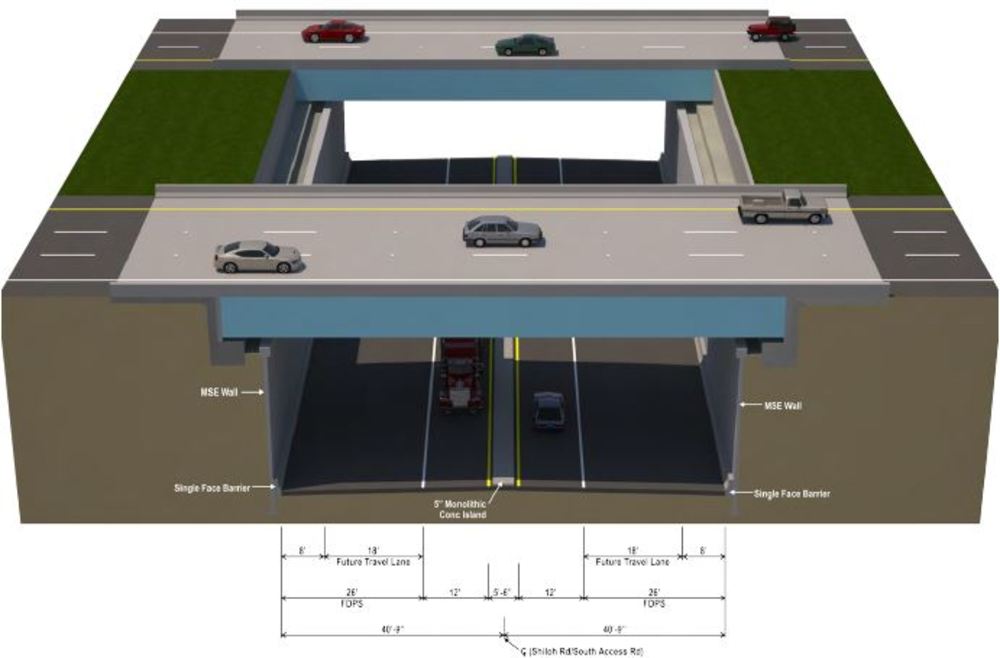 Roundabouts
​The N.C. Department of Transportation builds roundabouts to improve safety for drivers,​ pedestrians and bicyclists. They also help reduce the congestion and backups more typical of traditional intersections with stop signs and traffic signals. A driver generally enters the roundabout more quickly than if waiting at a traffic signal. In addition, the modern roundabout is much smaller than older traffic circles and requires vehicles to travel at lower speeds (15-20 mph), making them safer than traffic circles. Additionally, the slower speeds make it easier for a driver to find a gap of traffic inside the roundabout before safely entering it.​
To view information on how to navigate roundabouts in North Carolina click here.
Project Funding:
Estimates for Right-of-Way, Utilities, and Construction are under development at this time and will be posted here as they become available.
Project Timeline:
| | |
| --- | --- |
| Milestone | Date* |
| Public Meeting | August 2022 |
| Environmental Document | Fall 2022 |
| Right-of-Way Acquisition Begins | Fall 2022 |
| Construction Begins | Fall 2022 |
* Future dates subject to change.
Comments:
NCDOT accepts comments throughout all planning, design, and construction phases of project development.
All comments will be taken into consideration, and carry equal weight, regardless of submittal method.
Comments for consideration during the current phase of project development were submitted by September 13, 2022.
PROJECT CONTACT INFORMATION
Jeffery L. Teague, PE
Project Team Lead
NCDOT Highways Division 8
121 DOT Drive
Carthage, NC 28327
PROJECT CONTACT INFORMATION
Vickie Miller, AICP
Consultant Senior Project Manager
HDR
555 Fayetteville Street, Suite 900
Raleigh, NC 27601
Title VI Feedback
To ensure we're hearing from a broad set of voices, would you be willing to share (completely anonymously) some information about yourself?
If so, please click here https://publicinput.com/NCDOT-Title-VI