B-4439: Juniper Creek Complex
PROPOSAL TO AMEND THE BOUNDARY OF THE JUNIPER CREEK COMPLEX STATE DEDICATED NATURE PRESERVE
TO ACCOMMODATE BRIDGE REPLACEMENT ON N.C. 211 IN BRUNSWICK COUNTY
PUBLIC HEARING TO BE HELD JULY 22, 2021 AT 7:00 P.M.
(details for participating listed below)
Vicinity Map: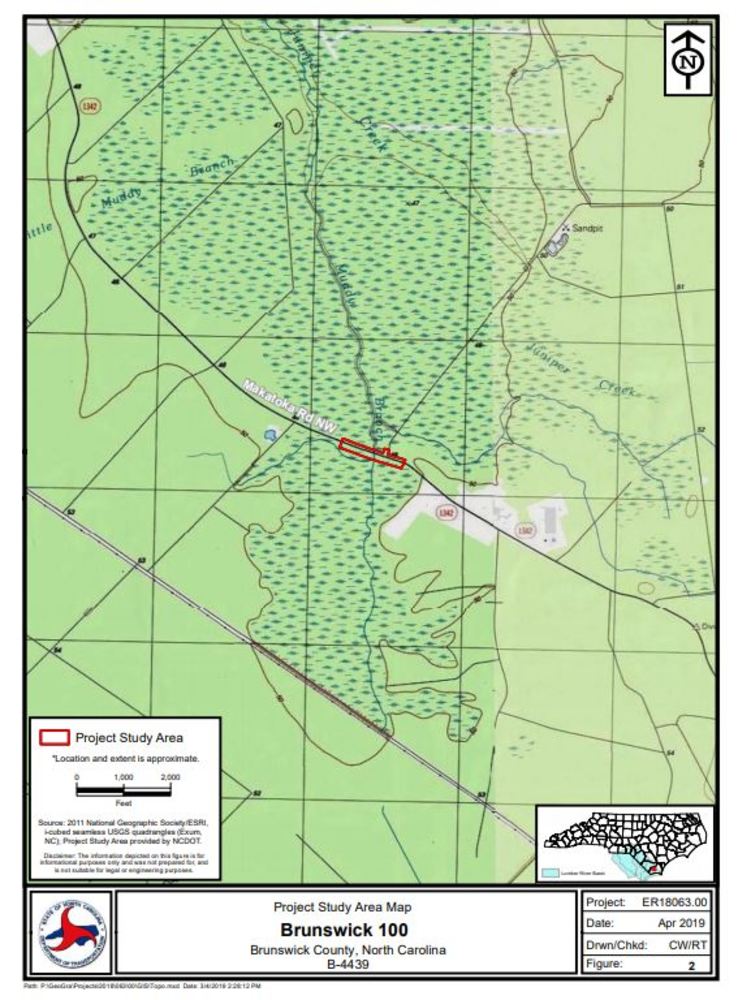 Project Overview:
State Transportation Improvement Program Project No. B-4439, is needed to replace a structurally deficient bridge. This hearing is to present information and receive comments on an amendment of the Juniper Creek Complex Dedicated Nature Preserve needed to facilitate the replacement of Bridge No. 100 over Muddy Branch on Makatoka Road (S.R. 1342) in Brunswick County. The amendment would provide a total of 0.005 acre of Permanent Drainage Easement and 0.158 acre for a Temporary Construction Easement. Approximately 0.009 total acre of right-of-way is needed for replacement of the bridge.
---
Public Input:
Due to Covid 19, NCDOT has suspended in-person meetings. Information will be provided to the public in a virtual format. The public is encouraged to provide comments or share their thoughts regarding the project.
PUBLIC HEARING
Juniper Creek Complex Amendment
Thu, Jul 22, 2021 7:00 PM (EDT)
Please join my meeting from your computer, tablet or smartphone.
https://global.gotomeeting.com/join/359802421
You can also dial in using your phone.
(For supported devices, tap a one-touch number below to join instantly.)
United States: +1 (786) 535-3211 Access Code: 359-802-421
- One-touch: tel:+17865353211,,359802421#
People may also submit comments by phone (984-205-6615 project code 3697), email ([email protected]) or mail at the address shown below by July 28, 2021.
---
A Map showing the area for which the de-dedicaiton is proposed will be posted soon.

Legend:
Dark Green - existing right of way
Red – bridge to be removed and replaced
Light Green with hatching – temporary construction easement
Light Green block with no hatching - new right of way needed for the project
Yellow – Permanent Utility Easement needed for project
---
Comments:
All comments will be taken into consideration, and carry equal weight, regardless of submittal method
You may leave a comment or question below
Or
Email the comment or question to [email protected]
Or
Phone Number: (984) 205-6615 Code: 3697