I-4409: I-40 and Blue Ridge-Black Mountain
Preliminary Engineering Activities for this project
have been suspended.
---
The N.C. Department of Transportation proposes to construct a new interchange at Interstate 40 and Blue Ridge Road in Black Mountain. This project includes converting the existing I-40/Blue Ridge Road grade separation to an interchange, replacing the Blue Ridge Road bridge over the Swannanoa River, and widening Blue Ridge Road to three lanes north of the proposed interchange. The proposed project would also construct a roundabout at the intersection of Blue Ridge Road and N.C. 9.
This project is identified as State Transportation Improvement Program (STIP) Project No. I-4409. Right-of-way acquisition is scheduled for Fiscal Year 2019 and construction is scheduled for Fiscal Year 2021.
Vicinity Map: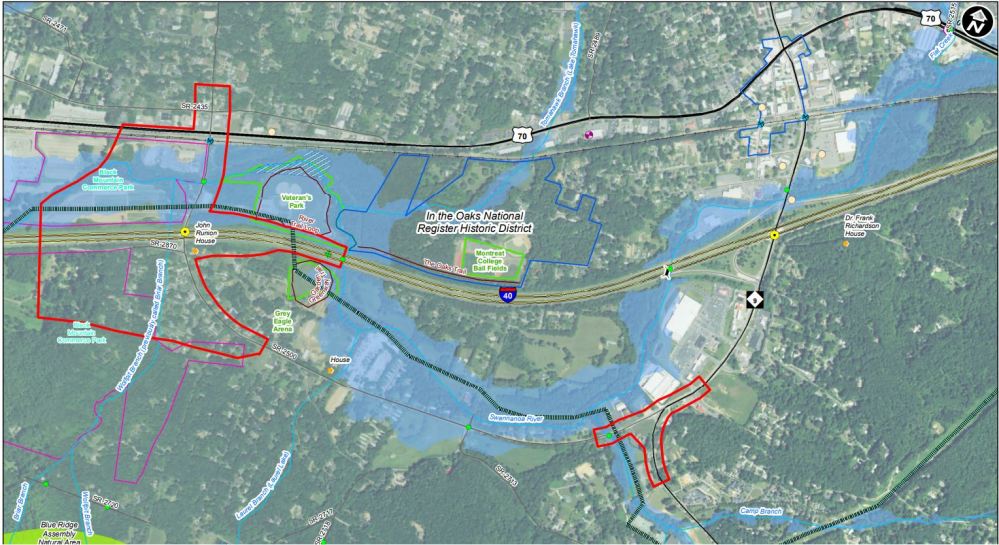 Purpose and Need:
The project's need is based on projected traffic volumes and growth trends in the area. The purpose of this project is to provide increased connectivity, access, and mobility in the Black Mountain area. The project will help reduce congestion and truck volumes in downtown Black Mountain and reduce congestion at the nearby N.C. 9 interchange with I-40.
Project History:
This project has been in various stages of planning over the last 20 years. NCDOT conducted a feasibility study in 2000 in which a number of interchange designs were evaluated, but the project was not programmed for development at that time. NCDOT re-evaluated the interchange designs described in the 2000 feasibility study and current studies are being developed with new design work and updated land use mapping and environmental data.
Concepts:
Three design options are being studied for the proposed interchange. All study options include various roundabout designs with different entrance and exit locations for local roads.
NCDOT evaluated a number of other interchange configurations that were not carried forward for detailed study due to the expansive right of way necessary. These options were assessed on a preliminary level to ensure that all potentially-feasible options were evaluated. It was found that the footprints associated with traditional interchange configurations such as a partial cloverleaf or half cloverleaf would require larger amounts of right-of-way and would create a high level of impact to residences and businesses. For these reasons those configurations were not carried forward for additional study.
A tight diamond configuration was also studied; however this option would require Access Road to be relocated southward to a new connection to Blue Ridge Road. The need to relocate Access Road would create multiple residential impacts that can be avoided with the conceptual design options that were carried forward. For this reason, a tight diamond interchange was not carried forward for detailed study.
In addition to minimizing impacts for this project, roundabouts typically offer other benefits as well. They address safety and congestion concerns at intersections, are designed to enhance traffic efficiency, safety and aesthetics, and minimize delay and cost for all users including motorists, pedestrians, and bicyclists.
By allowing vehicles to momentarily yield rather than stop at a traffic light or stop sign, vehicles can move through the intersection quicker and traffic delays are reduced. Roundabouts are safer than traditional intersections and have been shown to decrease crash occurrence and severity. Statewide, studies have shown that replacing existing unsignalized intersections with roundabouts has reduced crashes by 41 percent, and replacing signalized intersections with roundabouts has reduced crashes by 76 percent. Roundabouts are also safer and quicker for pedestrians and bicyclists. In addition, roundabouts reduce air pollution and fuel use by maintaining traffic flow. They are also less expensive to maintain than signalized intersections.
Project Funding
This project is listed as Project U-5720 in the N.C. Department of Transportation's State Transportation Improvement Program (STIP) and is funded for $13.3 million.
| | |
| --- | --- |
| | Estimated Amount* |
| Property Acquisition | $ 3,100,000 |
| Construction Costs | $ 10,150,000 |
| Total Cost | $ 13,250,000 |
* Estimated costs are subject to change. Based on NCDOT STIP.
Preliminary Engineering Activities for this project
have been suspended
PROJECT CONTACT INFORMATION
Mike Clark
Project Manager
NCDOT Division 13
55 Orange Street
Asheville, NC 28801
828-251-6171