R-5727 - Bridges Street Extension
​Preliminary Engineering Activities for this project
have been suspended.

​​​
PROJECT DESCRIPTION
The Bridges Street Extension project is included in the State Transportation Improvement Program (STIP) as project R-5727. It is also shown in the Carteret County Comprehensive Transportation Plan (CTP).
The Bridges Street Extension project will extend the current Bridges Street Extension (S.R. 1738) approximately three miles to provide a local connection. The project includes widening the roadway along Business Drive to Old Airport Road, then travel westward on new location to connect to U.S. 70 in the vicinity of McCabe Road.
The project is anticipated to relieve congestion on U.S. 70 and improve mobility throughout the area. Additionally, the project would provide better access to the Business Park on Business Drive.
Project Study Area Map: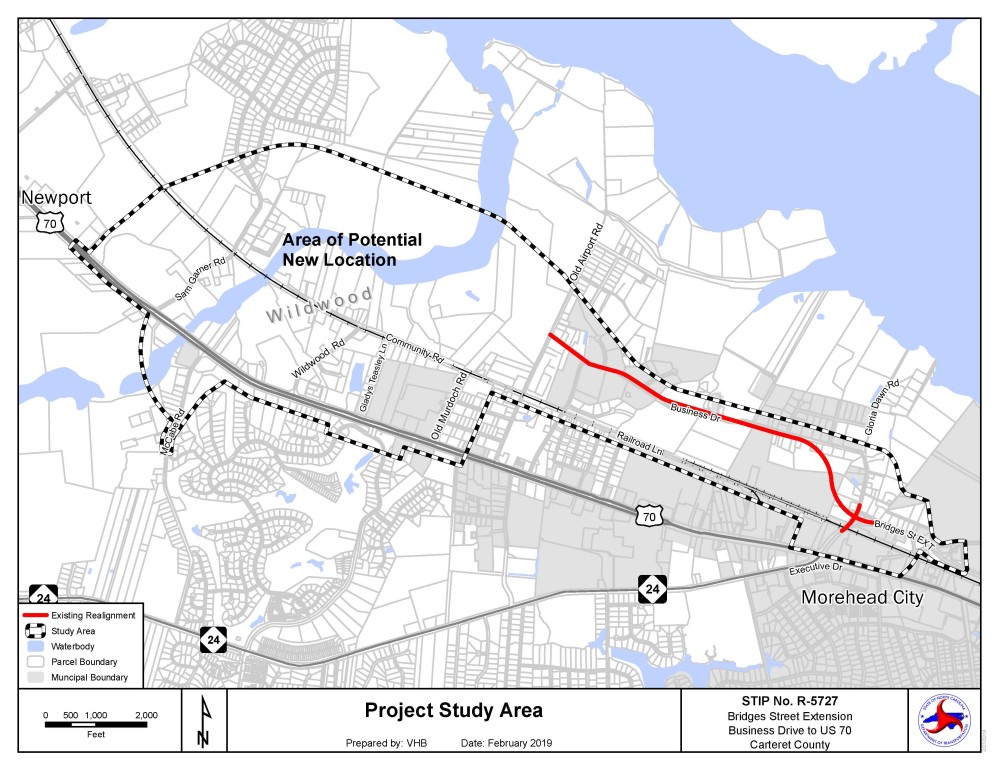 ---
PROJECT HIGHLIGHTS
The project is expected to:
Reduce congestion along U.S. 70

Provide better mobility in the area

Provide direct access to the Business Park

Improve the existing roadway to a multi-lane, median-divided facility
---
PROJECT STATUS
Planning activities for the project are currently suspended. Once resumed, this site will be updated.
Prior to suspension, NCDOT was in the project development phase, which includes the evaluation of:
traffic

cultural resources

congestion

natural resources

human environment

community resources

roadway options, and

other issues in the project study area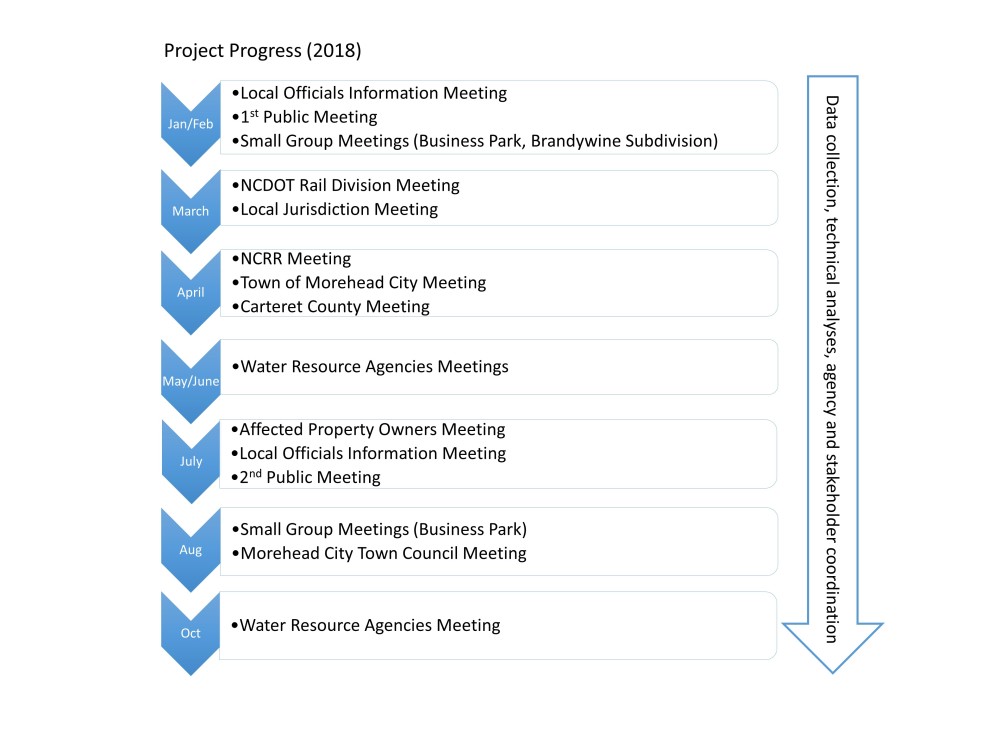 Since the public meeting in July 2018, the Old Murdoch Road (without walls alternative), Option 1 (the northern connector to Business Drive) and the Gladys Teasley Lane alternative, have been eliminated from further study.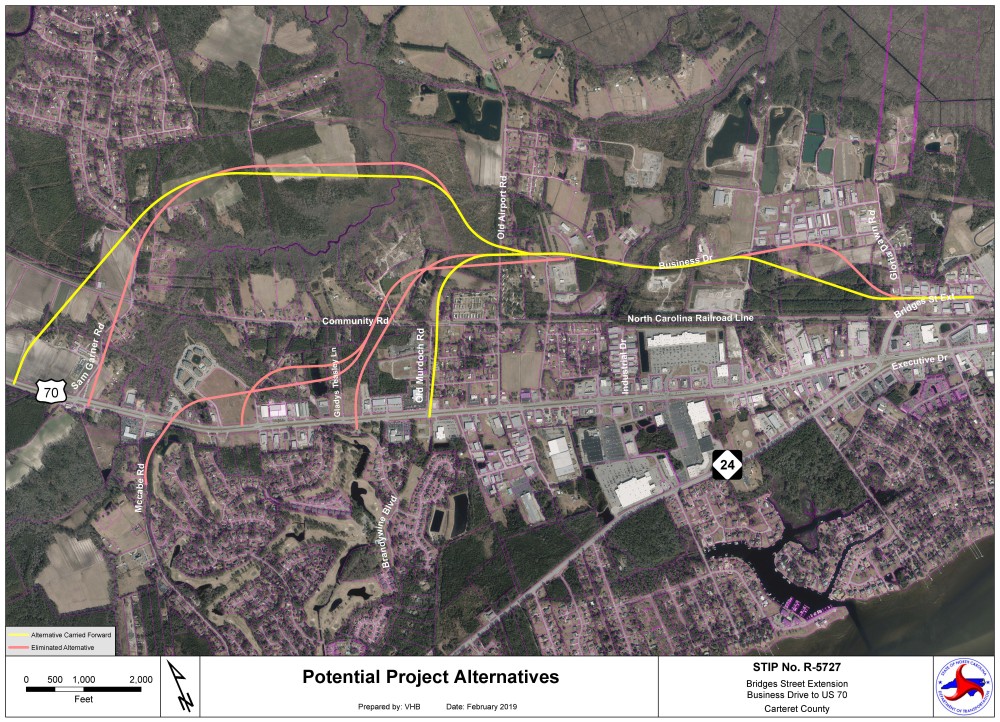 At this time, no decision has been made on the "preferred alternative" and connection to U.S. 70.
Based on public feedback and coordination with resource agencies and local jurisdictions, NCDOT is performing additional field investigations, considering the potential environmental (natural and human) impacts, and refining designs. Two alternatives are being carried forward for further review: Sam Garner West and Old Murdoch Road (with walls).
A State Environmental Assessment (EA) will document the impacts of the project and will address the concerns that were expressed by the public and others during the planning process. As the project is currently suspended, the environmental document has no anticipated completion date.
PROJECT COST AND TIMELINE
| | |
| --- | --- |
| Milestone | Estimated Amount* |
| Prior Years Cost | $ 750,000 |
| Utilities | $ 1,318,000 |
| Property Acquisition | $ 10,982,000 |
| Construction Costs | $ 31,920,000 |
| Total Cost | $ 44,970,000 |
* Estimated Costs as shown in Current 2018-2027 STIP and are subject to change
| | |
| --- | --- |
| Milestone | Date* |
| Cultural Resources Surveys | Spring 2018 |
| Public Meeting No. 1 | January 2018 |
| Public Meeting No. 2 | July 2018 |
| Public Meeting No. 3 | March 2019 |
| Traffic Forecasts and Capacity Analysis | Spring 2019 |
| Natural Resource Studies | Spring 2019 |
| Environmental Assessment (EA)/ Finding of No Significant Impact (FONSI) complete ** | TBD |
| Right of Way Acquisition | January 2027 |
| Construction | January 2040 |
* Future Dates are subject to change
** Represents completion of planning phase
PUBLIC INVOLVEMENT
Please provide your comments on the project. You can provide comments by use of the link at the bottom of this page or by emailing either of the project contacts listed below.
The NCDOT project team will review all feedback – regardless of how it is submitted (online, phone, email, or letter) – and explore options to incorporate and address concerns where and when feasible. Over 230 comments and 2 petitions have been submitted to date.NCDOT will continue to develop the project and present progress throughout the planning stage.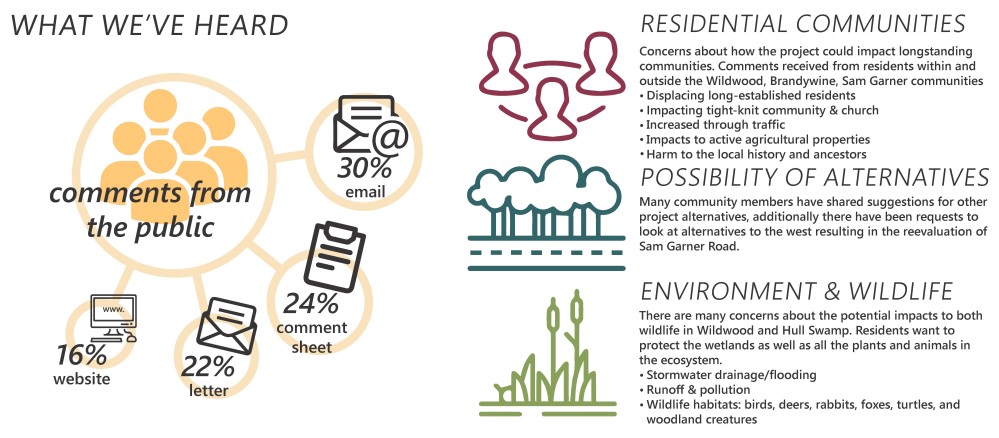 PUBLIC MEETINGS
A public meeting to present basic project information and receive feedback was held January 11, 2018. A second public meeting to present design concepts and receive feedback was held Thursday, July 12, 2018. A third public meeting was held Wednesday, March 20, 2019.
PUBLIC MEETING MAPS
Links to maps that were presented at the March 20, 2019 Public Meeting are below:
Public Meeting Maps presented at the July 12, 2018 meeting are available by clicking the links below:
Gladys Teasley (Eliminated)
Old Murdoch - No Wall (Eliminated)
The Public Meeting Map displayed at the January 11, 2018 meeting is available by clicking this link:
COMMENTS/QUESTIONS
The public comment period closed on April 22, 2019.
PROJECT CONTACT INFORMATION
Hon Yeung, PE
NCDOT Project Engineer
NCDOT Division 2
P.O. Box 1587
Greenville, NC 27835
252-439-2827
hfyeung@ncdot.gov