B-5995: Bridge Over Dawson Creek - Pamlico Co.
The N.C. Department of Transportation proposed to replace the bridge on Janiero Road over Dawson Creek in Pamlico County.
Bridge No. 57 is considered to be structurally deficient, with some parts of the bridge that are more than 68 years old. Routine maintenance to address structure deterioration is no longer feasible, therefore the structure must be replaced.
Interactive Study Area Map
Project Details
The existing bridge will be replaced in place with a new, two-lane bridge.

An off-site detour, 14 miles long, will be required during construction of the bridge. The detour route will follow Janiero Road to Buckland Road to N.C. 306 to Kershaw Road back to Janiero Road (see below).

Dawson's Creek Beach Access may be temporarily closed or inaccessible during construction, which will take approximately one year.
Detour Map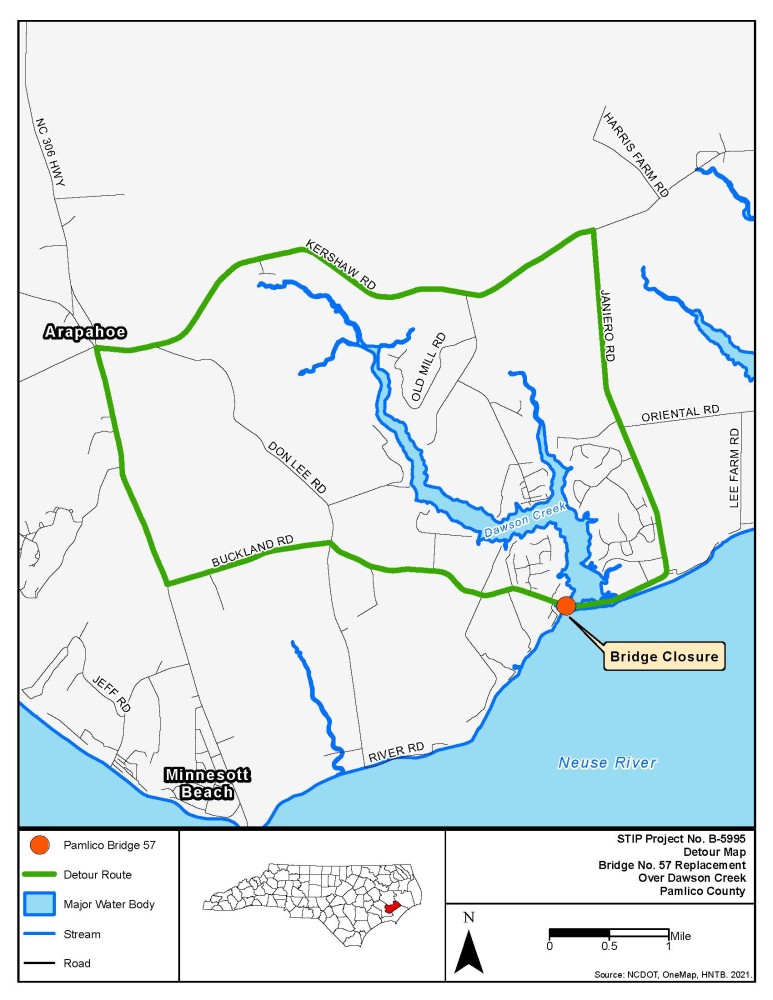 Project Maps
Download PDF of Bridge Replacement
A video explaining how to read a public hearing or public meeting map can be viewed here. The video contains information on colors used and symbology.
Project Funding
| | Cost* |
| --- | --- |
| Project Development & Design | $200,000 |
| Right-of-Way | $600,000 |
| Construction | $3,850,000 |
| Total | $4,650,000 |
* Prices are preliminary and subject to change
Project Timeline
| Milestone | Date* |
| --- | --- |
| Selection of Preferred Alternative | Spring 2019 |
| Environmental Document | Summer 2021 |
| Right-of-Way | Spring 2022 |
| Construction | Summer 2022 |
* Future dates are preliminary and subject to change
Project Comments
Due to Covid-19, NCDOT has suspended in-person meetings until further notice.
The public is encouraged to leave any questions or comments using the project email or phone number.
Project Email Address: pamlico-bridge-dawson@publicinput.com
Project Phone Number: 984-205-6615 enter project code 5403
Project Contact
Michael Aman, PE
NCDOT Division 2 Bridge Program Manager
1037 W.H. Smith Boulevard
Greenville, NC 27835
pamlico-bridge-dawson@publicinput.com
984-205-6615 code 5403