B-5624: Green Swamp Preserve
PROPOSAL TO AMEND THE GREEN SWAMP PRESERVE STATE DEDICATED NATURE PRESERVE TO ACCOMMODATE BRIDGE REPLACEMENT ON N.C. 211 IN BRUNSWICK COUNTY
PUBLIC HEARING TO BE HELD AUGUST 31, 2021 AT 7:00 P.M.
(details for participating listed below)
Vicinity Map: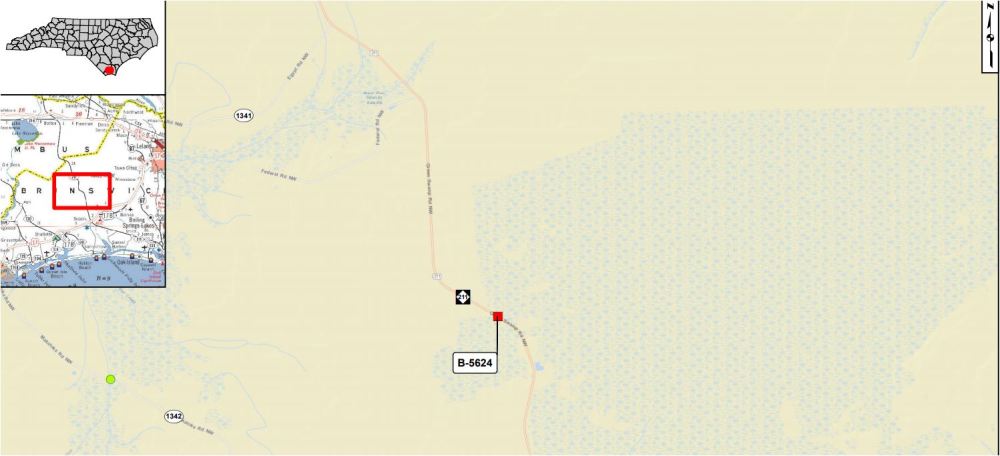 Project Overview:
The proposed project, State Transportation Improvement Program Project No. B-5624, is needed to replace a structurally deficient bridge. This amendment of the Dedicated Nature Preserve is needed to facilitate the replacement of Bridge No. 57 over Driving Creek on N.C. 211 (Green Swamp Road). The amendment would provide 0.447 acre of Permanent Drainage Easement and 0.099 acre for a Temporary Construction Easement. Approximately 0.4569 total acre of right-of-way is needed for replacement of the bridge.
---

Legend:
Red with hash marks - Bridge to Be Replaced
Solid Red - Temporary Detour Bridge
Yellow - Temporary Detour Roadway
Green - Right of Way for Permanent Utility Easement (Amendment Area)
Green with hash marks - Temporary Construction Easement
---
Comments:
All comments will be taken into consideration, and carry equal weight, regardless of submittal method
You may leave a comment or question below
Or
Email the comment or question to [email protected]
Or
Phone Number: (984) 205-6615 Code: 8026