U-5791: Jacksonville Parkway Extension
​Preliminary Engineering Activities for this project
have been suspended.

​​​
PROJECT DESCRIPTION
The N.C. Department of Transportation is proposing to extend Jacksonville Parkway (S.R. 2714) from N.C. 53 (Western Boulevard) to U.S. 17 (New Bern Highway), a distance of approximately 4 miles. The proposed project is broken down into two segments:
• U-5791A - Construction of a new location four-lane roadway from N.C. 53 (Western Boulevard) to Ramsey Road
• U-5791B - Widening of Ramsey Road from two lanes to four lanes from the new location roadway to U.S. 17 (New Bern Highway)
The corridor is a mixture of residential and commercial uses and serves as a commuter route to and from Camp Lejeune. The Jacksonville Parkway extension will serve as an important connector to Western Boulevard and U.S. 17, improving overall mobility in the area.
Vicinity Map: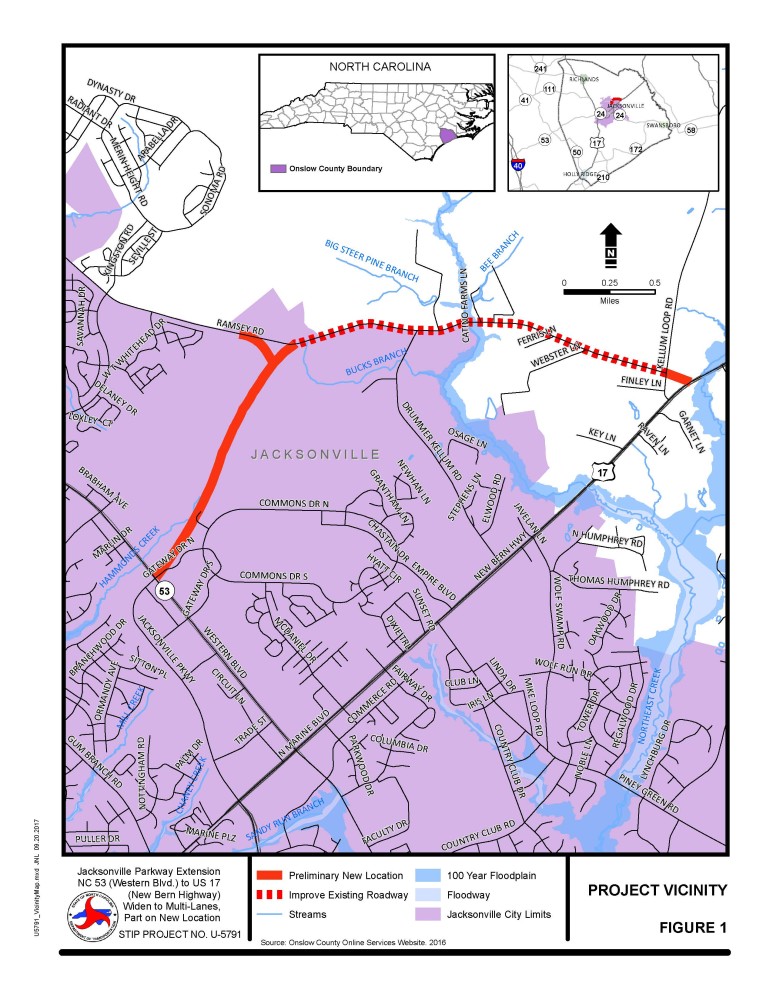 DISCLAIMER: This information is intended for general reference only.
NCDOT is not responsible for its accuracy or use. The corridor alternatives represent potential impact areas for the proposed roadway improvements. They are preliminary and subject to change.
PURPOSE OF THE PROJECT
The project will enhance mobility in Jacksonville by:
providing an alternative connection to U.S. 17

improving accessibility to commercial areas along Western Boulevard

enhancing pedestrian and bicycle accommodations

improving overall safety along the project corridor
With Onslow County's population being predicted to nearly double by 2040, it is evident that the area is experiencing increasing amounts of traffic congestion along Western Boulevard and U.S. 17. According to NCDOT Annual Average Daily Traffic (AADT) Web Map, the current AADT is 34,000 along Western Boulevard and 30,000 along U.S. 17.
The Jacksonville Parkway Extension will provide a connector offering motorists an option to avoid the heavy congestion along Western Boulevard and U.S. 17.
HISTORY OF THE PROJECT
2007 NCDOT completed a Feasibility Study that identified the need for a new connector between Western Boulevard and U.S. 17
2015 Jacksonville Urban Area MPO 2040 Long Range Transportation Plan recommended the Jacksonville Parkway Extension
2017 NCDOT Highway Division 3 began project development, environmental and engineering studies for the project (October 2017)
The project can be found in the 2018-2027 State Transportation Improvement Program (STIP) as Project No. U-5791.
ESTIMATED COSTS
| | |
| --- | --- |
| Activity | Estimated Cost* |
| Right of Way Acquisition and Utility Relocation | $ 15,965,000 |
| Construction Costs | $ 31,680,000 |
| Total Cost | $ 48,395,000 |
* Estimated Costs as shown in Current 2018-2027 STIP and are subject to change
TIMELINE
| | |
| --- | --- |
| Milestone | Date* |
| Public Meeting | Fall 2019 |
| Environmental Document (Environmental Assessment) | Early 2020 |
| Design Public Meeting | Early 2020 |
| Right of Way Acquisition | 2022 |
| Construction | 2024 |
* Future Dates are preliminary and are subject to change
NEXT STEPS
A public meeting will be held to present information on the alternatives being evaluated and obtain public input. It is anticipated that meeting will be held in Fall of 2019.
Preliminary designs for the overall corridor will be advanced and evaluated in the Environmental Assessment (EA).
The EA is expected to be completed early in 2020, followed by a design public meeting. A Preferred Alternative will be identified for the project and presented in a final environmental document.
PUBLIC INVOLVEMENT
A project newsletter was sent to surrounding residents, elected officals and other local officials in October of 2018.
The NCDOT project team will review all feedback – regardless of how it is submitted (online, phone, email, or letter) – and explore options to incorporate comments and address concerns where and when feasible.
NCDOT has been and will continue coordinating with the City of Jacksonville throughout the process. As the project progresses updates will be posted to this website. Outreach will include newsletters, local official briefings, small group presentations, and public meetings.
NCDOT will provide auxiliary aids and services under the Americans with Disabilities Act for disabled individuals who want to participate in any meetings.
Persons who do not speak English, or have a limited ability to read, speak or understand English, may receive interpretive services upon request prior to any meeting by calling 1-800-481-6494.
Aquellas personas que no hablan inglés, o tienen limitaciones para leer, hablar o entender inglés, podrían recibir servicios de interpretación si los solicitan antes de la reunión llamando al 1-800-481-6494.
MAPS
Project maps will be posted here as they become available
COMMENTS/QUESTIONS
Comments may be submitted via phone, email or U.S. Mail to either of the individuals listed below or at any meeting. All comments received carry equal weight, regardless of submittal method. All comments will be reviewed and suggestions/recommendations incorporated into planning and design where feasible.
PROJECT CONTACT INFORMATION
David Leonard

Robert Boot

Division Project Team Lead

Consultant Project Manager

NCDOT Division 3

Atkins

5501 Barbados Boulevard

Castle Hayne, NC 28429

1616 E. Millbrook Road, Suite 160

Raleigh, NC 27609

910-341-2000

919-431-5276