Corridor K (A-0009C) Robbinsville-Stecoah
Due to COVID-19, NCDOT is not holding in-person public meetings for projects.
Virtual public meetings and hearings are being held until further notice.
A virtual public hearing for this project sill be held on October 1, 2020 at 6:00 p.m.. The hearing will be hosted on this site for those who wish to view the presentation and have the opportunity to provide questions and comments as part of the hearing.
For those with limited internet service or wishing to listen to the presentation only, a copy of the PowerPoint presentation and the handout for the hearing will be available below for download. A hard copy of either or both can be requested by calling the project hotline number ( 984-205-6615 and when prompted, enter project code 9893)
---
Video of information presented at the October 1, 2020 Public Hearing
---
Additional current information on the entire project project, which extends from Andrews to Almond, can be found here:
https://www.ncdot.gov/projects/corridor-k
Project Description
The N.C. Department of Transportation is studying improvements from Robbinsville to Stecoah in Graham County as part of a proposed project to provide the transportation infrastructure necessary for the well-being of local residents and regional traffic. This project is part of Corridor K of the Appalachian Development Highway System (ADHS) – a network of road corridors that Congress established in 1965 to provide a safe, efficient transportation system for the Appalachian Region. Corridor K extends from Dillsboro in Jackson County, to I-75 in Cleveland, Tennessee.
Background
Public meetings were held in February 2019 to present the public with proposed study corridors from Andrews to Stecoah. Input from the public, feedback provided by environmental advocacy groups, and the lack of sufficient Appalachian Development Highway System (ADHS) funding for the entire corridor contributed to the decision to remove the Andrews to Robbinsville portion of the project from the current study. The State Transportation Improvement Program (STIP) identifies this portion of Corridor K from Robbinsville to Stecoah as A-0009C (which includes the previously-designated 'B' portion from Robbinsville to Cheoah).
Coordination with agencies, local officials, and stakeholder groups has been ongoing throughout the project development process. Stakeholder groups include the Appalachian Trail (AT) stakeholders, environmental advocacy stakeholders, and local business stakeholders. On May 20, 2020, the NEPA/404 Merger Team reached concurrence on carrying the Improve Existing Alternative (Alternative 1) and No-Build Alternative forward for detailed study. Because the No-Build Alternative would not meet the project purpose to address the mobility and reliability needs of Graham County residents, Alternative 1 was subsequently selected as NCDOT's Preferred Alternative.
Preferred Alternative
The Preferred Alternative would improve the existing alignments of U.S. 129, N.C. 143, and N.C. 28 between U.S. 129 south of Robbinsville and the existing four-lane section of N.C. 28 in Stecoah, increasing shoulder widths and adding passing/climbing lanes for the length of the project. In Robbinsville, proposed improvements include resurfacing, a dedicated eastbound right-turn lane from U.S. 129 to N.C. 143, dedicated left-turn lanes at Robbinsville High School and S.R. 1275 (Five Point Road), and sidewalks from Robbinsville High School's entrance on N.C. 143 to the intersection of U.S. 129 and S.R. 1275 (Five Point Road). Traveling east out of Robbinsville, the Preferred Alternative includes passing lanes and eight-foot paved shoulders on N.C. 143 with dedicated left-turn lanes at Mountain Creek Road, Tatham Road, and Sweeten Creek Road. Near the Appalachian Trail, the Preferred Alternative provides both eastbound and westbound climbing lanes and eight-foot paved shoulders on N.C. 143. A land bridge would provide a grade-separated crossing for both pedestrian users of the Appalachian Trail and wildlife. The Preferred Alternative would provide alternating passing/climbing lanes, a multi-use path, and an eight-foot paved shoulder along existing N.C. 28 in Stecoah. It would also include a slight realignment of Bill Crisp Road to create a four-leg intersection with N.C. 28 and Stecoah Road.
An Environmental Assessment (EA) was prepared for the project and is available for public review (Environmental Assessment). The EA details the planning and design process and describes the anticipated impacts. Measures to avoid and minimize impacts to the human and natural environment were considered during development of the EA. As the proposed project advances and final designs are developed for the Preferred Alternative, additional design refinements will be evaluated to reduce the construction impacts of the project to further minimize impacts. Comments are being accepted through October 30, 2020. Final design will begin after the Public Hearing, additional coordination with regulatory and resource agencies, and publication of an anticipated Finding of No Significant Impact (FONSI). It is anticipated project construction from Robbinsville to Stecoah will be phased in three sections.
Maps of the Preferred Alternative:
Map 1: Robbinsville to TJ Wilson Road
Map 2: TJ Wilson Road to Pin Hook Road
Map 3: Pin Hook Road to Orr Ranch Road
Map 4: Orr Ranch Road to West of NC 143
Map 5: West of NC 143 to Stechoah Road
Map 6: East of Stecoah Road to End of Project
Typical Section Details are shown below.
Typical Sections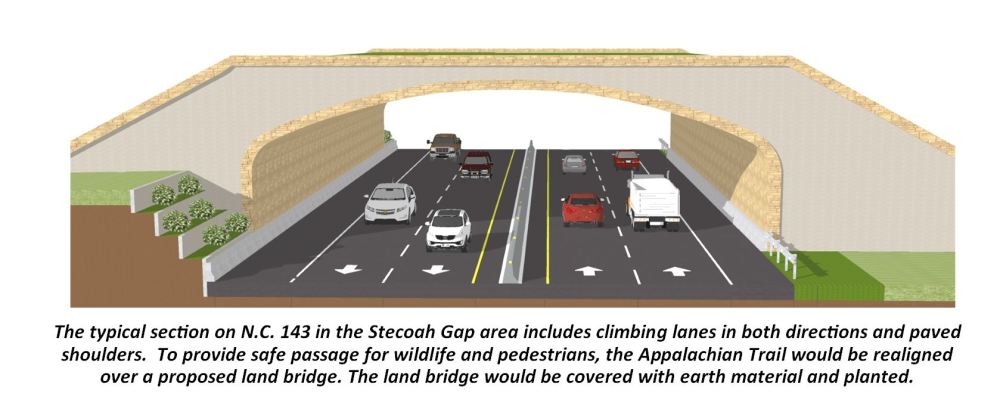 Below
View from westbound N.C. 143 showing proposed land bridge
Climbing lanes in both directions are proposed in the Stecoah Gap area
The Appalachian Trail would be realigned over a proposed land bridge to provide safe passage for wildlife and pedestrians on the Appalachian Trail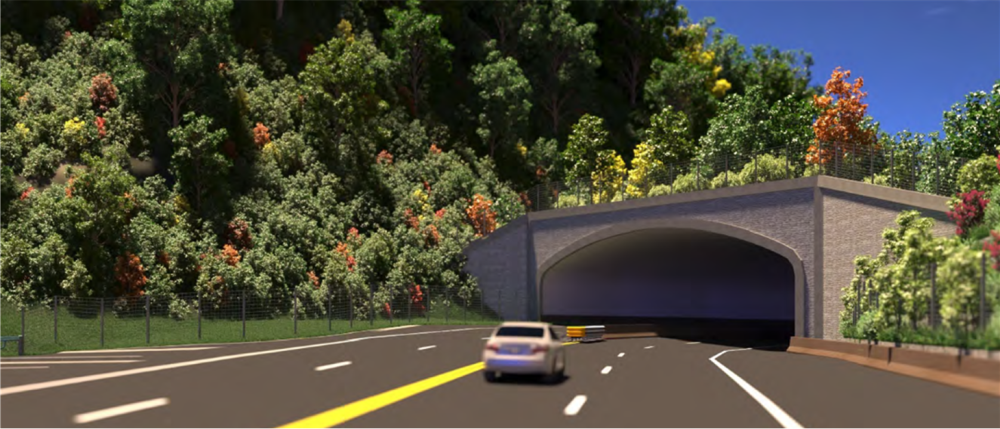 I attended
Interested
Didn't attend