P-5750: Polkton Rail Siding Extension
Project Overview:
The N.C. Department of Transportation Rail Division proposes to extend the existing rail siding in Polkton approx. 14,000 feet to the west, to just east of the bridge at Boston Avenue in Peachland. The project would also include permanently closing the at-grade crossing at Ross Wright Road. Traffic that would normally cross the railroad at Ross Wright Road would alternatively use existing roadways, such as Peachland-Polkton Road, Freedom Road and U.S. 74. The permanent detour length is approximately 2 miles long.
Project Purpose:
The purpose of the project is to improve rail efficiency and increase capacity/reliability along the CSX SF-Line and Queen City Express route (between Wilmington and Charlotte) by reducing rail congestion associated with inadequate storage length in the Polkton area.
Project Need:
Rail siding with inadequate storage length causes rail congestion/delays on the CSX SF-Line (Queen City Express route), impeding intermodal operations and obstructing the rail network from being fully utilized. The existing rail siding through the Town of Polkton is approximately 2 miles long and includes two at-grade crossings, Freedom Road and Williams Street (N.C. 218), which greatly reduce the efficiency of the current siding since CSX cannot use it to store long trains without blocking crossings in downtown Polkton.
Vicinity Map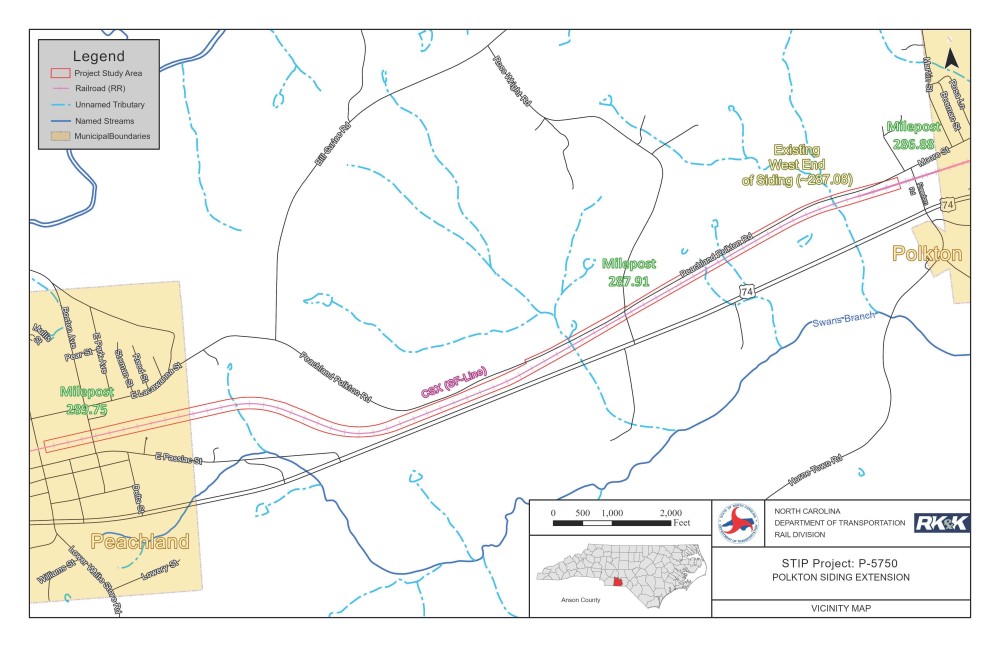 Proposed Project Map

Project Funding:
The Polkton Rail Siding Extension (P-5750) is a distinct project with independent utility within the October 2018 Piedmont-Atlantic Intermodal Rail System (PAIRS) Consolidated Rail Infrastructure and Safety Improvements (CRISI) Program Grant. The Federal Railroad Administration is the lead federal agency and the estimated cost for the project is $16,100,000 in the 2020-2029 STIP..
| | Estimated Amount* |
| --- | --- |
| Right-of-Way | $ 600,000 |
| Construction Costs** | $ 15,500,000 |
| Total Costs | $ 16,100,000 |
* Estimated costs are subject to change. Based on draft NCDOT STIP.
** Project development/design cost is within the construction cost
Project Timeline:
| Milestone | Date* |
| --- | --- |
| Complete Environmental Document | Fall 2020 |
| Right-of-Way / Easements | Summer 2023 |
| Construction | Summer 2024 |
* Future dates are preliminary and subject to change
Project Comments:
All comments will be taken into consideration, regarding of submittal method.
You may leave a comment or question below
or
Email the comment or question to [email protected]