I-6064: I-95-Lumberton
The proposed project involves improving a 9.0-mile segment of I-95 between I-74 (Exit 13) and U.S. 301/Fayetteville Road (Exit 22) in Robeson County. Proposed improvements include constructing two additional travel lanes in each direction, bringing the total number of lanes in this section from four to eight. The project also proposes to modernize the interchanges at Exists 17, 19, and 20, replace bridges and culverts, and elevate the roadway in certain sections vulnerable to flooding. The purpose of the project is to help relieve congestion, improve mobility, and enhance the resiliency of this corridor to storm events. The project will enhance the ability of I-95 to continue serving as a primary East Coast route through the project design year of 2040.
Vicinity Map: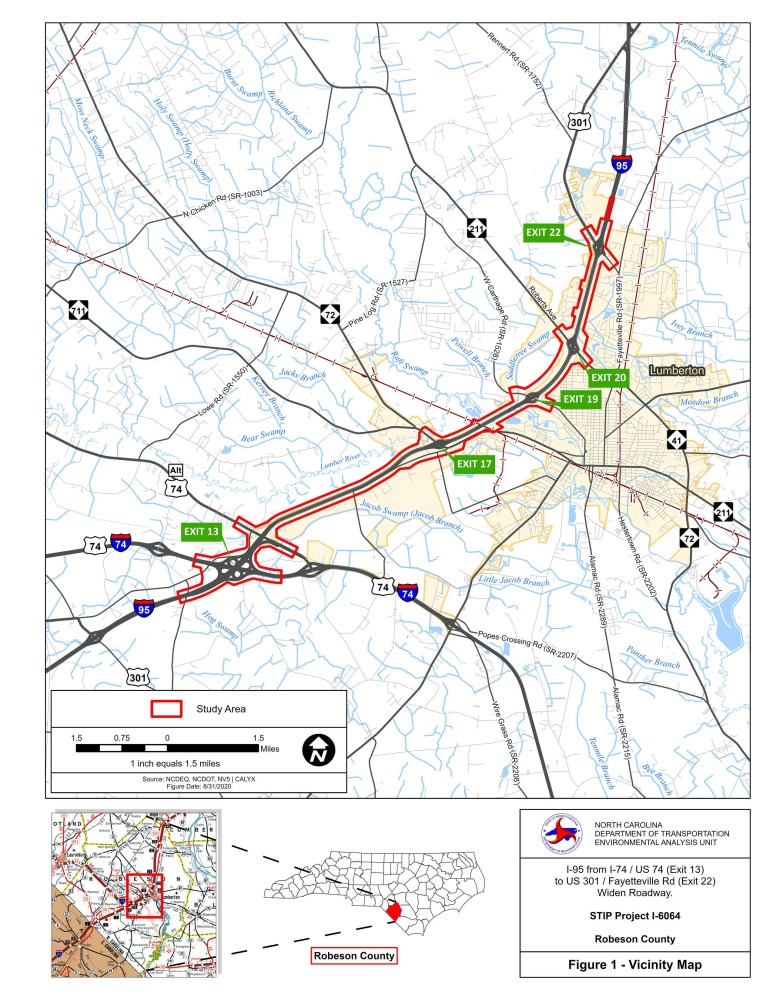 Project Overview:
Improvements along I-95 will be required to accommodate projected future traffic volumes and ensure the highway operates at an acceptable level of traffic service, particularly during peak hours. Traffic volumes along the I-95 corridor are expected to increase considerably by 2040, creating conditions in which operations degrade and average travel speeds are below the posted speed limit. The proposed widening project would increase the capacity of the roadway to improve the flow of traffic and lessen delays from congestion.
Proposed Improvements:

​
Widen the highway to a total of eight travel lanes, with four in each travel direction.

Modernize interchanges at Exits 17, 19, and 20, replace bridges and culverts, and elevate vulnerable sections of the interstate to enhance resiliency against future flooding.

Retaining walls will be used where practical to minimize right-of-way impacts.

For most of the project, the existing concrete median barrier will be retained.

The existing grass median between Exits 13-17 will be converted to a narrower concrete barrier median to minimize impacts to private property along the interstate.
Project Funding:

Project Timeline:
This project is listed as Project No. I-6064 in the N.C. Department of Transportation's State Transportation Improvement Program (STIP). Current cost estimates for the project are as follows:
| Activity | Estimated Amount* | | Milestone | Date |
| --- | --- | --- | --- | --- |
| Right-of-Way | $ 40,000,000 | | Public Meeting | September 29, 2020 |
| Utility Relocation | $ 1,200,000 | | Environmental Documentation | Winter 2020 |
| Construction | $ 418,600,000 | | Right-of-Way | Fall 2021 |
| Total Costs | $ 459,800,000 | | Construction | Summer 2022 |
* Estimated costs are subject to change. * Future dates are preliminary and subject to change
Project History:
In 2009, the N.C. Department of Transportation began researching the feasibility of upgrading I-95. The study was completed in 2016.
The I-95 study, coupled with a $22.5 million federal grant (awarded to NCDOT in the fall of 2019), allowed the N.C. Board of Transportation to accelerate the timeline to widen and modernize a 27-mile section of the interstate between I-74 (Exit 13) in Robeson County and I-95 Business/U.S. 301 (Exit 40) in Cumberland County. NCDOT held open houses in 2019 to review preliminary plans for a portion of this corridor (Exit 22 to Exit 40), and another public meeting will be held virtually on September 29, 2020 to review preliminary plans for the section between Exit 13 and Exit 22 in Lumberton.
I-95 in the vicinity of Lumberton experienced major flood events following Hurricane Matthew in October 2016 and Hurricane Florence in September 2018. Both flood events resulted in the partial or complete shutdown of I-95 within the project limits until floodwaters receded. Impacts from major flooding events in recent years have emphasized the need for resiliency improvements, as the interstate was overtopped by floodwater and closed to traffic for multiple days. Along with reduced mobility, the loss of the interstate corridor impedes emergency services, interstate commerce, and erodes military preparedness. The project will raise vulnerable sections along I-95, which will mitigate travel impacts from future flooding.
A Project Newsletter was mailed to residents and property owners in the project area in May 2020. The newsletter included information on the proposed improvements, current project schedule, and invited comments to project representatives. Functional Roadway Designs have been developed using data collected during the initial development process. These designs are available for review at the Public Meeting Map Link provided above. A Handout has also been prepared to provide a more detailed overview of the proposed improvements.
For more information about either NCDOT stormwater or floodplain click the links below:
Project Comments:
All comments will be taken into consideration,

regardless of submittal method
You may leave a comment or question below
Or
Phone in a comment or question to

855-925-2801

enter

project code 8812