R-5930: North Chatham Park Way
The N.C. Department of Transportation, in partnership with the Town of Pittsboro and Chatham Park Developers, proposes to construct a new north-south roadway east of Pittsboro called North Chatham Park Way. The purpose of this project is to accommodate traffic associated with Chatham Park and other developments in eastern Chatham County, and to enhance mobility and access for all forms of transportation.
The proposed 2.7 mile long project begins at the U.S. 64 Bypass, just north of Suttles Road, and ends at the intersection of U.S. 15-501 near Russell Chapel Church Road. It connects to the existing segment of Chatham Park Way (from U.S. 64 Business to U.S. 64 Bypass) that was recently built but has not yet opened to traffic.
Currently, U.S. 15-501 is the only major north-south route through Pittsboro, funneling all traffic through the historic downtown area. NCDOT and the Town have identified an opportunity to partner with Chatham Park to accomplish the goal of providing an alternate route for traffic traveling through downtown while continuing to support the economic development of the region. It will increase mobility options for drivers, bicyclists, and pedestrians.
Chatham Park, a 7,000-acre mixed-use development east of Pittsboro, is anticipated to be constructed over the next 40 years. The development would be split into the North and South Villages, which are included as part of Chatham County's Planned Development District. The North Village proposes to add over 7,000 dwelling units and over 11 million gross square feet of non-residential development over the next 20 years. It is planned for a range of land uses, including residential, research and development, mixed-use, and park/institutional. Once completed, it is estimated that Chatham Park could generate over 60,000 new jobs for Chatham County in technology, research, development, medicine, lifestyle centers, and retail. For more information about Chatham Park, please see the following website: https://www.chathampark.com.
Chatham Park Way Vicinity Map: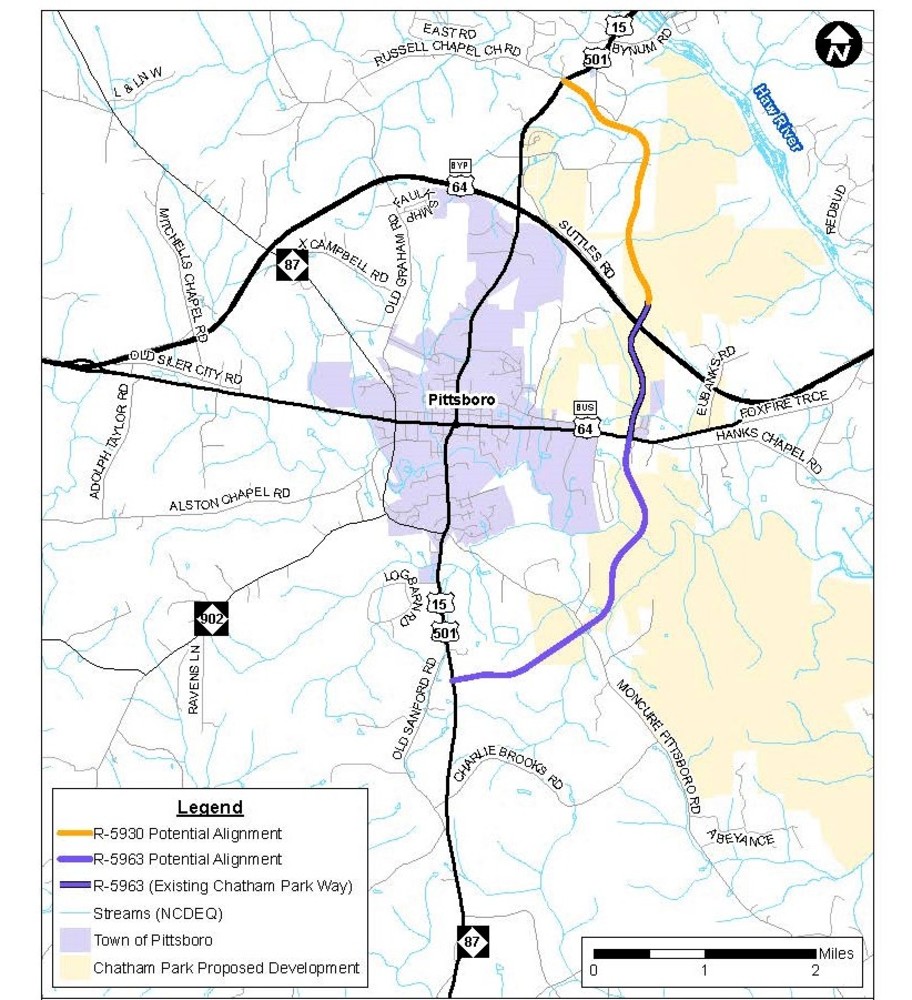 Interactive Map of Study Area, Proposed Roadway Location and RIght of Way.
Public Hearing
A virtual public hearing will be held on Tuesday, June XX with a presentation starting at 6 p.m. The hearing can be joined via internet or phone using the following information:
Website

Password

ncdenrits.webex.com

HMra8uHYXd55

Phone

Access Code

(415) 655-0003

610 648 568
The WebEx will open at 5:45 p.m. and you may begin to sign up to speak at that time. Verbal comments will begin following the presentation, and will be recorded. Written and verbal comments received will be weighted equally.
Project Design:
The proposed typical section varies for North Chatham Park Way, as described below:
From U.S. 64 Bypass to the proposed Grant Drive extension, a four-lane median-divided roadway with sidewalks and bicycle lanes is proposed.

From Grant Drive to U.S. 15-501, the typical section transitions to a two-lane median divided roadway with sidewalks. Cyclists would be accommodated in this section on paved shoulders.
Maps:
Project Funding:
| | Estimated Amount* |
| --- | --- |
| Right-of-Way | $ 2,071,000 |
| Construction Costs | $ 29,600,000 |
| Total Costs | $ 31,671,000 |
* Estimated costs are subject to change. Based on currently adopted NCDOT State Transportation Improvement Program (STIP).
Project Timeline:
| Milestone | Date* |
| --- | --- |
| Public Hearing | Summer 2020 |
| Right-of-Way | Fall 2021 |
| Construction | Fall 2022 |
* Future dates are preliminary and subject to change
South Chatham Park Way
South Chatham Park Way (STIP Project R-5963) is a funded NCDOT project from U.S. 15-501 south of Pittsboro to U.S. 64 Bypass. Together, North and South Chatham Park Way will create a new route from U.S. 15-501 on the south to U.S. 15-501 on the north. South Chatham Park Way is scheduled to begin several years after North Chatham Park Way, with the anticipated schedule:
• Spring 2023—Begin Right-of-Way Acquisition
• Spring 2025—Begin Construction

More information will be provided to the community about South Chatham Park Way in the future when planning and design for that segment begins.
Project Comments:
Please submit your comments on this website or by email at
Comments may also be provided via U.S. Mail to one of the Project contacts listed below, or at any project meeting.
All comments received carry equal weight, regardless of submission method.
All public comments will be reviewed and suggestions/recommendations will be
incorporated where feasible throughout the process.