U-3415A: Poplar Tent Road - Widening/Intersection Improvements
The proposed project involves the proposed widening improvements to Poplar Tent Road (S.R. 1394) from a two-lane roadway to a four-lane divided roadway from Woodhaven Place/Gable Oaks Lane to George W. Liles Parkway (S.R. 1430). This project would also include improvements to the intersection of Poplar Tent Road and George W. Liles Parkway in Concord, Cabarrus County.
Vicinity Map: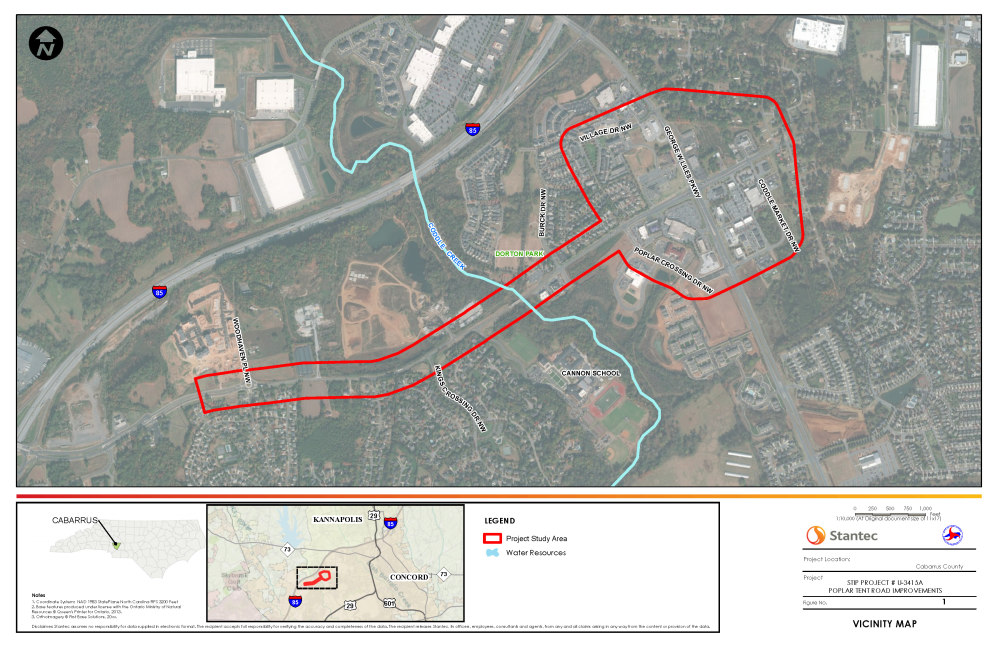 Project Overview:
Proposed Improvements Include: ​
Roundabout at Lyerly Ridge Road and Education Way intersections

Sidewalks and Multi-use path facilities throughout
Continuous Flow Intersection
A continuous flow intersection, sometimes referred to as a displaced left turn intersection, is an innovative design to help improve safety and mobility by redirecting some or all left hand turns at a major signalized intersection.
Public Involvement
Public Meeting:
A public meeting was held on Monday, October 14 to present project maps and receive public input.
October 14, 2019
Concord Fire Station #9
1020 Ivey Cline Road
Concord, 28027
4 p.m. - 7 p.m.
Public Meeting Map:
Project Funding:
This project is listed as Project No. U-3415A in the N.C. Department of Transportation's State Transportation Improvement Program (STIP) and is funded for $29.282 million.
| | Estimated Amount* |
| --- | --- |
| Project Development & Design | $ 2,732,000 |
| Right-of-Way | $ 5,545,000 |
| Utility Relocation | $ 600,000 |
| Construction Costs | $ 20,405,000 |
| Total Costs | $ 29,282,000 |
* Estimated costs are subject to change. Based on draft NCDOT STIP.
Project Timeline:
| Milestone | Date* |
| --- | --- |
| Public Meeting | October 2019 |
| Environmental Documentation | December 2019 |
| Right-of-Way | 2021 |
| Construction | 2023 |
* Future dates are preliminary and subject to change
Project Comments:
The public comment period closed on October 28, 2019.
Do you understand the information and mapping as presented?
Do you have any comments or concerns about the project?
Do you have any questions or comments regarding the proposed Continuous Flow Intersection (CFI) at George W. Liles Parkway or the proposed roundabout?
Would you like to be added to the project mailing list?

Please drop a pin on the map to indicate where you live in relation to the project.
Project Contact Information:
Travis Preslar
NCDOT Project Manager
12033 East Independence Blvd., Suite H
Matthews, NC 28105
(980) 262-6290