U-6065: U.S. 17 / N.C. 172 Intersection Improvements
Preliminary Engineering Activities for this project
have resumed.
The N.C. Department of Transportation proposes to improve the intersections of U.S. 17 / N.C. 172 and U.S. 17 / Old Folkstone Road. The purpose of the project is to improve traffic flow along U.S. 17 and address safety concerns. Based on traffic analyses of future year (2040) conditions, the intersections of U.S. 17 at N.C. 172 and Old Folkstone Road would exceed capacity during peak hours and operate poorly in their current condition.
Public Involvement
A public meeting was held on Monday, July 29, 2019 to present project maps and receive public input.
PUBLIC MEETING
DATE Monday, July 29, 2019
TIME 5-7 PM
LOCATION
Folkstone Original Free Will Baptist Church
133 Old Folkstone Road
Holly Ridge
Public Meeting Maps:
PROJECT SCHEDULE
July 2019
Public Meeting
Winter 2019
Environmental Document
Fall 2020
Begin Right of Way Acquisition
Spring 2023
Begin Construction
PROJECT FUNDING
FISCAL YEAR 2018-2027 STIP
RIght of Way $ 600,000
Construction $3,400,000
Planning activities for this project are currently suspended. The schedule will be updated when project planning resumes.
Proposed Improvements
In order to address heavy directional traffic, proposed improvements include possibly converting U.S. 17 and N.C. 172 to a Continuous Green T-Intersection, implementing access control measures along U.S. 17 by redirecting left turns at the U.S. 17/Old Folkstone Road intersection, and adding a new connection between Old Folkstone Road and N.C. 172 (see Alternatives 1 & 2).
At the Continuous Green T-Intersection, the southbound thru-movement on the main arterial (U.S. 17) does not stop. As a result, stop and go delay associated with traffic signals for this particular movement are eliminated and more green time can be devoted to the other movements. These other movements will continue to use the traffic signal as normal and function the same as a typical T-intersection. Left turns from the side street (N.C. 172) will turn into a channelized lane in order to merge with the main thru-movement.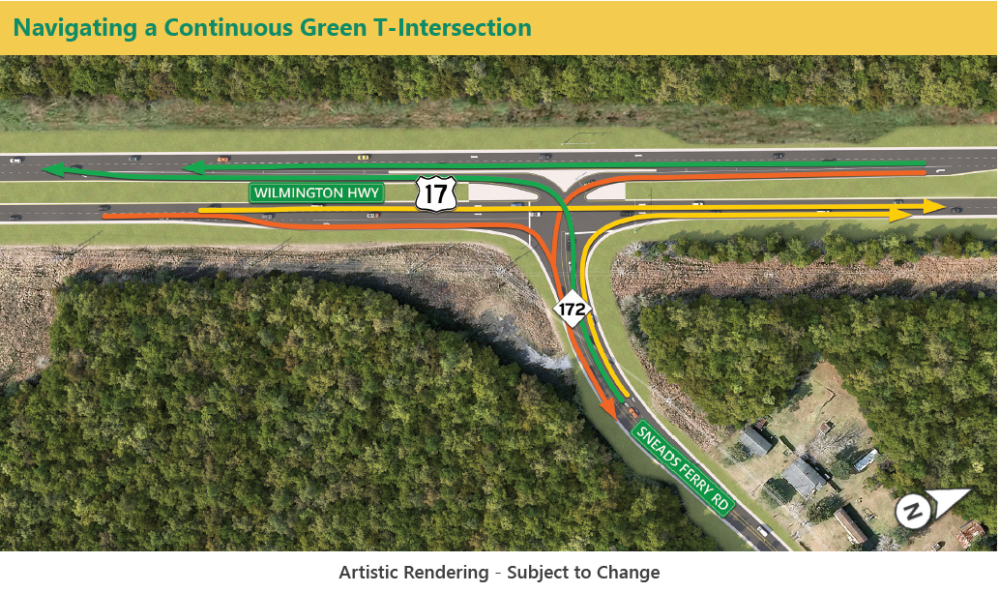 Benefits of a Continuous Green T-Intersection
Reduced Delay at Intersection: free flow thru-movement allows additional time to be allotted to minor movements and reduces overall delay.

Improved Safety: channelized left turns from side street reduce risk of angle crashes.

Reduced Travel Time: reduced delay along the main arterial by eliminating stop and go conditions and delay associated with traffic signals.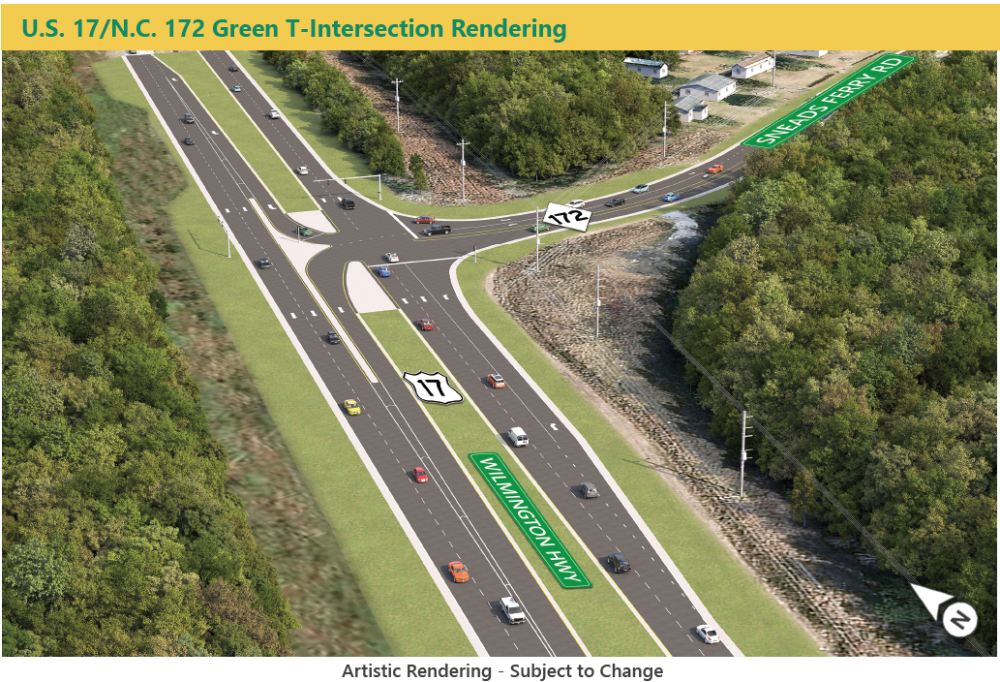 Comments/Questions
The comment period for the concepts presented at the July 20, 2019 public meeting has closed.
___________________________________________________________________
NCDOT accepts comments and questions on projects throughout the planning and development process.
Any additional comments or questions may be submitted via:
phone or U.S. Mail to the Project Manager listed at the bottom of this page;
email to [email protected];
All comments received carry equal weight, regardless of submission method.
All comments will be reviewed and suggestions/recommendations incorporated into designs where feasible.
Project Contact Information
Krista Kimmel, PE
NCDOT
Project Engineer
5501 Barbados Blvd
Castle Hayne, NC 28429
910-341-2000
Resources for Property Owners
Although the N.C. Department of Transportation works to minimize the number of homes and businesses displaced by a road project, it is inevitable, in many cases, that a certain amount of private property is needed. The following information explains right of way acquisition and answers questions about the process.