R-5777C: Havelock Bypass To Thurman Road
The N.C. Department of Transportation is proposing to upgrade a section of US 70 Improvements from the Havelock Bypass to East of Thurman Road (S.R. 1116) to interstate standards, in Craven County.
This project is one of several that NCDOT is working on to improve the U.S. 70 corridor with the intent of:
Improving regional mobility
Assisting economic development in primarily rural areas of eastern N.C.
Providing a closer interstate connection to the Port of Morehead City
Benefitting military interconnectivity
Making the corridor safer by reducing at-grade intersections
Vicinity Map: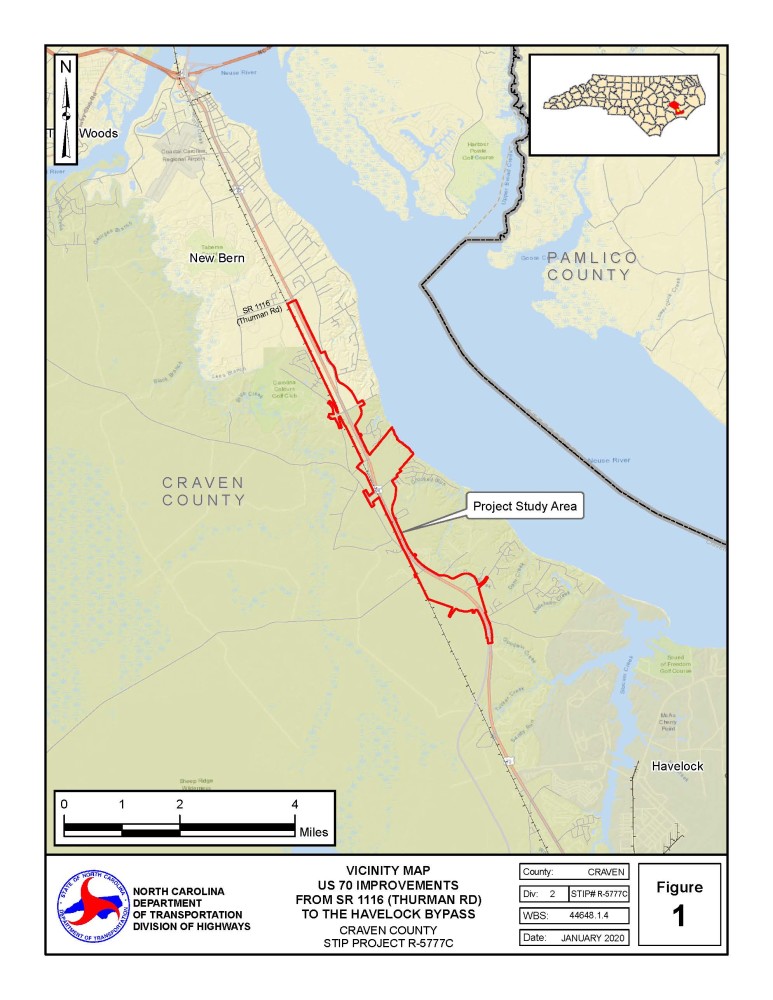 Project Highlights:
The project would construct approximately seven (7) miles of freeway, and include interchanges at three locations:
Stately Pines Road (S.R. 1106)

Fisher Avenue (S.R. 1104)

Camp Kiro Road (S.R. 1112)
​Driveways, intersecting streets and median crossovers would be removed and service roads extended along portions of the project to provide access for property owners and to ensure mobility for local traffic. At interchanges, roundabouts will be constructed where the U.S. 70 on/off ramps connect to the intersecting cross streets.
Videos:
​
Visualizations:
Alternative A - Stately Pines Road and U.S. 70 Interchange
Alternative B - Stately Pines Road and U.S. 70 Interchange
​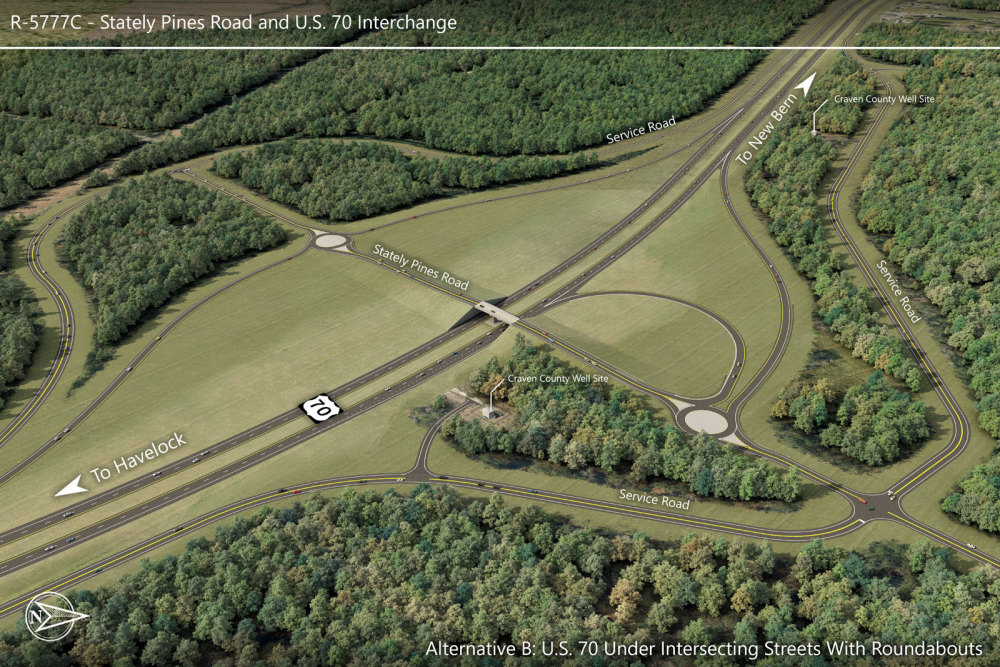 Alternative B - Fisher Avenue and U.S. 70 Interchange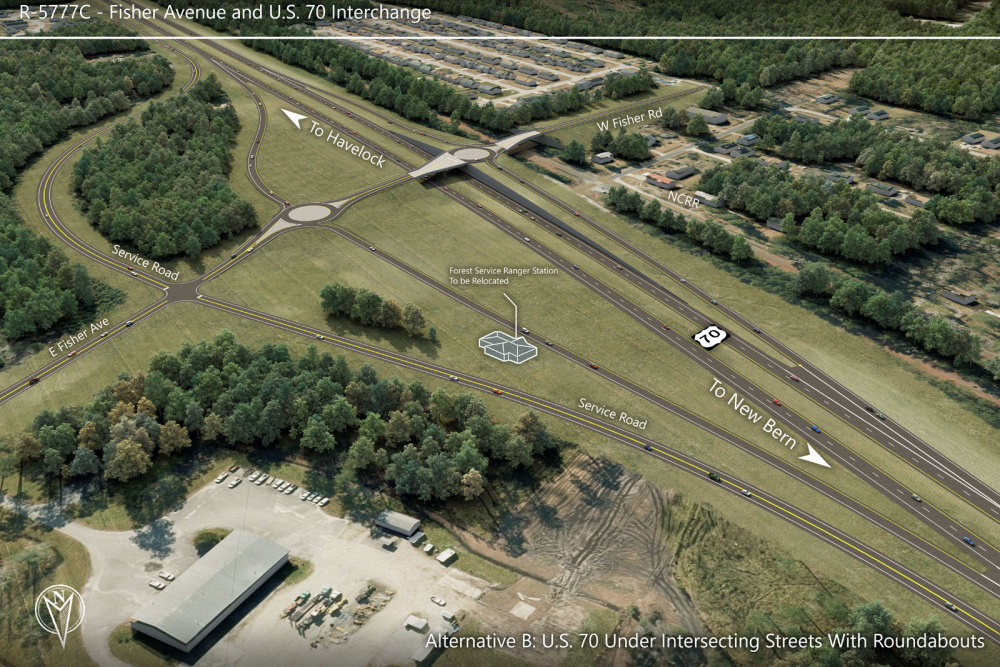 Alternative B - Camp Kiro Road/Waterscape Way and U.S. 70 Interchange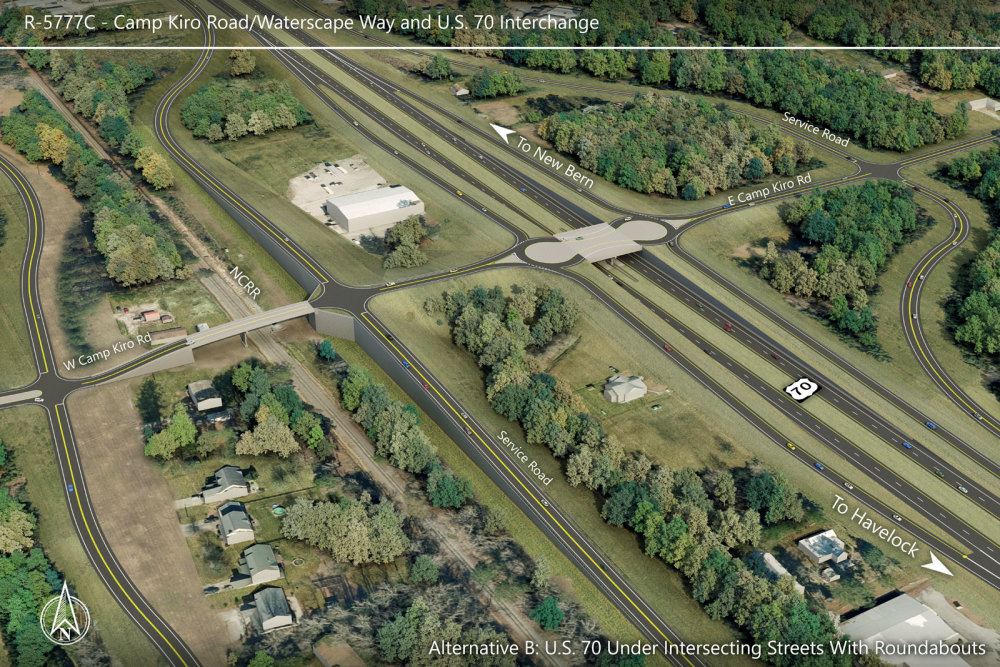 All comments will be taken into consideration,

regarding of submittal method
You may leave a comment or question below
Or
Phone in a comment or question to

984

-205-6615

enter

project code 4601
Which Alternative (A or B) do you prefer at the interchanges listed below?
(Please check the appropriate box)
Would you like to be added to the project email list?
Do you have comments about NCDOT's plans to upgrade U.S. 70 to interstate standards?
Is the information presented about this project clear, and easy to understand?
Do you have any comments or concerns about potential property impacts? Please be specific.
Please share any additional comments about the project.
Project Funding
This project is listed as Project U-5777C in the N.C. Department of Transportation's State Transportation Improvement Program (STIP) and is funded for $153.1 million. However, updated cost estimates have been prepared for eact alternative and are shown below.
Activity

Estimated Costs by Alternative*

Cost Category

Alternative A

U.S. 70 Over Cross Streets

Alternative B

U.S. 70 Under Cross Streets

Utilities

$ 29,657,290

$ 31,037,552

Right of Way Acquisition

$ 26,454,939

$ 29,130,480

Construction

$ 124,512,225

$147,000,000

Total Cost

$ 180,512,225

$207,168,032
* Estimated costs are subject to change. Based on NCDOT STIP.
**NCDOT, June 2020. Costs are esitmates and subject to change
Project Timeline
| | |
| --- | --- |
| Milestone | Date* |
| Public Meeting #1 | June 2019 |
| Project Update, Virtual Public Outreach | August 2020 |
| Address comments, Select preferred alternative | Late Summer 2020 |
| Complete Environmental Document | December 2020 |
| Design-Build contract advertised to contractors | January 2021 |
| Design-Build contract awarded | Fall 2021 |
| Right of Way Acquisition and Construction | Winter 2021/2022 |
* Future dates are preliminary and subject to change
PROJECT CONTACT INFORMATION
Casey Whitley
Project Engineer
NCDOT Highway Division 2
1037 W. H. Smith Boulevard
Greenville, NC 27835
252-439-2811
PROJECT CONTACT INFORMATION
Craig Young
Project Consultant
Three Oaks Engineering
324 Blackwell Street, Suite 1200
Durham, NC 27701
919-656-6581