R-5753: Wayside Rd
PROJECT DESCRIPTION
The N.C. Department of Transportation is proposing to make improvements to several roadways in the Rockfish area.
U-5753: Widen Wayside Road between Plank Road and U.S. 401
---
Vicinity Map: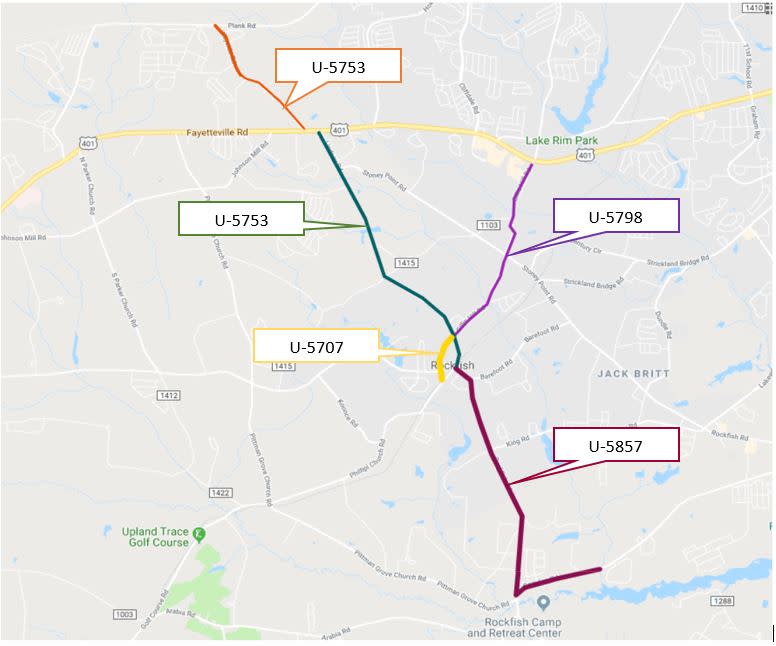 PUBLIC INVOLVEMENT
The NCDOT project team will review all feedback – regardless of how it is submitted (online, phone, email, or letter) – and explore options to incorporate comments and address concerns where and when feasible.
PUBLIC MEETING
NCDOT will conduct an open-house public meeting on March X, 2019 to present information on all five projects.
Date: March C, 2019
Time: 4:00 - 7:00 p.m.
Venue: Tabernacle Baptist Church
3081 Lindsay Road, Rockfish
PROJECT CONTACT INFORMATION
April Annis
Project Manager
NCDOT Project Management Team
919-707-6011
1595 Mail Service Center
Raleigh, NC 27699-1595
COMMENTS/QUESTIONS
Comments may be submitted via phone, email or U.S. Mail to the Project Manager listed above or at any meeting.
All comments received carry equal weight, regardless of submission method.
All comments will be reviewed and suggestions/recommendations
incorporated into designs where feasible.
If you would like to be added to the project mailing/email list for all 5 projects, please provide the following information. If you wish to be added to the list for individual projects instead, please visit the project's page and sign up there.