U-5720: U.S. 70 Durham
​Preliminary Engineering Activities for this project
have been suspended.
---
The N.C. Department of Transportation is proposing to convert U.S. 70 to a Controlled Access Roadway from Lynn Road in Durham to west of T.W. Alexander Drive in Raleigh.
A controlled-access roadway is a type of roadway which has been designed for high-speed vehicular traffic, with all traffic flow ingress- and egress-regulated (no side street or driveway access directly onto the roadway)
Project U-5720 is listed in the State Transportation Improvement Program (STIP) in four segments:
Segment A: Lynn Road to Sherron Road/South Miami Boulevard
Segment B: Conversion of the at-grade intersection to an interchange at U.S. 70 and Sherron Road/South Miami Boulevard
Segment C: Sherron Road/South Miami Boulevard to Page Road Extension
Segment D: Page Road Extension to west of T.W. Alexander Drive
Vicinity Map: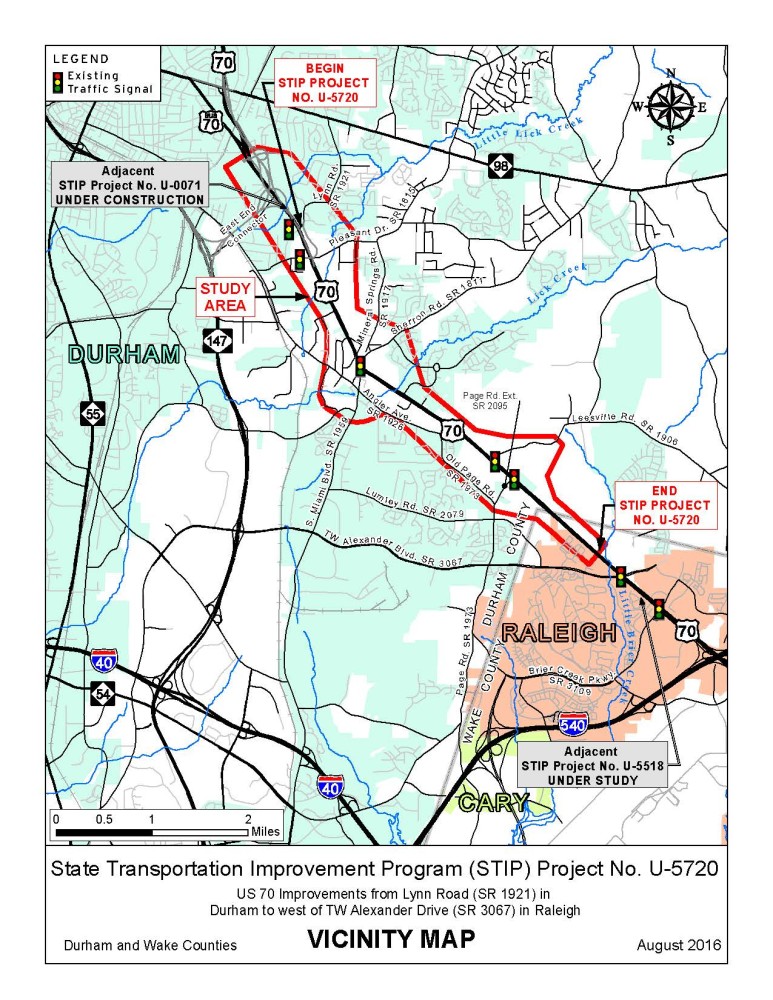 OVERVIEW
U.S. 70 between Lynn Road and west of T.W. Alexander Drive experiences traffic congestion, poor operating conditions, and a higher than average number of vehicle crashes. The purpose of this project is to improve traffic operations and reduce conflicting vehicular movements on U.S. 70 and associated intersections in the project corridor.
Project Highlights
Project U-5720 will be constructed as a design-build project. The design-build process allows NCDOT to hire a team of designers and contractors that is responsible for the design, right-of-way acquisition, and construction of the project. The team may begin construction on one portion of the project while they finish the design and right-of-way acquisition for others. This usually results in faster completion.
Other benefits of a design-build project may be innovative solutions that save time or money, or reduce impacts, and quicker resolution to problems that may arise during design and construction. The process may provide additional alternatives or modifications to the existing alternatives, which in turn may reduce costs or impacts.
Conceptual Corridors
The U.S. 70 project (U-5720) is in the early stages of development. At the public meetings on October 30 and November 1, 2018, concepts for the main roadway (U.S. 70) and options being considered and examined for intersections along the corridor were provided for public review and comment.
The study area shown is a broad survey area and is not intended to reflect any level of potential impacts. Direct impacts from the proposed project will be contained within the study area, but not all properties within the study area will be impacted.
---
Three Widening Concepts (north, south and upgrade existing) were considered for the improvement of U.S. 70. In the northern and southern widening concepts, existing U.S. 70 would be retained as a two-lane service road providing access to adjacent land uses.
In addition, NCDOT is considering two design options for the proposed Sherron Road/South Miami Boulevard interchange: Option A - a Single Point Urban Interchange (SPUI) or Option B - a Tight Diamond Interchange. Graphic depictions of these and the roadway concepts are shown below.
Based on initial analysis, this concept would affect a smaller number of resources as compared with the other concepts. This proposed alignnment also ties in better to the adjacent East End Connector project (STIP U-0071) which is currently under construction.
This concept would complicate the use of existing U.S. 70 as a service road and would result in a greater number of impacts to property and adjacent resources.
Upgrade Existing Concept
The vertical alignment of the existing roadways (hills and valleys) limits the practicality of this concept as these would have to be evened out creating more direct impacts to adjacent resources on both sides of the roadway. NCDOT will be recommending that this concept not be carried forward for detailed study.
Sherron Road/South Miami Boulevard - Interchange Options
Option A: Single Point Urban Interchange (SPUI)

Option B: Tight Diamond Interchange

What is Next?
Following the close of the public comment period on November 16, 2018, NCDOT and the project team will review all comments from the public, local officials, other agencies and local planning organizations. They will then move forward with recommendations for detailed study alternatives. NCDOT will make a recommendation for a preferred alternative and designs will be prepared and presented in the fall of 2019 for public review and comment.
Public Involvement
Public Meetings
Two Public Meetings were held on October 30 and November 1, 2018 to gather feedback on conceptual designs.

Public Meeting Maps:
Project Funding
This project is listed as Project U-5720 in the N.C. Department of Transportation's State Transportation Improvement Program (STIP) and is funded for $465 million.
| | |
| --- | --- |
| | Estimated Amount* |
| Property Acquisition | $ 96.9 million |
| Utilities | $ 4.0 million |
| Construction Costs | $103.1 million |
| Total Cost | $ 206 million |
* Estimated costs are subject to change. Based on NCDOT STIP.
Project Timeline
| | |
| --- | --- |
| Milestone | Date* |
| Environmental Document completed | Spring 2019 |
| Second Public Meeting | Winter 2023 |
| Design-Build Let | Spring 2024 |
| Construction Begins | Fall 2026 |
* Future dates are preliminary and subject to change
PROJECT CONTACT INFORMATION
Melanie Nguyen, PE
NCDOT Project Management Unit
1595 Mail Service Center
Raleigh, NC 27699-1595
919-707-6607
Would you like to be added to the project email list?
Are there other comments or questions you wish to provide to the project team.